If you're looking to experience the best supper clubs on the east coast, you've come to the right place. Here, we will cover some of the most exclusive and sought-after clubs that cater to the elite and what it takes to get a table. An arm and a leg in most cases.
These exclusive supper clubs provide not only offer exceptional dining experiences but also access to a glamorous and elite world filled with fascinating people from various walks of life.
So, if you're looking to immerse yourself in the world of high society with a super-sized heaping of luxury, these supper clubs on the east coast are the perfect places to start.

However, do keep in mind that gaining membership in these illustrious establishments requires more than a boatload of money. There are strict guidelines, and you'll need the skills of a Washington lobbyist. It wouldn't even hurt to be one.
What's a Private Supper Club?
An exclusive, members-only supper club is a private dining experience where members come together to enjoy special meals and frolic in a private, intimate setting. These clubs require membership, even to get a table in the restaurant.
These supper clubs start with an initiation or annual fee, and give members access to exclusive meals, often with unique ingredients and presentation. Members can also enjoy social events such as wine tastings, art shows, and other entertainment. At Mar-a-Lago, Trump himself might be the DJ spinning the tunes.
These supper clubs all have their own alluring hook. Some are exclusive members-only clubs with their own restaurants that may or may not be open to the public, while others have a more lively atmosphere, with private dining, dancing, and live bands.
CORE Club – Midtown Manhattan, New York City
The CORE Club is an exclusive club in New York City with a diverse and unique membership. By becoming a member of this prestigious and luxurious club, members can enjoy unparalleled levels of chilling with comfort.
The CORE Club offers its members a variety of benefits and amenities, including access to private events, workshops, and concierge services. Through membership in the CORE Club, elite members have a chance to unlock the magic of NYC's most discerning community.

Cost of Membership at the Core in NYC
For those seeking unparalleled luxury, The CORE Club offers full membership at an annual fee of $17,000, following a one-time initiation fee of $50,000. With access to things such as dining rooms, bars, libraries, terrace spas, and more, this exclusive club attracts members from various industries, including finance, real estate, film, fashion, and politics.
What's the Application Process for the CORE Club?
Per the CORE Member Constitution, all categories of membership are by invitation only, and all nominees must be sponsored by a current member. Prospective members of CORE are reviewed by an International Membership Committee.
The selected members will then meet with the CORE founders, who are responsible for the final admittance decision. As the saying goes, you'll be facing a tough audience.
Joining the CORE Club allows for a chance to explore art exhibits by Alexander Calder, Andy Warhol, and David Salle to name a few. You'll also catch film screenings, enjoy concerts, and delve into the genius of ultra-creative minds over cocktails.
This includes members such as Sir Richard Branson, Stephen A. Schwarzman, the chairman of the Blackstone Group, and Ari Emanuel, a chief executive of William Morris Endeavor Entertainment.
Dining here is always seen as a power meal. The heavy hitters of New York solidify multi-million dollar deals over Kobe beef sliders and lobster salad with nothing more than a handshake and a wink signifying the proverbial "Have your people call my people."
Casa Cruz – New York City, New York
Casa Cruz NYC is not just any ordinary club or restaurant; it is an exclusive, luxurious establishment that offers its members a unique and unparalleled experience.
With a baseline membership fee of $250,000 and access levels reaching up to $500,000, Casa Cruz provides its members with a range of benefits that may justify the hefty price tag, it's all relative. Let's delve into the various advantages that come with being a member of this elite supper club on the east coast.
As a member of Casa Cruz, you are granted exclusive access to the five-story haven boasting a variety of exquisite lounges, stylish restaurants, event venues, and a magnificent rooftop terrace – all tucked away in a secluded oasis, far away from the chaos of the city.
Members immerse themselves in the lavishness and grandeur of this distinguished establishment in an exclusive, intimate atmosphere. Also, the establishment operates as a restaurant with an investor group of partners.

So, by becoming a member, you also become a partner and investor, giving you a stake in the success of the business. Now those high fees can be justified as it's an investment in a luxury lifestyle. At its magnificent Beaux-Arts abode on East 61st Street, this UK-rooted club invites privileged few to embark on an incomparable epicurean expedition.
This includes $260 Oscietra caviar served with potato purée, $82 grilled veal chop, and $25 cocktails to sip on while contemplating the meaning of life and the cost of jet fuel to get you across the pond. You can see if there's also a nice California cult wine on the list, but good luck with that!
The walls of Casa Cruz are adorned with original works by famous artists such as Andy Warhol, David Hockney, Keith Haring, and Fernando Botero. As a member, you have the privilege of dining and socializing in the presence of these priceless masterpieces. At least you've solved the problem of getting a table at the best restaurants in New York City, just by ponying up a cool quarter mil.
Located on acres of pristine Florida coastline, this resort is home to some of the world's most luxurious amenities. From a one-of-a-kind culinary experience to luxurious spa services, the Carriage House provides something for everyone – with deep pockets. Plus, with a full range of activities and experiences, guests will feel like they have escaped to paradise.
The Carriage House is housed in two landmarked buildings designed by renowned architects Addison Mizner and Maurice Fatio. As you enter the club, the beautiful architecture and the rich history of these iconic buildings are a designer's dream come true.
In fact, designer Tommy Hilfiger said. "It's well run, the food is amazing, and the colors are very appealing. It's modern Palm Beach, so it has a tropical flavor and a chic look. It checks all the boxes."
Carriage House offers multiple bars and dining options, including Mediterranean and Japanese cuisine for members to enjoy. Whether you're in the mood for a casual drink with friends or a more formal dinner, the club has something to suit your taste.

Becoming a member of the Carriage House is a unique privilege that offers numerous benefits. As quoted from a representative, "Membership is carefully curated to reflect the Club's sophisticated, yet playful atmosphere and includes a diverse group of individuals with new and generational ties to Palm Beach." It seems that being a local has its privileges at this uber-hot supper club on the east coast.
Fees to join are said to be in the six figures, a mere pittance to rub shoulders with Palm Beach's who's who while indulging in the cuisine prepared by Executive Chef Tim Davis. It's rumored he was poached from the Hamptons. Well-played Carriage House, well-played.
Club Colette – Palm Beach, Florida
Club Colette is an exclusive, invite-only supper club on the east coast that has gained a reputation for its incredible service, delectable dishes, and unique dining experience.
With a suggested donation covering the costs of the meal and a dress code emphasizing elegant casual attire, it's no wonder that this establishment has piqued the interest of many.
Club Colette has different membership categories and fees based on age. If you are 46 years old or older, the initiation fee is $30,000, and annual dues are $16,200. For younger members, the initiation fee ranges from $20,000 to $30,000.
We're not sure about the logic of this age thing, but it seems to be the norm for exclusive supper clubs on the east coast. By the cost of initiation dues that we've seen so far, this is an outright bargain.
Becoming a member also takes you through the usual vetting process. Gaining membership to Club Colette can be fast-tracked if you know the owners or key members.
There's nothing worse than a long dragged-out process and this shouldn't be as painful as being on the waitlist for a private golf club membership in Palm Beach. And you wonder why everyone on the golf course looks so old.
Mar-a-Lago – Palm Beach, Florida
Located in sunny Florida, this luxurious supper club has all you need for a fun and unforgettable night. From fine dining to exquisite cocktails, you may even find a former President playing DJ and spinning tunes.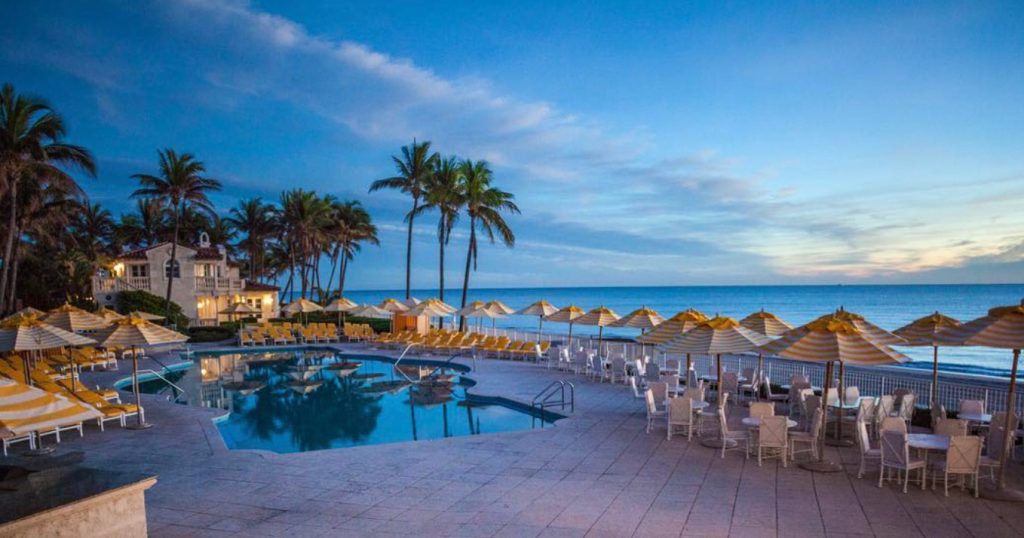 Mar-a-Lago, the luxurious estate in Palm Beach, Florida, has become a major topic of interest ever since former President Donald Trump made it his primary residence. Boasting a massive area and opulent amenities, it's no wonder that many are curious about the size and features of this extravagant property.
The overall size: Mar-a-Lago sprawls across an impressive 17-acre estate in Palm Beach, making it one of the most significant properties in the area. Contrary to Trump's claim that it covers 24 acres, the actual size is closer to 20 acres. Here we go again…
Your $200,000 initiation fee includes laid-back, easy living at the Beach Club. Extending across two acres, the estate's Beach Club provides direct access to a private beach, allowing members to enjoy the sun, sand, and sea at their leisure.
It also features a 132-foot by 50-foot pool, a whirlpool, and a beachfront bistro where visitors can indulge in delicious meals while overlooking the ocean.
At Mar-a-Lago, there's no shortage of fun and excitement. Members enjoy themselves as they drink, dance, and cavort until the wee early morning hours. So, get ready to let loose and make the most of your night at this exclusive supper club on the east coast.
Dining at Mar-a-Lago Without Being a Paid Member. Can It Be Done?
While membership is exclusive and expensive, there are still ways for non-members to enjoy the exquisite dining experience at this prestigious location. If you have friends or acquaintances who are members of the Mar-a-Lago Club, they might be able to invite you as their guest for a meal. This can be a great opportunity to experience the club's dining facilities first-hand without committing to a membership.
Mar-a-Lago also offers luxurious guest rooms and suites for visitors. If you book a stay at the club, you will likely have access to its dining facilities during your visit.
This can be an expensive option, but it might be worth considering if you're looking for a taste of the Mar-a-Lago lifestyle without committing to a full membership. Of course, these options are subject to availability and the club's discretion. In political circles, we call this flip-flopping. But hey, it's worth a shot if you want to party into tomorrow at one of the hottest tickets when it comes to supper clubs on the east coast.
Conclusion
These exclusive supper clubs offer world-class cuisine prepared by executive chefs along with amenities second to none when it comes to rubbing elbows in bespoke bars, offices, pools, and even private beaches. If you're not a famous socialite but have the funds to join up, then celebrity stargazing at these supper clubs should be high on your list, they will be there.