Before we get into our extravagant sushi restaurant list, we'd like to point out there are just too many great sushi restaurants and sushi bars to count in a lifetime, let alone dine at.
But we're about enjoying an elevated, inspirational, and memorable experience, if not eccentric. Think bucket list-worthy.
So on this one, we're going to let our hair down and get a little crazy with our top 5. Get comfy, break out some sake, and enjoy the ride.
Masa
New York, New York
Proudly earning three Michelin stars for nearly a decade, Chef Masayoshi Takayama is truly one of the greats when it comes to preparing impeccable, delicious sushi.
Following some trends we're seeing in restaurants, Masa no longer allows tipping.
Call it what you want – a bribe, hush money,  a friendly gesture – if it looks like cash or a credit card, forget it. On that note, the price for dinner at Masa is US$595 per person, not including beverages and tax.
Don't think bringing your own bottle of wine is a workaround. Corkage is $95 per bottle, a maximum of 2 bottles.
Now that the formalities are out of the way, here's the good news. Chef Masa apprenticed under the direction of a sushi master, Sugiyama Toshiaki, at Tokyo's well-respected Ginza Sushi-ko.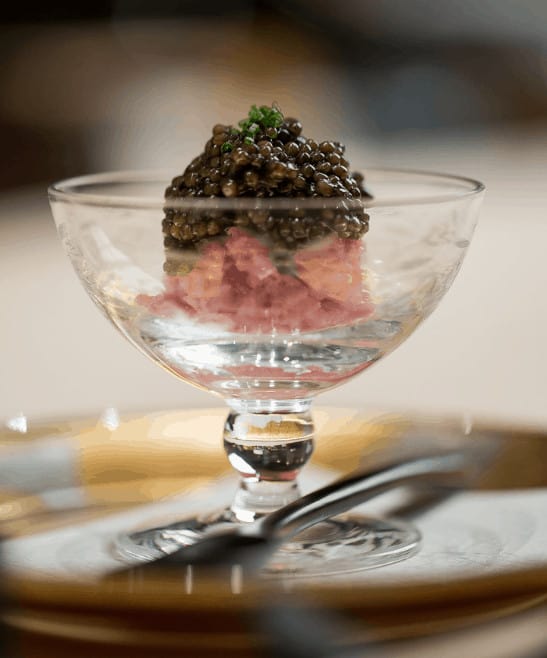 The intense training proved invaluable, inspiring his intimate relationship with food and dining as an all-inclusive experience.
Sushi rules at Masa, and the sparse, simple interior is intended to act as a blank canvas on which the food is front and center.
You'll need to save on travel if you're getting sushi at Masa.
Urasawa (Omakase Menu)
Beverly Hills, California
Omakase means "I'll leave it to you" in Japanese. Set within an intimate and comfortable atmosphere, guests are treated to the chef's selection of extravagant sushi and other Japanese dishes.
Urasawa, being on the famed Rodeo Drive tells you this will be an extravagant sushi experience you won't soon forget. Dinner for 2 at Urasawa will set you back about $1,000 (with tip and tax).
This sushi bar offers a limited room at 10 diners per sitting, and Chef and owner, Hiroyuki Urasawa is known for his amazing fresh Toro (tuna) served on a custom-carved ice pedestal.
Chef Hiroyuki Urasawa actually worked under Chef Masayoshi Takayama of the famed Masa restaurant we just mentioned. They both follow the same quality protocols of flying in fresh fish from the same market in Japan.
Another protocol on our end is to consume each piece of sushi within ten seconds of receiving it. It seems "fresh" is a common theme here, and the payoff is worth every bite.
Shinji by Kanesaka is an extension of 1 Michelin star Chef Shinji Kanesaka's Edo-style sushi restaurant, which was first set up in Tokyo's exclusive Ginza district.
Like the original Ginza Sushi Kanesaka, the interior of Shinji by Kanesaka was also designed by Junzo Irikado. Organic materials like wood and paper are flown in from Japan and provide for the restaurant's furnishing and fixtures.
A frequent sight to behold at Shinji is the chef grating a fresh stick of wasabi on a natural, raw piece of sharkskin.
At Shinji, they only use fresh wasabi, which is more fragrant and less spicy. Can't get any more old-school than that!
Their signature dish is the Uni Rice Bowl, featuring a wonderful medley of uni from Hokkaido, Ikura, and Negitoro. This is a delight with the senses and something you definitely will want to try when visiting.
Nobu (Omakase Menu)
Miami Beach, Florida
Nobu is another sushi restaurant where the chef chooses what you eat, and just like magic, it's always awesome. We've mentioned Nobu restaurants as being celebrity magnets and this one is no different. Still, this can only start with an exceptional sushi-tasting menu.
Madonna has even said she gauges the fun level of a city based on whether or not it has its own Nobu location. So you know you're going to have a Jetsetty experience here.
If you opt for the omakase menu at Nobu Miami, you'll be able to dine inside the Eden Roc Hotel. Now we're getting into some elegant territory – simplicity be damned. This tasting menu starts at around US$180.00 per person.
A fave at Nobu Miami is the lightly seared Tuna Tataki set in Tosazu. They add a little fresh garlic, scallions, and momiji oroshi (grated daikon radish and red pepper). Yes, we do reference the sushi encyclopedia now and then.
This sushi meal involves riding on a luxury train and taking a trip through eastern Japan. This will cost you around US$11,000.00 (single occupancy) for the exclusive suite car. To that, we say all aboard Train Shiki-Shima!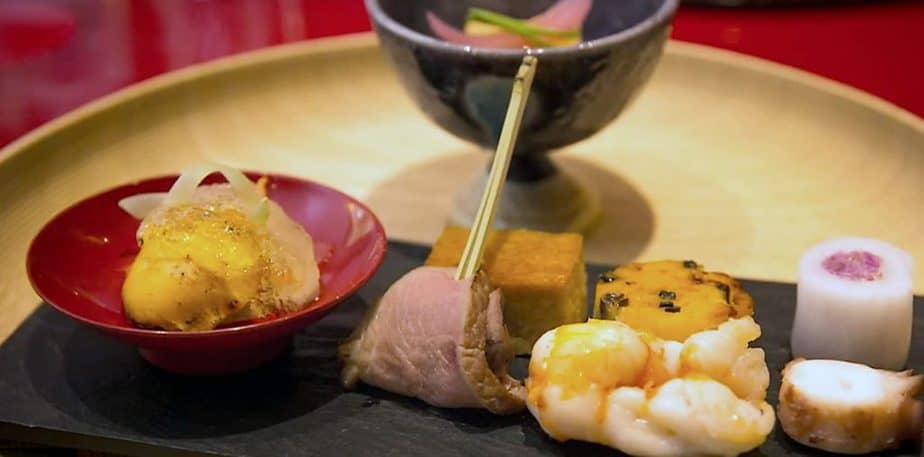 We do love our fast bullet trains, and for Train Shiki-Shima passengers who booked the Shiki-Shima Suite, your five-star experiences start at Tokyo station.
A striking, futuristic vehicle in champagne and gold and with geometric cut-out windows, the train is laden with opulent and inspired touches including a wood-burning fireplace in your cabin.
What else does this sushi meal include? First, there's your personal round-the-clock butler service (assumedly trained at one of these luxury British hotels). Considering this is a train, that's pretty eccentric.
There are also piano recitals and exquisite cuisine prepared under the guidance of Japan's first Michelin-star chef, Katsuhiro Nakamura. Take a ride on Train Shiki-Shima and see how lavish a sushi meal can get!