When Ashton Kushner coined the phrase, "Dude, where's my Car" in his 2000 hit movie, we think that might have just been code for Dude, where's the top luxury dude ranches in Wyoming? Yeah, we're running with that one.
Wyoming is a unique U.S. state that offers visitors a truly magical experience. You might say a great place to be at one with nature.
From its rolling valleys, craggy mountains, and flourishing forests to its hearty hospitality and vibrant culture, there's no better way to explore the Cowboy State than by staying at one of Wyoming's top luxury dude ranches. So let's cowboy up and forge ahead.

Wyoming's luxury dude ranches offer all the amenities and exciting experiences you could want. From cozy lodging in rustic log cabins to top-notch horseback riding and incredible dining options, you're guaranteed to find a perfect fit to meet your all-inclusive experience.
What Is the difference between a dude ranch and a guest ranch?
Unlike a guest ranch, working dude ranches allow guests to be involved in the daily operations of the ranch, such as moving cattle and fixing fences, but the extent to which they participate is completely up to you. In a nutshell, you'll be the one who keeps them dawgies rollin' if that's your thing.

With horseback riding being the primary activity at both these types of ranches, dude ranches are also usually all-inclusive with meals and activities included in the price and usually require a 6-7 night stay. So this is a true life-on-the-ranch experience, not just hanging out at someone's homestead.
What do you wear to a luxury dude ranch?
For cool morning activities and unpredictable mountain weather, make sure to pack a cozy sweatshirt, a trusty coat, or a lightweight jacket. Also;
* T-Shirts for staying cool when the temperature rises.
* Pack your well-worn trusty blue jeans for maximum comfort on horseback.
* Shorts for lounging around the ranch and pool when it's warm.
* Sunscreen and lip balm with a high SPF.
* Sunglasses.
* Medications.
* Leather gloves for riding and roping cattle, if that's your thing.
It is also important to know what not to wear. Some no-nos include dressing up as John Wayne with guns on the belt and spurs, Hawaiian shirts and big screen sunglasses, and shorts for horseback riding. Your thighs will thank you later.
Also, don't bother with hiking boots for riding, and lose the huge cigar in your mouth (we're talking to you, Mr. Hollywood Producer). Lastly, save your Austrian lederhosen for another time, like Octoberfest.
Just dress casually and fashionably with a nice cowboy hat and boots. You might even own a custom pair if you stayed at one of our top luxury hotels in Dallas.
Flat Creek Ranch
– 1 Upper Flat Creek Road, Jackson, WY 83001
If you're looking for a unique getaway that blends a stunning natural landscape with a wide range of activities, this dude ranch is the place to be.

Flat Creek Ranch is the perfect top luxury dude ranch in Wyoming for those looking to explore the breathtaking scenery in the area. Located just outside of Jackson, this ranch offers an intimate setting with only 5 cabins and no more than 12-14 guests at a time.
Accommodations
Here you'll savor the rustic luxury of just five creekside or lake view log cabins; each boasting antique clawfoot bathtubs, woodburning stoves, cozy flannel sheets, and down comforters. Adorned with unique art, Flat Creek Ranch makes sure your stay in any of these exquisitely renovated cabins will be an experience like no other.

Guests can enjoy three meals a day including a 4-course gourmet dinner utilizing local ingredients. There are many activities available such as canoeing, kayaking, paddle boarding, drift boating, hiking, fly fishing, and horseback riding.

Lots of folks come here for fly fishing, in fact, they even have a fly fishing clinic for beginning and intermediate anglers. You'll also find 2 and 3-night Backcountry excursions, where you'll have a base camp set up with all the luxuries of home, so you get the experience of the great outdoors without roughing it.
Dining
At the end of the day, you can enjoy drinks and appetizers on the deck, followed by a four-course dinner of classic and decadent dishes. the chef is experienced and imaginative, creating daily menus that reflect the seasonal bounty of local, organic meat and produce from the ranch's own garden.
Nestled in the foothills of the Colorado Rockies, this working ranch offers a luxurious lodge and spa experience that is unlike any other. From their rustic-chic cabins to the heated indoor pool and on-site activities, there is something for everyone.

The Lodge and Spa at Brush Creek Ranch is an award-winning flagship property of the Brush Creek Luxury Ranch Collection, offering an incomparable, truly authentic western resort experience.
In fact, year after year, it has been heralded as the Best Resort in the U.S. by Travel + Leisure, Condé Nast Reader's Choice, and even Forbes, awarding it the 5-Star Hotel badge.

Accommodations
With a maximum capacity of 120 guests, the ranch offers an intimate setting to relax and explore its sprawling 30,000 acres, so no shortage of elbow room here. Each of the Trailhead Lodge rooms is nicely appointed, with a quick golf cart ride to the Activities Barn and The Lodge.

The lodging options offer a choice of 44 suites, with 69 bedrooms between them: 19 of which are located in the main Trailhead Lodge, and 25 of which are luxurious, private log cabins.

The ranch offers a variety of amenities, from all-inclusive access to food and beverage to activities like ATV rides, fly fishing, and archery. Guests can also enjoy the on-site saloon and restaurant, as well as the beautiful wine cellar. In the evenings, liquor is included in the stay, creating the perfect atmosphere for a night of relaxation.

Dining
Their culinary delights are crafted with a ranch twist by the talented Executive Chef. From the vegetables and fruits nurtured in the greenhouse to the grains carefully fermented to create unparalleled spirits – the cuisine is always guided by its seed-to-table philosophy.

This includes summer tomato salads, Medicine Bow Creamery chèvre (the only Grade-A goat dairy in Wyoming), and hearth-grilled 100% American Wagyu. One thing you can count on, these top luxury dude ranches in Wyoming know their beef!
Lost Creek Ranch & Spa – Limited To 40 Guests
– 17820 Old Ranch Road, Moose, WY 83012
If you're a fan of the show Modern Family, you may recall the premiere of season 3 which was filmed here and appropriately call "Dude Ranch."
If you've watched and loved the location of White Lotus you'll see that location scouts have an eye for amazing places, so this helps put Lost Creek Ranch & Spa at the top of our top luxury dude ranches in Wyoming. But there are lots of other reasons as well.

Situated just across the three famous peaks of the Grand Tetons in Jackson Hole, this Modern Family getaway is truly a paradise for adventure seekers.
From horseback riding suitable for all levels to outdoor activities like fishing and whitewater rafting, there's something here to thrill everyone in the family.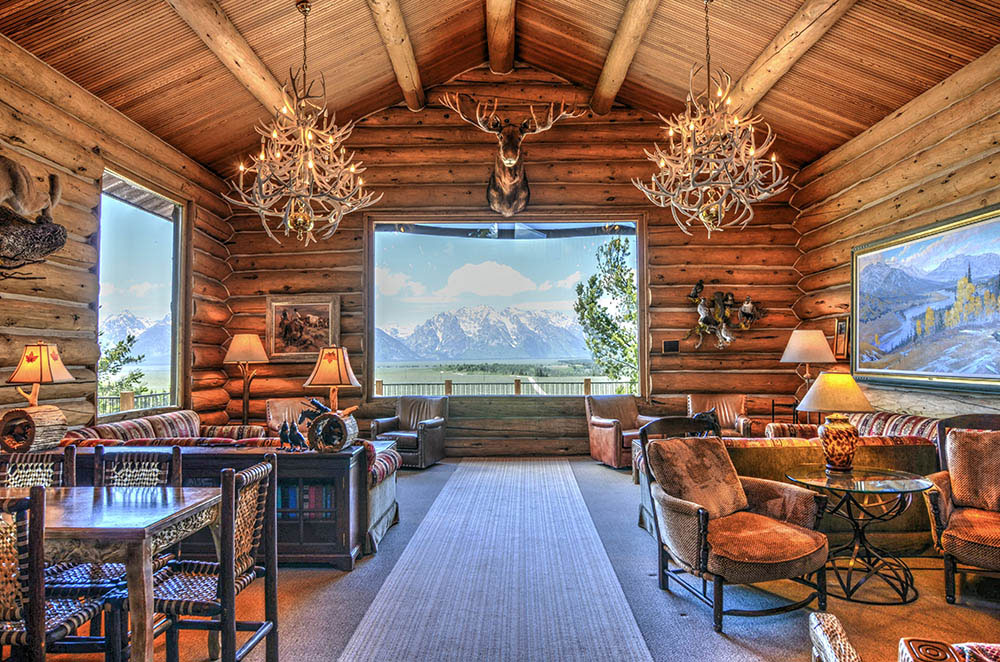 Limited to around 40 guests, you get bespoke attention as the staff-to-guest ratio is excellent. The meals served at Lost Creek Ranch are also a highlight. Enjoy a variety of classic dishes off the menu, with the Bison Fillet being particularly delicious.

From the front desk to the wranglers to the kitchen and spa staff, each of the personnel has been carefully handpicked by the ranch manager to provide the utmost level of service.
Accommodations
At Lost Creek Ranch & Spa, guests have a variety of accommodation options to choose from. The Western rustic log cabin-style rooms offer a bed and breakfast experience or a luxurious resort-style stay, depending on the cabin. Either way, the remote nature location adds lots of privacy and quiet time to your dude ranch experience.

Speaking of which, you'll want to kick back on your porch and experience a taste of the frontier life, just enjoying the pristine wilderness and breathtaking views only being disturbed by the occasional shriek of a hawk. And if you're looking for something a little more along the lines of roughing it while in Wyoming, then Slough Creek campgrounds in Yellowstone will fit the bill – if you can get a reservation.
Dining
From hearty breakfasts in the lodge to lunch on the trail, and exquisite dinners served in the ranch dining room, visitors can look forward to savoring some of the finest Rocky Mountain cuisine sourced from local producers.
As the last of the cattle get penned under the setting sun, you'll settle in for dinner in the lodge dining room. Here you'll find a cozy, casual ambiance. The menu evolves with the season, featuring delectable comfort food, unique dishes, and fine delicacies. And for drinks, the bar offers an impressive selection of wines, beers, and spirits.
Magee Homestead – Adults Only
– 6429 WY-130, Saratoga, WY 82331
The Magee Homestead at Brush Creek Ranch is a luxurious ranch retreat located near Saratoga, Wyoming. Guests will get to experience everything the wild west has to offer.

From outdoor adventures and spa treatments to exquisite meals prepared by world-renowned chefs, the Magee Homestead at Brush Creek Ranch promises a truly unique dude ranch getaway for all its guests.
The Magee Homestead is one of three distinct, all-inclusive Brush Creek Ranches, along with The Lodge and Spa at Brush Creek Ranch, a family-friendly resort, and the French Creek Sportsman's Club, a premier hunting and fishing resort.
On a side note, if you're hankering for a western ranch-style adventure, but just have to have your golf, then one of these top luxury resorts in Scottsdale, Arizona will fill the bill.

Covering an expansive 30,000-acre, this working cattle ranch stretches across the Platte River Valley between the Sierra Madre Mountain Range and the stunning Medicine Bow National Forest.
Aside from the usual dude ranch activities like horseback riding and whitewater rafting to paintball and shooting ranges, the property is also home to two philanthropic programs.
Staddle Camp supports a non-profit organization of Catholic schools in underserved areas of Chicago and the Brush Creek Foundation for the Arts, supports artists in pursuit of creative enrichment. You can't mention creative enrichment without a shoutout to Oprah Winfrey, one of the most generous celebrity givers out there.

Accommodations
With nine charming, restored cabins, these luxury accommodations boast a total of 12 bedrooms, offering a cozy retreat for up to 27 guests. Each cabin goes overboard on the coziness and features carefully preserved rustic furniture, hunting trophies, and an avalanche of cushions and blankets.

However, two grand cabins, feature a two or three-bedroom layout with all the modern amenities, including a kitchen and living area. Also, some cabins have a private fireplace and a creekside deck. That leaves just you, your significant other, and 30,000 acres of cowboy country to stretch your legs across.
Dining
After a long day on the trail or fine-tuning your archery skills, the metaphorical dinner bell rings announcing signature "pasture-to-plate" cuisine. With their own 100% American Wagyu beef, artisanal Medicine Bow Creamery creations, and fresh produce sourced from The Farm at Brush Creek's Greenhouse, you'll find dinner being half the fun.

To top things off, there's an amazing wine selection at the Magee Lodge. This is an unrivaled showcase of remarkable vintages from all corners of the globe, masterfully chosen to pair perfectly with an array of exquisite dishes.
The Ranch at Rock Creek – 5-Star Glamping In Canvas Cabins
– 79 Carriage House Ln, Philipsburg, WY 59858
Sounds a lot like Lost Creek Ranch, but this top luxury dude ranch was the world's first Forbes travel guide Five-Star ranch. So, saddle up partner, you're in for some award-winning hospitality.

At the Ranch, guests can explore 6,600 acres of land with a maximum occupancy of 125 people. There are a variety of activities to do here, including fly fishing and shotgun shooting, ATV rides, horseback rides, hikes, bowling, pool, darts, and hot tubs.

Those activities are typical of all our top luxury dude ranches in Wyoming, but also every single couple and family who sets foot at The Ranch at Rock Creek is accompanied by their very own, personalized Ranch Ambassador. Who knew dude ranches had butlers like some of these luxury British digs?
Accommodations
The ranch offers a rustic barn, repurposed into 3 luxury suites you can stay in, or for the longer term they offer luxury vacation homes including 2-story cabins along with some rustic cottages. Kind of a throwback to the old-timey days when cattle barons were calling the shots. But here, you're the ranch boss.

They also have an enclave of 10 glamping "canvas" cabins, where you can experience more of a wilderness lifestyle without giving up a single iota of the luxury you crave.

Dining
The Ranch at Rock Creek offers guests a truly unique and unforgettable culinary experience. From the 1500-degree Italian grill used during Chef's Grill on Thursdays to the hearty Stockmen's Supper on Sundays, no one here goes hungry or even gets hangry.

Chef Jack Drage has developed a diverse menu that combines fine dining with homestyle cooking and makes use of fresh local ingredients whenever possible. On the menu, you'll find dishes such as Wagyu ribeye, bison prime rib, and plenty of tasty steakhouse-inspired sides.
Conclusion
Vacationing at one of these top luxury dude ranches in Wyoming is the perfect mix of adventure with relaxation, and because the staff at these ranches bend over backward to stake their claim as the best of the best, you won't fall short when it comes to a luxe experience.
Wyoming is more than a beautiful countryside is a mecca for natural food resources with winding, fish-filled creeks, and fertile hunting grounds. Throw in a working cattle ranch and it's easy to see that maybe things weren't so bad back in the day of poking cows and growing your own crops. One thing is for sure, at these ranches you'll be the big bug. So, bone up on your cowboy lingo, and order up a tall one from the bar dog.