If you want to find out which of the top luxury hotels in Scottsdale, Arizona that your favorite celebrities are vacationing at, then this list of exclusive hotels in the Sonoran Desert is for you.
The cities of Phoenix and Scottsdale are two of the most sought-after destinations in Arizona, known for their spectacular sunsets and dramatic mountain ranges. In fact, Scottsdale is one of the top 3 wealthiest cities in Arizona, and it's mostly known for its sprawling resorts.
Not only are these top luxury hotels in Scottsdale the perfect spot to rejuvenate and relax, but you'll also find that these hotels cater to the VIP lifestyle, whether you're Hollywood royalty or not.

From award-winning spas and golf courses to award-winning chefs at their on-site restaurants, these five luxury hotels offer a unique and unforgettable experience for guests.
It's time you set your sights on the ultimate escape, and the Fairmont Scottsdale Princess ranks as one of our favorite top luxury hotels in Scottsdale. This AAA Five Diamond resort is set against the majestic Arizona Sonoran Desert.

Opened in 1987, the relatively youthful Fairmont Scottsdale Princess may not have the history of some of its neighboring resorts, but the North Scottsdale spot is second to none. With its fountained plazas, Mexican colonial–style architecture, and 65 scenic acres—we'd say it's aging just fine.
Rooms – Privado Suite
For luxury lodging, you have a lot of choices at this top resort in Scottsdale. This includes Suites with private patios and dual vanity sinks, their Gold Suites with complimentary private lounge and spa access, and the Privado Villas, which are their ultra-luxe rooms.
Privado Suite
If you're going all out to scale up your luxe lifestyle, then a resort that offers private bungalows and villas is the way to go. This one-bedroom suite has a gas fireplace, walk-in closets, and a stocked refrigerator. You can also turn off your luxury rideshare apps, this room also comes with complimentary chauffeur service – just another amenity that rocks this place.

Aside from the go-to items like cold brew and water in the fridge, you can call ahead to have it filled with all your favorite foods and snacks. Other bespoke amenities include a private relaxation pool for Privado guests only, a personal Concierge service, and a couple of friendly lobby dogs to greet you upon arrival. Introducing the Canine Ambassadors.
Canine Ambassadors
Not only is the resort pet-friendly where your best pals can partake in the Posh Paws program, but if you had to leave your beloved pet at home, they do have canine ambassadors who go by the name of Bixby and Gibbs.
Bixby, a bright-eyed Yellow Labrador Retriever, simply adores golf cart rides and cuddling up with the kids, while Gibbs, a passionate Red Golden Retriever, loves nothing more than receiving warm hugs and soaking up the stunning Arizona weather. The two pups' debut book, The Golden Friends of Fairmont, just got the ultimate "two paws up" seal of approval!
World-Class Golf
Just steps away from TPC Scottsdale, one of the most renowned Scottsdale golf courses and the site of the renowned PGA WM Phoenix Open, the Fairmont Scottsdale Princess offers the perfect spot regardless of your swinging skills.
The greater Phoenix area has around 300 gold courses and over 300 days of sunshine a year. Throw in these top luxury hotels and resorts in Scottsdale and it's no surprise this is one of the best places in the country for a golf vacation.
Dining – Bourbon Steak
The award-winning culinary experts have crafted an exceptional dining experience to tantalize your taste buds with a delectable selection of local and global cuisine. From the delicious steakhouse fare of Bourbon Steak to the exquisite Mexican delicacies of La Hacienda, you're not going to have any trouble finding a satisfying feast.

Speaking of perfection in the culinary arts, Michael Mina, a James Beard award-winning chef, has crafted this AAA Four Diamond restaurant to perfection, offering the ultimate steakhouse experience.

We'd recommend finishing off your meal by heading over to Toro Latin Restaurant & Rum Bar. With its vibrant atmosphere and tantalizing ceviche bar, all your rum faves are served up tall and tasty. You can also ask for a mocktail, we're betting they'll have a bottle of the non-alcoholic ArKay Rum on hand.
Well & Being Spa
Internationally recognized, Well & Being Spa is the place to be if you crave true harmony and balance. From blissful spa treatments and invigorating fitness classes to energizing wellness activities, this lavish 44,000-square-foot oasis has something for every mind, body, and weary soul.
For a whole new spa experience, book some time with their Havasupai Falls Rejuvenation or Hacienda Retreat. You can even experience the healing power of sound with a Singing Bowl Therapy session.
The Havasupai Falls treatment lets you dive into an oasis of serenity and peace. Modeled after Havasupai Falls in the Grand Canyon, you'll immerse yourself in a magnificent grotto with three breathtaking waterfalls and red rock stone gardens resembling a desert canyon. The waterfalls wash away the tension in your neck and shoulders letting you recharge while being at one with nature in your own little paradise.
Celebrities Know Best
Well, not always but they sure know how to live the good life. A-listers like Tiger Woods, Jerry Seinfeld, Jessica Simpson, Liza Minelli, and Chris Isaac are all known to have stayed here, so we're following their lead and making this one of our top luxury hotels in Scottsdale.
Villas and bungalows rule at this top luxury resort, and we can honestly say Scottsdale's a better place because of it. The resort's unique identity is deeply intertwined with the Cattle Track Arts Compound; an 81-year-old artists' community located less than a mile away. Like the Joule Hotel in Dallas, this is a must for those wanting to get lost in thought-provoking art – and possibly spot a celebrity or two.

Guests will find original Cattle Track art in each guestroom and suite, while its artists often frequent the resort to create works, engage with guests and share their stories. This should help get those creative juices going if you're stuck in a rut.
While basking in endless sunshine, you'll find 23 tranquil acres resting in the shade of Camelback Mountain, boasting 185 lavish bungalows and suites, plus three refreshing swimming pools to cool off in. After all, it does get hot in the Southwest. OK, scorching hot. But it's a dry heat, right?
Rooms – Eames Resort King Bungalow
How we love our bungalows, and these are sprawled out like a small village, letting your private terrace be exactly that – private. Named after the mid-century design icons Charles and Ray Eames.

The rooms reflect the clean lines, and sleek style, found in mid-century design. as Charles would have called a "way-it-should-be-ness." Great phrase, Charles! We'll be borrowing that now and then.
Dining – Weft & Warp Art Bar + Kitchen
We'll keep that entrancing art theme going with the Weft & Warp Art Bar + Kitchen. Be sure to reserve your space at the upscale Chef's Tasting Experience, where you'll be seated at Chef's Table in the exhibition kitchen and embark on a six-course tasting odyssey.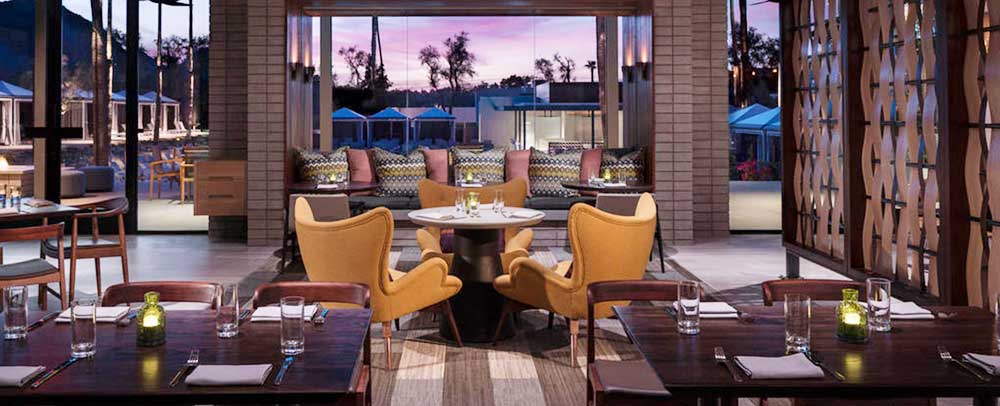 The sommelier will take you on a sipping journey of flavor with exquisite wine pairings, leaving no doubt that some of the best art in the world can be created in a kitchen.
Palo Verde Spa and Apothecary
You already know that in any direction you point, there's going to be a golf course in Scottsdale, so we'll skip right to the pampering. Ranking high as 2022 USA Today 10 Best Readers' Choice Awards, and  No.5 Best Hotel Spa 2021 Wellness Travel Awards, this is a holistic luxury spa experience using native plants and other of the Sonoran Desert resources to heal, refresh and breathe new life into you.
Nestled deep in the lush green hills of Arizona, The Phoenician Resort offers luxurious accommodations that are beyond compare. From the spectacular views of Camelback Mountain to the opulent décor, the resort is truly a world-class experience for travelers.

In the depths of this grand oasis lies an even more exclusive enclave known as The Phoenician Canyon Suites. As one of the most private and intimate accommodations, these suites are a hidden gem among luxury vacationers.
The Phoenician in itself is the epitome of luxury, but we can still take it to a higher level higher in the Canyon Suites. This intimate dominion is an inviting environment for guests to relax and enjoy the Luxury Collection, which includes private access to the Canyon Suites pool – an oasis amidst cabanas, cacti, and landscaped waterfalls.

Transportation is taken care of by a house car that takes guests into Old Town Scottsdale for some fun shopping at the exclusive stores, while golf cart chauffeurs transport you around the resort grounds. Considering the max speed of a golf cart, it's safe to say there's no crazy James Bond stuff going on with these drivers.
Rooms – Presidential Suite
As the name suggests, this is regal vacationing at its finest, with sweeping views of the resort's perfectly manicured landscape, and the valley beyond. With 2 patios and 1,800 square feet of space, the room also includes complimentary use of a private cabana at the exclusive Canyon Suites infinity pool.

Dining – J&G Steakhouse At The Phoenician
Knowing the Canyon Suites are part of the Phoenician Resort, you can also rest assured that fine dining is right at your fingertips. Obviously, cattle was a big deal in the Southwest back in the day so it's no surprise that world–class steakhouses are plentiful in Arizona, but don't let the name throw you off.

Besides serving up premium meats prepared to perfection, the cuisine includes a global selection of seafood with the finest locally sourced ingredients. With something for everyone, all you have to do is order up a hand-crafted cocktail, kick back, and enjoy the sunsets.
Four Seasons Resorts Scottsdale at Troon North offers its guests an incomparable luxury experience coupled with exquisite cuisine. Like our other top luxury hotels in Scottsdale, you'll find yourself in the heart of Arizona's unique and beautiful Sonoran Desert.

That means guests enjoy breathtaking vistas, championship golf courses, and luxurious amenities. If you've watched HBO's White Lotus, you'll know The Four Seasons know how to cater to the most astute traveler looking for a luxe experience.
The resort offers a variety of accommodations including Deluxe Casita Rooms, Premier Casita Rooms, Prescott Two-Bedroom Suites, and Pinnacle Three-Bedroom Suites.

At Four Seasons Resorts Scottsdale at Troon, guests can indulge in more than just luxurious accommodations – they can explore the Sedona region in style! Take a thrilling aerial tour of the Red Rocks landscape, go horseback riding, or witness the breathtaking scenery on an early morning hot air balloon ride.
Rooms – Patio Firepit Casita Room
Inside this room, you'll find a cozy gas-burning kiva fireplace and bathrooms with deep soaking tubs with a lavish, separate shower.
The fire pit on the private patio is a relaxing place to hang, with a stunning backdrop of mountainous peaks against the panoramic sky. Surrounded by cacti and lush native landscaping, this patio casita creates a picture-perfect, secluded abode.

Dining – Onyx Bar & Lounge
For a little variety, sometimes you just want some comfort food and small-plate meals. The Four Seasons Resorts Scottsdale at Troon has its staple of fine dining (yes, another fantastic steakhouse called Talavera) but sometimes intimate dining means just chillin' and tasting the different flavors of the Southwest while enjoying a cocktail.
On the small plate menu, tapas include Lobster tostadas, lamb meatballs, and shrimp cocktails with Mezcal cocktail sauce. With all-day dining, you can satisfy your guacamole craving anytime and even get late-night milk and cookies at this place.
Our top celebrity philanthropist Oprah Winfrey was seen here, so we can add this to our list of great places to spot a celebrity. While we're at it, let's add Drake, Katy Perry, John Travolta, Billy Bob Thornton, and Hugh Jackman – all of who have also been seen here.
Speaking of celebrities, The Sanctuary Camelback Mountain Resort and Spa in Paradise Valley is a particular favorite of celebrities. Singer Britney Spears has stayed there multiple times, and actors Jennifer Aniston and Vince Vaugh have also stayed here.

This five-star destination is sure to make your trip extraordinary. With its beautiful desert backdrop, there are endless activities and opportunities to explore, relax and indulge.
This 53-acre resort rests against the picturesque backdrop of Camelback Mountain, and with its casitas, suites, and villas sprinkled around the base of the mountain, the sanctuary is an appropriate name for this blissful nirvana. Enjoy the 12,000 square-foot spa, fitness center, multiple pools, tennis & pickleball courts, nearby hiking trails, and an award-winning restaurant.
Sanctuary Camelback Tennis & Pickleball
The Sanctuary Camelback is perfect for a tennis or pickleball retreat. In fact, its very roots started as the Paradise Valley Racquet Club throughout the 1950s, then changed to John Gardiner's Tennis Ranch in 1965. Tennis seems to be in its bloodline.
With 4 pickleball courts and 3 tennis courts offering private and group lessons, this might be a strong contender to these top tennis academies.
Sanctuary Spa and Wellness Classes
With signature experiences like Asian-inspired treatments to a Sumatra Coconut Body Ritual, relaxation & rejuvenation seem to be the spa's mantra. Yoga and Pilates classes can be taken privately or in groups to help you hit those high notes in the wellness arena, but you might want to try some rigorous hiking through the desert on one of the many trails.

Rooms – Villa Luna
If you miss your stately manor back home, this place should help move those feelings to the back burner. Clocking in at a massive 5,500 square feet of luxe, you get floor-to-ceiling windows so you can take in every inch of the breathtaking views.

There are also private indoor and outdoor showers, 4 beds, 4 baths, a gourmet kitchen, and an infinite pool. The hotel is pet-friendly, but this is the only accommodation that you'll have to make do without your little buddy.

Dining – Elements
The word sanctuary echoes connotations of simpler times and being away from it all, and the cuisine at Elements serves up a taste of utopia with farm-fresh American Cuisine sprinkled with Asian accents.

The menu is thoughtful, with delectable, seasonal dishes crafted from organic, locally-sourced ingredients and sustainable seafood, plus vegetarian and gluten-free options.
Conclusion
When it comes to the top luxury hotels in Scottsdale, there are so many options to choose from. Whether you're looking for a resort with stunning desert views or a private bungalow in the heart of Scottsdale, each luxurious hotel offers something special when it comes to lodging and amenities.
As a bonus, the area is also a golfer's dream location with so many courses and so much sunshine all year long. Speaking of a golfer's dream, the 2023 U.S. Open in Los Angeles is sure to offer some surprises. Staying at these destinations, you're always going to be close to the shopping you love, and alongside a thriving arts community. This is your anytime-of-the-year luxury vacation destination. Enjoy!