Oprah Winfrey's top charities always put her at the top of celebrity philanthropists, year after year. She is a philanthropist and humanitarian who has used her celebrity status to bring attention to some of the world's most pressing issues, and an icon who uses her voice and platform for good.
For starters, she gives much of her wealth towards higher learning such as scholarships to underserved achievers as well as school supplies to isolated villages in China. This just goes to show how her outreach knows no limits or borders.
In fact, over the years, Oprah has donated hundreds of millions of dollars to causes around the globe. She also created a pay-it-forward type charity that took off helping people worldwide, like her Oprah Winfrey Leadership Academy for Girls in South Africa. Let's take a closer look at how the "Queen of Media" became the Queen of all things good in this world.
Oprah Winfrey Charities and Special Projects
The extraordinary Oprah Winfrey has been a beacon of generosity throughout her career, contributing vast amounts of aid to schools, shelters for victims of domestic abuse, and campaigns to end child abuse. Moreover, she has committed to other charitable causes and special projects that have made a lasting impact. This brings us to Oprah's Angel Network.
Oprah's Angel Network
Oprah's Angel Network was created in 1997 when Oprah invited viewers to join her in using their lives to improve the lives of others. The Oprah Winfrey Angel Network builds on its motto, 'To work around the globe to give people the chance to live their best lives."
Oprah and her supporters have made a truly remarkable difference to people across the globe through the Angel Network. From scholarships to building homes and schools and even gifting books, the charity has undeniably changed the lives of countless people.
This all started with a plea to her viewers to donate their change, as well as their time. The initial ask raised US$3.5 million, which was given away in the form of 150, US$25,000 scholarships. This simple asking of her fanbase also received 15,000 volunteers to build homes for Habitat for Humanity. That's star power.

The Angel Network's most significant projects include developing over 55 schools in 12 countries with Free The Children and providing school supplies for 18,000 impoverished South African children.
Additionally, the network supported rebuilding efforts in Gulf Coast communities devastated by Hurricane Katrina, distributed books through Oprah's Book Club Awards, provided grants to organizations that help women and girls, and built the Seven Fountains Primary School in KwaZulu-Natal, South Africa.
Because Oprah made it her mission to have 100% of all funds go straight to charity programs, she personally covered all administrative costs in order for this to operate.
If anyone knows how to pay it forward, it's Oprah. The organization raised over US$80 million by 2010 before it stopped taking donations and eventually dissolved. However, Oprah remains committed to philanthropy, and her new Oprah Winfrey Network will continue to highlight charitable organizations.
For example, when Hurricane Katrina devastated New Orleans, Oprah created the Oprah Angel Network Katrina Registry. The relief efforts raised US$11 million and had homes built in Texas, Mississippi, Louisiana, and Alabama. It seems only Oprah can outdo herself.
Oprah Winfrey Scholarship
Another one of Oprah Winfrey's top charities is that she gives a scholarship funded by the Oprah Winfrey Endowed Scholarship Fund. This fund has helped more than 250 students from 20 states and 7 countries to receive higher education at Morehouse College.

Oprah Winfrey's history of giving in support of Morehouse students began in 1989 with a US$1 million contribution made during commencement exercises.
This established the Oprah Winfrey Endowed Scholarship Fund. Each subsequent gift has been added to the corpus of the Oprah Winfrey Endowed Scholarship Fund. Ms. Winfrey's total gift stands at over US$12 million. Her total contributions have set her apart as the College's top individual donor to date. For that reason, this has become one of Oprah Winfrey's top charities.
How Much Has Oprah Winfrey Given to Charities?
By 2012, Oprah Winfrey had been forecast to donate a staggering $400 million to educational organizations. She had no less than 31 charities under her belt, which were striving to better the lives of millions of people by tackling 27 different causes around the globe. But deep down, she knew that education was the one thing that could truly change people's lives for good.
As she is one of the most giving celebrities out there, it's hard to keep current as she doles out donations like most of us eat 3 squares a day. We had a hard time narrowing down Oprah Winfrey's top charities as she's created so many. Regardless, they are all worthy of a shout-out.
One of Oprah Winfrey's most passionate charities is called The Oprah Winfrey Leadership Academy Foundation (OWLAF). This foundation strives to educate black girls all over Africa, by allowing them to enroll in the Oprah Winfrey Leadership Academy for Girls in South Africa.
In the first year alone around 150 students enrolled in the school, and 800 students have been educated there since its inception. Where there's a will there is a way, and Oprah has set the precedence for always finding a way.
The Oprah Winfrey Operating Foundation
The Oprah Winfrey Operating Foundation was initially created in 2007 to give money to the Oprah Winfrey Leadership Academy for Girls (OWLAG) in South Africa, making this one of Oprah Winfrey's top charities.
This is a private foundation that quietly allows Oprah to give her wealth away with a mission to assist the underserved with basic human needs. Program areas for the foundation include women, children, families, and education.
Oprah Winfrey Leadership Academy Foundation is a great example of her generous philanthropy. OWLAF has earned a 100% score for its Accountability & Finance beacon, which provides an assessment of a charity's financial health and commitment to governance practices and policies. This score is based on IRS Form 990 data up until FY 2019.
Through the foundation, Winfrey has contributed more than $200 million towards providing education for academically gifted girls from disadvantaged backgrounds.
These girls have gone on to higher education both in South Africa and at universities around the world. In addition, Winfrey has donated millions of dollars towards providing better education for students who have merit but no means.
The foundation supports this free, residential school that's now home to approximately 450 academically talented girls in grades 7 through 12. Students come from disadvantaged economic backgrounds and it is Oprah's dream to see the Academy develop future women leaders of South Africa.
While we're on the subject of education, Oprah is one of the largest contributors to Free The Children, an organization dedicated to building schools for children in developing countries.
The organization implements development programs in Asia, Africa, and Latin America, focusing on education, water, health, food, and economic opportunity. Free The Children initially fundraised for organizations that raided factories and freed children from forced labor situations.

When it became clear that the rescued children were being resold by their impoverished families, the organization changed its approach. Free The Children started then building schools which is now the main focus.
In 2012, Oprah donated US$12 million to the capital campaign of the then-new Smithsonian National Museum of African American History. She previously donated $1 million in 2007, which brought her total gifts to $13 million. The philanthropic star has been on the museum's advisory council since 2004.
Besides these organizations, Oprah has volunteered her time with other charities. Oprah gave 300 members of her audience $1000 each to donate to a charity of their choice. Winfrey helped design and signed a pair of shoes for the Stuart Weitzman charity shoe auction benefiting ovarian cancer awareness and research.
In December 1993, President Bill Clinton signed "Oprah's Bill," also known as the National Child Protection Act. Oprah's Bill creates a national registry of convicted child abusers – this relates to Oprah's personal history of having been abused as a child.
Keeping step with giving her the recognization she deserves, she was later recognized by President Obama for her contributions with the Presidential Medal of Freedom, the Nation's highest civilian honor.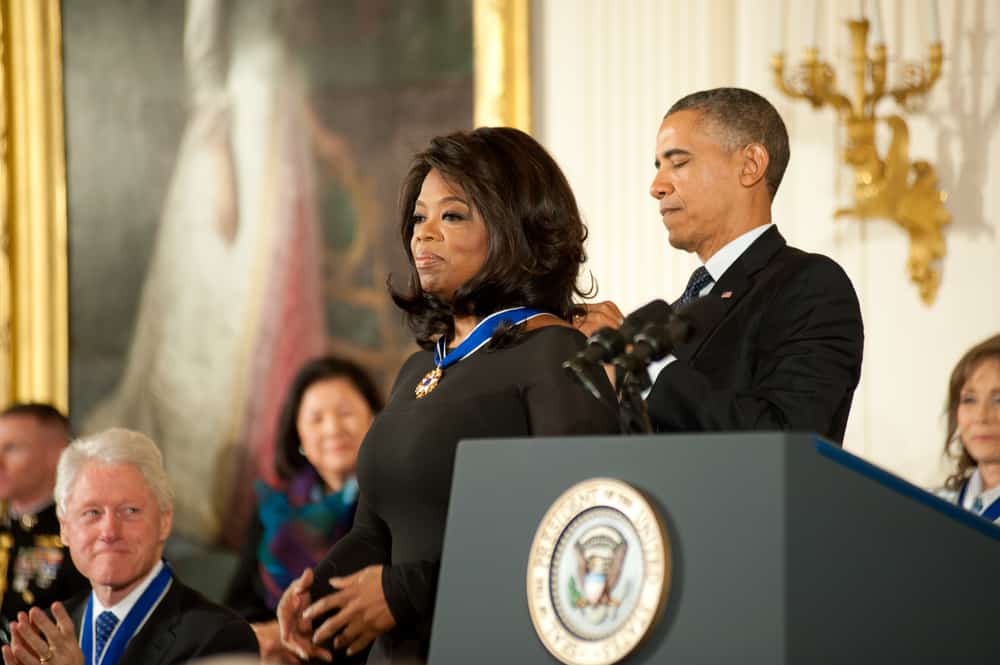 Where Can I Send a Letter to Oprah Winfrey Asking for Help?
If you are looking to apply for a scholarship through the Oprah Winfrey Foundation, there are a few steps you should take to get your application started.
First, you should visit the official website of the Oprah Winfrey Foundation to learn more about its mission, which is to support and empower those in need by providing educational opportunities.
Once you have a better understanding of the foundation's goals, you can begin the application process. You can also reach out to the U.S. Dream Academy, which she is a well-known supporter of, via email at [email protected].
Conclusion
In addition to her foundation, Winfrey has made numerous donations to other charities and foundations over the years. She has donated millions of dollars to causes such as AIDS prevention, global health, and poverty alleviation.
In 2016, she was honored with the Jean Hersholt Humanitarian Award at the Academy Awards for her philanthropic work. We never cease to be amazed by Oprah Winfrey's top charities and how she keeps the ball in perpetual motion juggling all of these. She's truly a role model for all.