The Bayou City is one of the most unique cities in the United States, and if you're looking for a luxurious place to stay, there are plenty of stunning top luxury boutique hotels in Houston available.
From modern and chic designs to cozy and quaint, these upscale boutique hotels offer an unmatched elegance that can only be found in Houston. Whether you're looking for a romantic getaway or a business trip, these top luxury boutique hotels will provide the perfect escape, In a smaller, more intimate atmosphere.

Houston is renowned for its unique cultural tapestry, remarkable attractions, and flourishing art landscape. It's also the proud home of the world's biggest medical center, the Houston Space Center, and the Port of Houston, one of the most active ports in the USA.
And, let's not forget about Houston's incredible food, where culinary offerings from all corners of the globe are always within reach. And readily available at these top boutique hotels on the waterway in Southeast Texas.
La Colombe d'Or in Houston is as much an adventure as it is a boutique art hotel. Paying homage to the boho vibes of France from where it was named, this destination of the arts has been curating framed masterpieces for over four decades (425 pieces of original artwork, and a sculpture garden to be precise) making it the perfect place to enjoy a one-of-a-kind experience!

The exterior features a 46-foot Blek le Rat mural on the facade of the tower which has been designed with a high-style refresh by two interior design firms. The lobby is just as modern and impressive as any art gallery, with zen-like luxury boutique hotel rooms to match.
As Long As We're On The Subject Of Art
In addition to the artwork, guests can enjoy creative cocktails at the bar, artful dishes at the restaurant, and plenty of spaces for curling up alone or visiting with friends. If you want to explore the city during your stay, some of the most popular art destinations such as the Menil Collection and Rothko Chapel are located nearby.

Rooms – Art-filled Bungalows
Behold the French Quarter in Houston – every bungalow looks out onto a delightful courtyard complete with patinated wrought iron from New Orleans, bubbling fountains, and inviting al fresco bistro tables. The popularity of bungalow stays makes this one of our faves.

Allowing you to feel as if you've been transported to a Francophile destination. Rooms are named after famous artists such as Monet and Chagall. Guests can also admire a Man Ray artist's proof and a Picasso lithograph.
Dining – Tonight & Tomorrow
Firstly we have to say that's a really great name for a restaurant, or pretty much anything or anywhere. Absolutely timeless. But then again, so is the food and experience, so fitting.

The Mansion's dining room has been exquisitely renovated and extends outside into the gardens. Tonight & Tomorrow brings to life its enticing name by offering French bistro cuisine with fresh, local, and regional ingredients.
Classic dishes with a modern twist are on order, such as crab ravigote, best served with a nice craft cocktail (dare we say our fave, the whiskey sour?), although they have an extensive selection of international wines to accompany your meal as well.
As we are fans of the luxury boutique Hotel ZaZa in Dallas, there's no surprise we found Hotel ZaZa Houston in the Museum District just as alluring. But for different reasons. This luxurious hotel is unlike anything else in the city. Located in the heart of Houston's vibrant Museum District, it provides guests with easy access to the area's attractions and art galleries.

But what makes it even more special is its rich history, which goes back over 120 years. Guests can explore the hotel's many rooms and discover its interesting past – including tales of its earliest days as a private residence, its years as a lavish Italian-style mansion, and its days as a grand hotel for Houston's social elite.
Uncover the Fascinating History of Hotel ZaZa Houston Museum District
Hotel ZaZa Houston Museum District is a luxurious hotel with a fascinating history. Before it was taken over by the ZaZa in 2007, it was the Warwick Hotel, one of the first luxury hotels in Houston, built in 1926. The view from the top of the hotel is renowned as one of the best in the world.
The hotel was purchased by Houston oil tycoon John Mecom Sr. in 1962 and underwent a renovation before reopening in 1964. Today, Hotel ZaZa Houston Museum District is the perfect destination for travelers looking for a luxurious experience. With its fascinating history, swanky decoration, and beautiful views, visitors are sure to have an unforgettable stay.
The owners of this 159-room luxury property in Dallas described the bespoke induced lodging as having casual Mediterranean elegance. Charles Givens and Jeff Records of Oklahoma City-based Givens Records Properties purchased the hotel and created the name ZaZa, which is meant to be "thought-provoking and creative."
What's Up With Hotel ZaZa's Room 322?
Guests who happened upon this oddball room seemed to have lots to say. The odd atmosphere of the room, with its bed chained to an expanse of brick and peculiar characters peering from the pictures, gave it its nickname of 'Hard Times'. It was only about a third the size of a regular ZaZa room, but what it lacked in size it more than made up for in charm.
A spokesperson for the hotel commented about this room – she explained that it is just one of the hotel's theme rooms. She went on to say that the ZaZa's owner was living in the room for a few months.
National blog Boing Boing even described Room 322 as a "voyeuristic sex dungeon for rich weirdos." But all in all, It's part of the charm and adventure guests seek when staying at a boutique hotel. OK, this one particular room may be a little over the top.
Rooms – Drop-Dead Gorgeous
Don't let the above info on room 322 cast any doubts about the other one-of-a-kind guest suites. Inspired by themes like Soho Loft, Hotel ZaZa is a living tribute to sleek design, featuring distinctive architecture and interior that exudes timeless style.
Any one of the themed, Magnificent 7 suites will be everything you could hope for in a personalized atmosphere. From the velvet-covered sofas in the Bella Vita suite to the Fatal Charms suite deeply saturated in coziness, this may be the real reason you even ended up in Houston.
Dining – Monarch
Situated in the middle of Houston's Museum and Medical District, Monarch Restaurant is a place where you can enjoy a unique culinary experience. With its chic atmosphere and passionate culinary team, the restaurant has a selection of delicious dishes to choose from and a beautiful terrace overlooking the Museum of Fine Arts and the Mecom Fountain. It's the perfect place to indulge in fine dining in Houston.

The menu is eclectic, so it's easy finding something light and delicious. From pasta to spicy chicken sandwiches to Ahi tuna poke bowls, Hotel ZaZa takes pride in catering to foodies and whether you're indoors or outdoors, the ambiance won't disappoint.
Hotel Icon Houston offers an unparalleled level of elegance in the heart of Houston, Texas. Located in the historic Union National Bank of Houston, the hotel features the original bank's vault in its main lobby and a history of commerce and class throughout the entire building.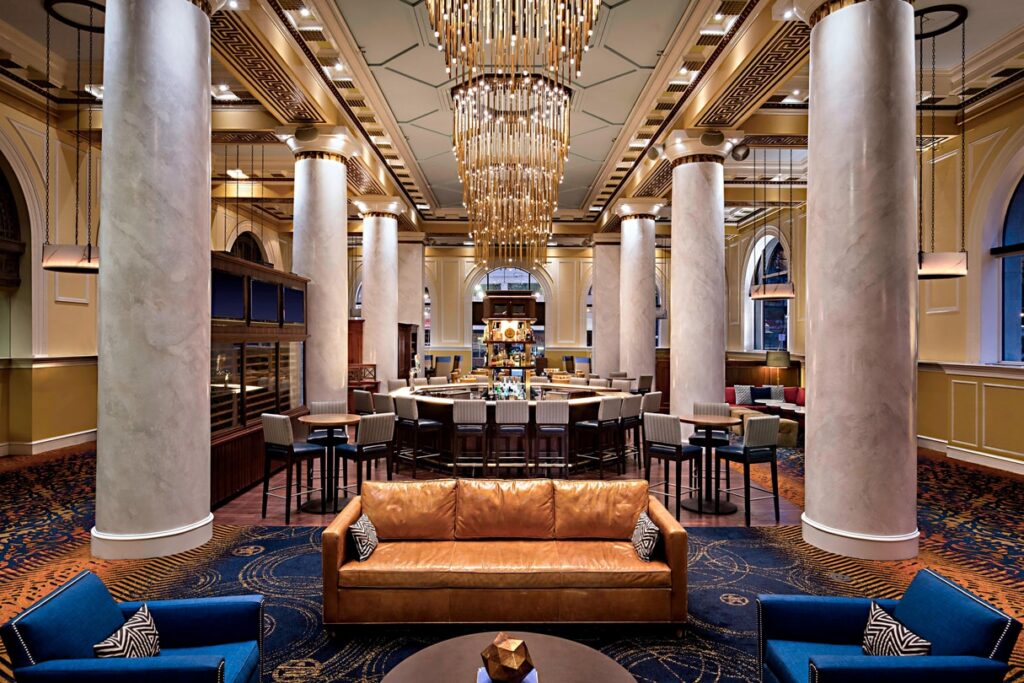 Award-Winning Property

Hotel Icon has been recognized for its excellence by many prestigious award programs. Our commitment to providing a unique and luxurious experience to our guests has been recognized by AAA, Forbes Travel Guide, and TripAdvisor, among others.
Aside from the stunning neo-classical architecture, guests take advantage of their complimentary downtown shuttle service to explore Houston's business, legal, entertainment, and sports districts – so you'll be chauffeured to the vibe of the city.
After a long day, enjoy a little workout at the cutting-edge, 24-hour fitness center, then unwind in a spacious tiled bathroom with a rain shower, whirlpool, and antique tub. This is available in every room and suite at this top luxury boutique hotel in Houston.

Hotel ICON is also one of only a few hotels on the 7.5-mile METRORail line, providing quick service to the Texas Medical Center and Reliant Stadium and Arena.
Rooms – Presidential Suite
Heading into your suite, you'll pass through a breathtaking, antique archway and enter your own paradise, illuminated by the comforting glow of natural sunlight streaming through the expansive windows.

Luxury Meets Nostalgia
This 800-square-foot presidential suite is a bi-level suite located on the 12th floor, offering an expansive downtown view from its two levels. The first level has a living area and a half bath, while the second level has a bedroom, a garden tub with whirlpool jets, and a separate rain shower. The suite also has one king bed. But don't try to book this room online, you'll need to call the hotel direct.

Dining – Line & Lariat Restaurant and Lounge
You'll find a lot of throwbacks to the roaring days of exquisite elegance in this restaurant showcasing staggering pillars and stunning chandeliers.
Relish in an elegant and modern dining experience, enriched by Houston's famed hospitality. Indulge in the freshest of fish from the nearby Gulf, and sink your teeth into juicy steaks from local ranches. If beef is your thing, then there's just nothing better than prime steak sourced locally.
Hotel Granduca Houston is an iconic luxury boutique hotel located in the exclusive Uptown Park area of Houston, Texas. Since opening in 2006, Hotel Granduca has set the standard for exceptional service and attention to detail. The hotel has been consistently recognized for its excellence – named to Conde Nast's Gold List and Readers' Choice "Top 15 Hotels in Texas," as well as Forbes' prestigious Four Star rating.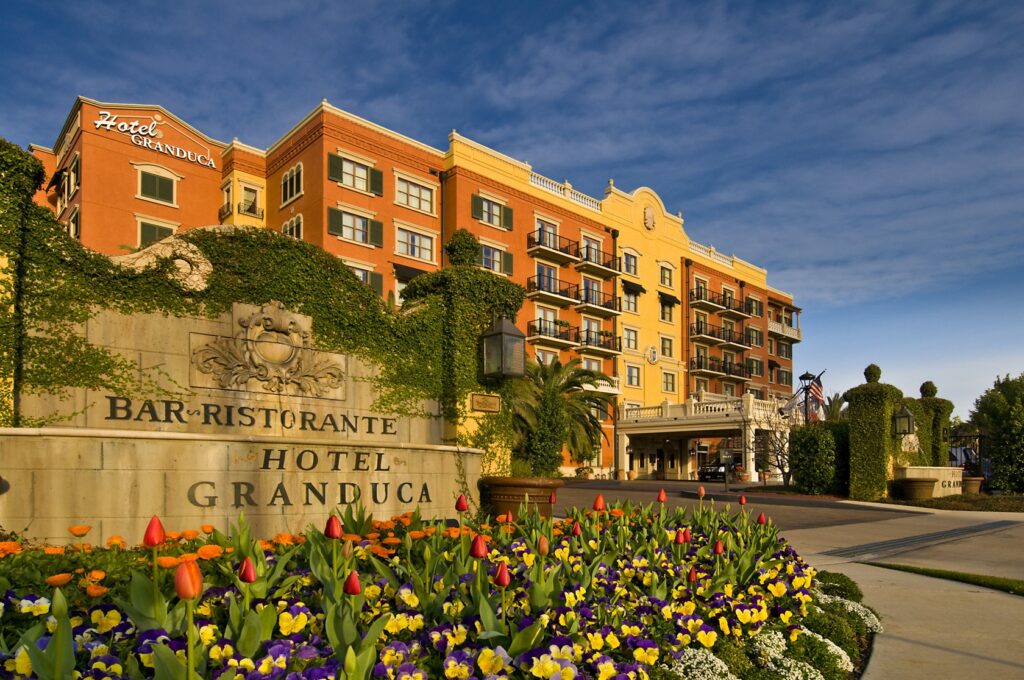 This top luxury boutique hotel is like stepping into a private Italian villa. The collection of 122 rooms and suites is designed to capture the essence of home and is adorned with luxurious amenities and Italian accents. Each room is complete with its own balcony, offering breathtaking views of our picturesque pool and gardens.

Hotel Granduca High Tea
At the luxurious Hotel Granduca Houston, guests are invited to enjoy a unique take on the English classic afternoon tea with an Italian flair. You can choose from three exquisite afternoon tea experiences: The Granduca Tea, The Nicolas Feuillatte, and The Champagne Henriot.
Each experience includes sommelier-selected Prosecco, assorted sandwiches, scones, and pastries. For those looking for something more child-friendly, the hotel also offers the Granduca Bunny Tea at $33 per child (10 years and under). This experience includes savory and sweet sandwiches, scones, and beverage selections such as hot chocolate, hot tea, or fruit juices.

Rooms – Residenza-Imperatore
Hotel Granduca Houston features 122 guest rooms and suites designed to reflect the allure and charm of old-world Italian villas. The Residenza Imperatore was designed for royalty, and that includes you.

This includes a private entrance and a veranda where you'll find yourself just steps from the pool. Judging by how many celebrities call Texas their home (link to Dallas), we're not surprised by the private digs you'll find at this boutique hotel.
Considering this suite also has a private study as well as a full-size washer and dryer, it's designed as a perfect place to hole up while creating that next big idea.
Dining- Alba Ristorante
Hotel guests can dine at the award-winning Alba Ristorante, offering upscale Northern Italian cuisine. Chef Ferrarese and his culinary team draw inspiration from the traditions of Italy and Piemonte, utilizing simple ingredients and allowing the natural flavors to shine through in their dishes. The resulting creations are a harmonious blend of innovation and Italian heritage.
For those seeking to experience a taste of refined sophistication, look no further than the Lancaster Boutique Hotel, a historic Texan landmark. Located in the heart of Houston's historic Heights District, this luxurious establishment is the perfect way to pamper yourself and indulge in some of the finest amenities available. From world-class dining to elite accommodations, the Lancaster Boutique Hotel is sure to impress even the most discerning traveler.
This elegant, 93-room century-old hotel located in the city's lively Theater District is renowned for its luxurious amenities, excellent service, and distinguished list of guest celebrities including Clark Gable and Gene Autry.
From horses to opera singers, musicians, actors, dancers, screenwriters, boxers, and circus and rodeo performers, this hotel has hosted them all. We couldn't verify that part about the horse but the hotel claims this on its website. Hey, this is Texas, it's not a stretch.
The Lancaster combines modern and traditional elements to create an atmosphere of luxury and comfort. Its lobby showcases Italianate columns with wainscoting and plasterwork, as well as a grand five-foot Murano gold and silver glass chandelier.
Guests can also appreciate artwork from renowned Texas artists such as Mark Flood, Terrell James, Trenton Doyle Hancock, Aaron Parazette, Margo Sawyer, Donald Judd, Donald Moffett, Robert Rauschenberg, and James Surls.
Rooms – The Playwright Penthouse Suite
All the guestrooms are outfitted with luxe Frette bedding and towels and feature Waterworks and Bulgari amenities, but this bespoke room allows you to spread out those drafts you've been working on across 980 square feet of roominess.

This classic, elegant suite is truly special. The living room features breathtaking arched windows, an exquisite built-in bookcase, and a desk that displays an impressive array of art books, classic poems, manuscripts, and light reading for your enjoyment. Further luxuries are found in the master bedroom, with a large double vanity and step-in shower nearby.

Dining – Cultivated F+B
Keeping in step with this being an art hotel, there's a combination of classic luxury and modern elegance at the restaurant, showcasing an impressive selection of original contemporary artworks by renowned Texas Artists.
From braised short ribs to shrimp scampi to pan-seared filet mignon, the restaurant also has an extensive small plate selection if you're just in the mood for snacking before hitting the downtown arts district and catching that big show.

Conclusion
These top luxury boutique hotels in Houston offer great experiences for art lovers, those who crave personal attention and appreciate authentic smiles from the staff. From the exceptional service to the beautiful decor, these hoteliers want you to feel right at home, as that's what Texas hospitality is all about.
The location also sets these boutique hotels apart as they allow easy access to a thriving arts district, the Johnson Space Center, and NRG Stadium. Houston is also a foodies paradise, so don't feel limited to the in-house restaurants. You can also find some of the best-rated restaurants within walking distance.