Texas-size hospitality rules when you book a room in luxury hotels in Austin. Known for its music scene and incredible late-night vibe (including a nightly event watching a million bats take off to start their night), our picks don't hold back on giving the best of everything.
And if it's summertime and you feel a bit overheated, there's always this ice plunge in Iceland. Whether you're staying uptown, downtown, or slightly off the beaten path you'll find luxury and a great night's sleep right here in Austin.
200 Lavaca Street
Austin, Texas 78701
Being true to form with the other luxury W Hotels, the Austin location doesn't disappoint – being uber-hip with a great vibe and unlimited creativity mixed with positive energy.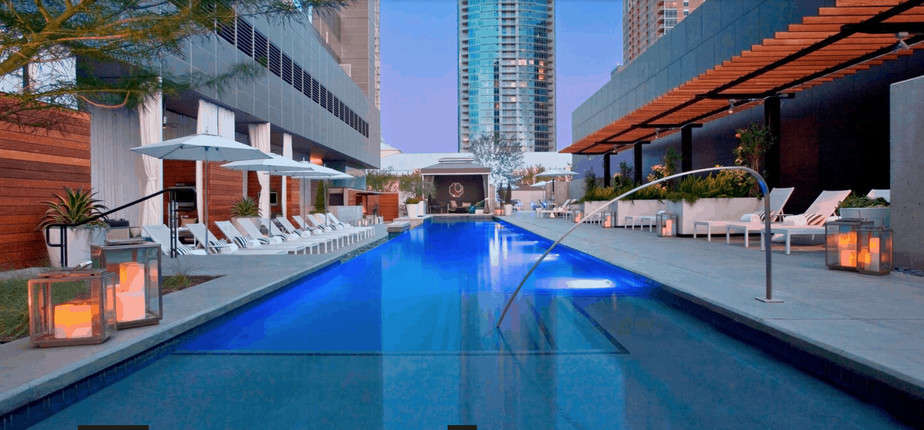 Being located near the iconic Austin City Limits in the heart of West Austin, this W Hotel prefers leaning more towards fun, capitalizing on the non-stop music scene and nightlife of Austin.
The spacious rooms are boldly designed to reflect the unique character of this cool city. You get great scenic views of Lady Bird Lake or the city's skyscrapers from the comfort of your suite.
Eats
Chef James Zoller is the Chef de Cuisine at TRACE. He worked under two James Beard award-winning chefs before moving to the W Austin's TRACE restaurant.
Your meals are made with locally sourced, farm-to-table ingredients and the expert chefs include the very best produce from local farms in their culinary creations. The TRACE patio keeps dining casual and cozy.
This hotel also has a great rooftop pool, which Texas seems to have an abundance of. Some truly amazing pools can be found at these luxury Dallas hotels. These are also great places known for spotting a celebrity which can be fun.
112 Academy Drive
Austin, Texas 78704
Created in honor of the patron saint of music and poetry, Saint Cecilia takes inspiration from the great era of the late 1960s and early 1970s when a revolution of rock and roll and beat poetry overran the hallowed halls of established convention.

This Victorian-era mansion is partially obscured by an ivy-covered fence, and that's intentional. The secluded property and lush grounds are open only to hotel guests, thereby offering a unique sense of privacy situated steps away from the heart of South Austin.
Their clientele of record label execs, artists, musicians, and writers enjoy the intimacy provided in this semi-hideaway.

Each of the five suites, six poolside bungalows, and three studios embodies an equal love for the elegance of old-world luxury.
Also noteworthy are their King Hästens beds. Family-run Hästens have been creating their iconic, celebrity-loved beds since 1852. If we've said it once, we'll say it again – it's all about the bed. A luxury King Hästens bed can set you back over US$100,000!
LOUNGE
Their talented culinary staff presents an evolving menu for breakfast and light fare rooted in the classic European tradition.
The Saint Cecilia lounge lives at the center of the property.
With both indoor and outdoor seating, this is exclusively for hotel guests and private club members.
In fact, in order to preserve the intimacy and privacy of the hotel, guests wishing to host non-guests in the lounge may do so in very limited numbers.

This can be done only with reservations made in advance at the Front Desk. Sounds like they're mixing cocktails that everyone craves!
111 E Cesar Chavez Street
Austin, TX 78701
At the crossroads where Town Lake meets downtown, the LINE Hotel draws influence from both the surrounding natural beauty and the creative energy that fuels the city.
At this luxury hotel in Austin, the lush landscape meets the vibrancy of the Capitol's historic theaters, music, and arts culture.
Once home to a jazz club that broadcast live on local radio in the late 1960s, the redesign of the mid-century 1965 building is a collaboration between Austin architect Michael Hsu and LA-based designer Sean Knibb.

Showcasing art by emerging local artists throughout the property, the LINE also has an artist residency program.
Having great art to view in luxury hotels is popular and we've seen how far hotels have gone to make their space double as galleries.
The LINE is a massive is 428 rooms, but still pulls off intimacy and homeyness, with world-class room service.
Dining
Arlo Grey is the debut lakeside restaurant by Top Chef 10 winner Kristen Kish. Kish's culinary style melds precise training and technique rooted in French and Italian traditions with nostalgia for dishes from her upbringing.
Arlo Grey serves breakfast, weekend brunch, dinner, and cocktails with sweeping views of Town Lake.
Don't miss the rooftop cocktail lounge, P6, with amazing panoramic water views. P6 also has a front-row seat to Austin's nightly bat show.
Congress Bridge Bats
The Congress Avenue bridge spans Lady Bird Lake in downtown Austin and is home to the largest urban bat colony in North America. This is known as the Congress Bridge Bats.
This colony is estimated at 1.5 million Mexican free-tail bats. Each night from around mid-March to early November, the Congress Bridge Bats bats emerge from under the bridge to blanket the sky.
Heading out to forage for food, you might want to watch this from the comfort of a kayak, an enjoyable way to work off dinner!
13500 FM2769 Austin, Texas 78726
The Miraval luxury resort and spa is located on 220 awe-inspiring acres of the Balcones Canyonlands Preserve. All overlooking the beautiful Lake Travis in Texas hill country.

With over 20,000 square feet of creative indoor/outdoor function spaces and just 30 minutes from downtown Austin, it is the ideal destination for outdoor adventures and unique wellbeing activities and treatments.
Starting out as a part experiment, part personal dream, Miraval became a sanctuary for people hoping to acquire tools to regain balance and to restore health and happiness.
This luxury resort in Austin is now a destination for the curious traveler, business-burnout escapee, and spiritual adventurer. Miraval has become a leader in mindfulness-based resorts and spas, created and crafted with intention and authenticity.

More than a spa resort, health retreat, or luxury hotel, Miraval is a unique kind of well-being space that puts purpose and people at its core, serving as a catalyst for changing lives and celebrating individuality.
With 30 treatment rooms and more than 75 treatments offered at the spa, two pools, cooking, and cocktail classes, and an equine center there's plenty to do off the beaten path, even if it's getting caught on some of those murder mystery novels you've been dying to get lost in.
3121 PALM WAY
AUSTIN, TX 78758
Located in Domain NORTHSIDE, the eight-story Archer Hotel fits right in with this destination of shopping districts. This includes dozens of restaurants, bars, large department stores, chic boutiques, and upscale hotels.
The exquisite guest rooms have five-star bedding, nightly turndown treats, and a complimentary in-room Nespresso® coffee experience. If you're looking for a Turkish coffee experience, you'll have to go much further.
This luxury hotel in the heart of Austin is part of the exciting expansion of The Domain, slated to feature more than 220 retailers and restaurants.
This includes Neiman Marcus, Nordstrom, RH Gallery from Restoration Hardware, and the new energetic Rock Rose district. Rock Rose is a mix of homegrown shops, dining, and Viva Day Spa – all just steps from Archer.
What do people really love about this hotel? Most definitely, the Archer's slippers are the talk of the town. The whimsical black slippers with white mustaches and purple slippers with red lips are snapped time and again.
The fun and funky footwear can be seen worn by guests around the hotel and throughout the city. Their guests take them along for the ride and post some of the most quirky, fun pics around. This rates right up there with Lufthansa Airline's rubber ducks!
Eats
Archer is thrilled that the acclaimed Second Bar + Kitchen has taken up residence on the ground floor of his Austin hotel at Domain NORTHSIDE.
Celebrated executive chef David Bull combines seasonal ingredients paired with local artisan products for sharable, casual fare along with a wide selection of finely crafted cocktails, an approachable wine program, and eclectic beers.
Texas and Wyoming always seem neck and neck when it comes to being numero uno in the hospitality field, so if you feel you need to spoil yourself a little more after staying at one of these top luxury hotels in Austin, make your next stop at a working dude ranch in Wyoming.
If you're ready to visit Austin and want to stay at any of these luxury hotels, book your room here!