In the City of Angels, there are lots of Los Angeles interior designers who have risen to celebrity status, but today we're honing in on 5 whom we love.
LA practically invented the A-lister, from pastry chefs to dog whisperers, Los Angeles pretty much covers the entire gamut of the who's who in the land of big dreams. As you know, we're big on big dreams here at Jetsetty!
Our Los Angeles top designers create striking livable canvases that up the comfy game while adding a dash (if not the whole spice rack) of their own personalities to the mix.
There are so many different takes in styles and choices, so If you're looking for that special interior designer in LA to champion your vision to fruition, you'll have no trouble with these five.
Listed in 2020 as ELLE Decor's A-List of their 125 top interior designers in the world, Jeff has no problem rounding out the vision of his celeb clientele.
This includes Kris Jenner, Ryan Seacrest, Kourtney and Khloé Kardashian, and Kaley Cuoco.
Jeff also carries serious star power with the top design magazines, including House Beautiful, Luxe, and Modern Luxury Interiors.
His work reflects his own home style and design, in which he "wanted the feeling of the house to be peaceful, subdued, and sophisticated."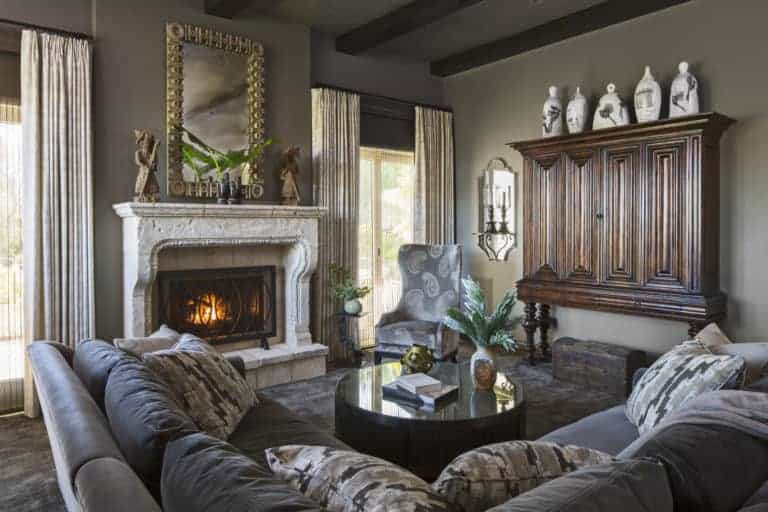 What sets Jeff Andrews apart in this crowded world of interior designers is his natural talent for taking bold design concepts and infusing them with warmth.
So what else does Jeff do to keep himself busy? He's the author of  "The New Glamour: Interiors with Star Quality" (Rizzoli, 2019) and Jeff has a furniture line with A. Rudin.
Also worth mentioning is his wallpaper line with Astek Wallcoverings, and a rug collection with Mansour Modern as well.
His designs are filled with strong patterns but he keeps them understated, creating a sophisticated synergy that gives us a true sense of a beautiful home.
Jeff's classical style is somewhat reminiscent of the Old Chicago interior designs we've mentioned, and we know he'd give them a good run for their money. Still, this is one Los Angeles interior designer that's second to none.
Jamie studied art and architecture in New Orleans and in Venice, Italy with a strong focus on organic modernism and the natural world, before venturing off on his own. That's a combo we see paying off in his approach to design.
After receiving his Masters of Architecture from Tulane University, Jamie headed west seeking to discover the unsung heroes of mid-century modern residential architecture in Los Angeles.
After stints at Marmol Radziner and Kelly Wearstler Design (both big names in the LA architecture and design scene), he founded his own interior architecture and design firm in 2002.
Jamie has since been fortunate enough to have worked on some of the most significant historical residential modernist homes in the US.
We like to follow mid-century homes, especially in Los Angeles where they are considered some of the most coveted, sought after properties.
And we love how Jamie masterfully combines the strong, sharp lines of the era, blending them effortlessly with the modern curves of his designs.
When you walk into a room designed by Jamie, you feel like you can just plop down and drift away.
His results are stunning and it's no wonder Jamie's work has been featured in over 70 publications worldwide including Architectural Digest, Interior Design, Vogue, Elle Decor, Wall Street Journal, and Los Angeles Times.
Minimalism is conducive to the mid-century architecture movement and we have some good tips on minimalist design if you're a fan of open spaces, simplicity, and good use of light and shadows.
Originally from Chicago, Brigette headed West to fulfill her design dreams, ultimately opening Romanek Design Studio. Now another A-lister herself, she's one of LA's top and in-demand interior designers.
She's been featured in Architectural Digest's 2019 "AD 100," which lists their picks for the one hundred top designers in the world, and she's also been featured in several other top interior design magazines including ELLE Decor, Architecture Design, and Business Of Home.
Brigette considers her style Eclecticism or liveable luxe. We find her sense of design fresh and pleasantly sparse, while still giving a personality to each room.
We also like how Brigette sneaks in whimsical touches to mix it up with traditional decor. Even with soft muted colors, her talent shines with making a room pop and really stand out.
This hits all the right notes with us making her one of our top 5 interior designers in Los Angeles.
In true Hollywood tradition, Kelly is a storyteller and she tells great tales through her dramatic interior designs.
Kelly goes large and bold, making eclectic seem like it's all part of the family. But nonetheless, her style remains stately.
Per her website;
"Through an exploration of materiality, color, forms, and an intuitive juxtaposition of contemporary and vintage, architectural and organic, graphic, and instinctual, she curates a wealth of experiences into every space."
Among Kelly's most notable projects are Santa Monica Proper Hotel, Austin Proper Hotel, San Francisco Proper Hotel, Four Seasons Anguilla, BG Restaurant at Bergdorf Goodman, the Viceroy Hotels and Residences, and Westfield Century City,
Kelly has also built her own design brand. She has a flagship gallery located on Melrose Avenue in West Hollywood where her collection of distinctive studio and vintage furniture is showcased.
Kelly is the author of five design books, and no surprise she's been featured as a top interior designer in Elle Décor's A-List, Architectural Digest's AD100, and AD France AD100.
Other shout-outs for Kelly's great designs come from AD Spain Top International Designer, Wallpaper Magazine Top 20 Designers, and Time Magazine, The Design 100.
For someone starting out building tree houses in Maine, it seems architecture and a knack for interesting spaces has always been in her DNA.
Tatum even has a background in psychology and sociology which makes sense – she's all about telling the story of the person who lives in her designs.
Tatum's list of press coverage pretty much says it all, she's another top-notch Los Angeles interior designer.
This includes Luxe Interior + Design, Modern Luxury Interiors, and the Los Angeles Times. Like our other top designers, the list goes on and on.
Starting her biz in Copenhagen, the design capital of the world,  she founded Studio Hus. She relocated it to Los Angeles two years later.
Studio Hus is now located in L.A.'s trendy Silver Lake neighborhood and consists of Tatum and her 7 person design team.
Tatum is big on embracing wabi-sabi design, a Japanese term that finds beauty in imperfections.
She has an eye for organic materials used to incorporate wabi-sabi and she creates a subtle comfortable feeling in her spaces. Something you just can't place your finger on it, but you can sure feel it all around you.
Rounding out our top Los Angeles interior designers, we find the brother-sister team of Pamela and Ramin Shamshiri. They founded Studio Shamshiri in 2016, doing restorations, interior design.
They've done restoration work on some of the most notable mid-century homes found in Los Angeles, and we have lots of them.
This includes famed modernist architects like A Quincy Jones, Stanford White, Nigel Coates, Rudolph Schindler, Myron Hunt, Buff & Hensman, and Andrew Geller.
Pamela and Ramin were also part of the four founding partners at Commune, where they received the Cooper Hewitt Smithsonian Design Award for their body of work completed from 2004 to 2015.
Committed to design that sustains a healthy environment, the studio is conscious of using natural, non-toxic materials, and avoid synthetic materials whenever possible.