Stylish e-bikes are the way to go if you're looking for a pedal-assist while cruising around and getting out for some fresh air. Seriously, Who are we kidding here?
Does anyone really get an electric bicycle if they plan on having a heart-pounding workout and sweating like crazy? Our money's betting on an emphatic no. Let's step out of denial and embrace our taste for luxury and aesthetically pleasing design regarding e-bikes. You know who you are.
You're someone who's OK with being a connoisseur of world-class design and the envy of your peers.
You're OK dropping $5,000 on functional art that you can peddle around – that works just fine for you, and if your cardio changes for the better because of this, it's just icing on the cake. Hey, if you want to sweat, do as the celebrities do and go out and jump a mean rope.
Bicycles have always been synonymous with tinkering, and with riding bicycles being one of the world's most popular past times, we still find ourselves surprised by who else has decided to monkey around with the best electric bikes.
Whaaat? How did the company that prides itself on creating urban noise step into "quiet town" with one of the most stylish e-bikes we've seen?
If you ask them, they'd most likely say their brand has always been about adventure on the road; the roar and rumble of the engines were just ancillary. But the common thread is that they've always been the purveyors of 2-wheel style, so the Serial 1 electric bike is another way to enjoy the journey.
Pros:
Stylish Harley Davidson design
Powerful electric motor
Comfortable to ride
High-quality components
Smartphone integration
Cons:
`High price
Limited availability
Limited customization options
Costly battery replacement
Harley- Davidson RUSH/CTY SPEED E-Bike, US$5,599.
Providing electric assistance up to 28 mph, RUSH/CTY SPEED is the urban e-bike that will easily weave through obstacles with intelligent auto shifting on select models, a maintenance-free belt drive, and self-adjusting hydraulic brakes. This bad boy brand would definitely be boss on the trail at one of these affordable beach towns.
Out of all our stylish e-bikes, this one might look OK with playing cards in the spokes – in case you miss the noise. But please don't put streamers in the handlebars on a Harley-Davidson. Trust us, there's no upside.
We usually think of Bosch powering our dishwashers and refrigerators, but they've stepped outside the (refrigerator) box and applied their knowledge about motors and energy to the Trek Allant e-bike series.
The driving force is an ultra-powerful Bosch Performance Speed drive system that helps you sustain up to 28 mph speeds and a SmartphoneHub controller that can be used with or without your phone.
Trek finishes off the rest with a high-end carbon frame, a 12-speed Shimano XT/SLX drivetrain, powerful 4-piston powerful hydraulic disc brakes for all-weather stopping power, a Lync integrated front and rear lighting system, fenders, and a rear rack.
What makes our e-bikes stylish is how the battery is concealed to maintain its sleek lines. Trek is no exception, but you can increase your range by seamlessly attaching a second long-range 500Wh Bosch battery to your bike's down tube.
This gives you up to twice the distance and time between charges, should you want to show off your great taste in style a tad longer. Also, there are plenty of trails off the beaten path to show off your exquisite taste in style.
Pros
Suitable for city streets and light trail
Durable
Bright integrated lights with side windows
Excellent weight distribution
Cons
Only one color is available
Expensive
This everyday carbon fiber e-bike designed by Greg LeMond delivers relaxed racing geometry for easy handling and maneuverability, weighing in at a mere 26 pounds.
Considering it packs (and conceals) a removable battery that provides a range of 45 miles with 3 levels of assist, this is an impressive lightweight. The Prolog achieves a top speed of 20 mph via a 250-watt rear hub motor.
This stylish e-bike maintains its good looks on the trail as well assisted by an 11-speed Shimano drivetrain combined with a lightweight build, and you'll get a range of about 45 miles on average.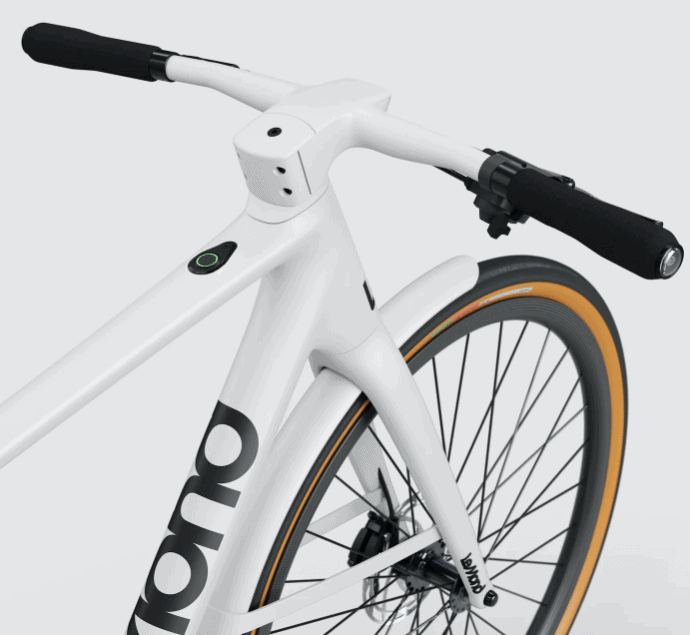 A nice feature that is beautifully integrated with the sleek design is an "always-on" integrated 500-lumen headlight within the monocoque handlebar stem.
With embedded rearward-facing LEDs in the bike's dropped chainstays to increase rider visibility to other road users, you have a top-notch commuter bike that walks the walk with looks and style.
Pros
Eye-catching design
Unrecognizable as an e-bike
Cons
The battery is not removable 
We've already mentioned Gogoro's drop-dead gorgeous electric scooter, so no surprise, lightning struck twice when they rolled out their Gogoro Eeyo electric bicycle—another fashionable beauty to behold, weighing in at just 26 pounds.
So what's under the hood? Actually, these sleek designs in our top 5 hide the battery in the carbon frame and conceal the motor on the rear wheel, so a better place to look for the magic will be at the rear wheel. Gogoro keeps the battery on the wheel as well. That's an incredibly economical way of maintaining the style if we do say so ourselves.
Let's get back to the performance. With eco-assist, you'll get a range of around 45 miles (about 30 miles with full power assist) and a top speed of 20 mph. The Eeyo combines the motor, battery, and sensors into one incredibly smart, lightweight wheel. And it's packed with the Gogoro technology we love.
This stylish e-bike self-locks itself if left unattended for a few minutes and comes with an intelligent app that syncs up with your phone or Apple watch.
Someone may run off with your e-bike, but they sure as heck won't be riding off. Just remember to turn off the auto-lock on the app if your phone is about to die since they are tethered to each other.
Over-the-air updates bring new features to this e-bike, so you'll always be able to capitalize on the greatest and latest technology that Gogoro is known for.
Pros:
Lightweight and easy to handle
Sleek and stylish design
Smooth and efficient electric assistance
Long battery life
Portable and easy to store
Cons:
Limited availability
Limited customization options
High price
The Specialized Turbo Creo SL line can go up to almost US$17,000, but with their lineage going back to the early days of mountain biking, they have a long history of pairing coolness with bicycle technology.
Who actually invented the mountain bike is up in the air, but many will say Specialized invented the sport of mountain biking. With that said, you know this line of stylish e-bikes can shred both roads and mountains alike.
The Creo SL is one of the lightest electric mountain bikes in its class, with a carbon frame and the lightweight SL 1.1 motor that offers as much as 240 watts of silent and powerful assistance to amplify your ride.
It also has an optional range extender that provides up to 40 additional miles. Should you hit the flatlands, the turbo-assist will allow you to cruise up to 28 mph.
Specialized has over 2 decades of creative design culture, helmed by its Creative Director, Robert Egger. Robert has a long history of creating some of the funkiest, awe-inspiring concept bicycles on the planet, so we wouldn't expect anything less from them.
Pros
A unique design
Performance to match the looks
Quality components throughout
Cons
The motor can make noise a bit
A sizeable investment
Looking to cruise around town in style without breaking the bank? The Propella 7-Speed (V3.4) might just be the ticket.  At close to $1,000, this stylish ride won't leave you penniless, but it doesn't skimp on the important stuff. 
With a reliable electric motor and sturdy frame, you'll be zipping around town at a cool 15 mph in no time. But don't let the price fool you – this is the best cheap bike out there, complete with trustworthy components like a Samsung battery and Shimano disc brakes.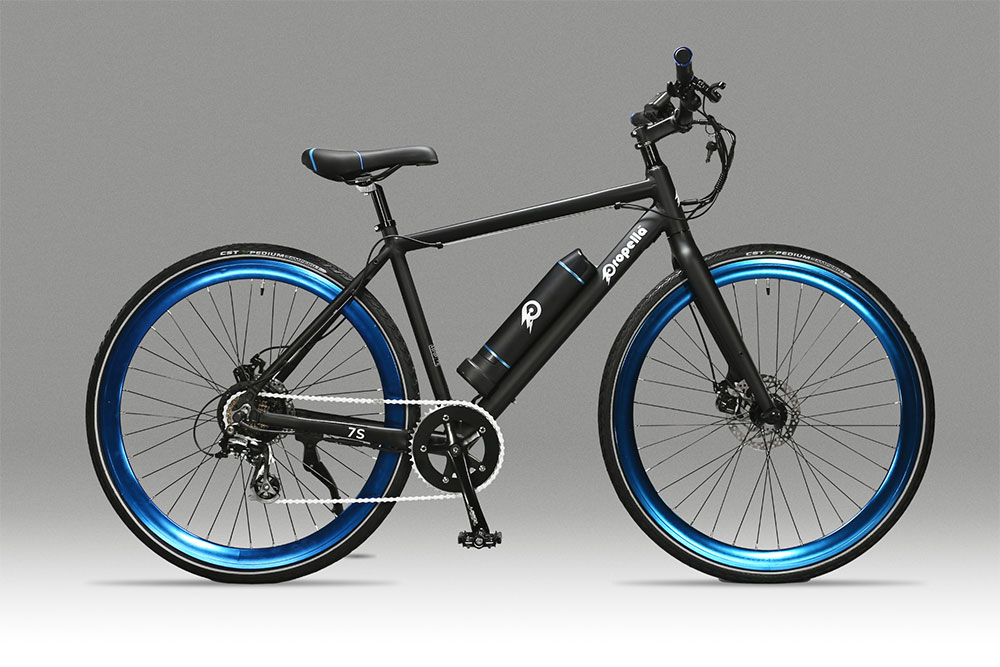 And let's not forget the nifty accessories – the cool suspension seat will make even the bumpiest roads feel like a smooth ride. So why settle for a boring, overpriced bike when you can have the best cheap bike in town? Choose the Propella 7-Speed (V3.4) for a stylish and reliable ride at an affordable price.
Propella is always pushing the boundaries of what's possible with their electric bicycles. With updates rolling out every few months, they're constantly improving their direct-to-consumer rides to make them even better.
However, it's important to remember that this cutting-edge design can sometimes lead to repair issues. Since Propella is a direct-to-consumer bike, your local bike shop might not have the expertise to fix it if something goes wrong.
Pros
Affordable 
Lightweight 
Smooth power delivery 
Quality components
Easy to ride
Cons
Not suitable for a long ride
No built-in lights
Some assembly is required
The Canyon Spectral: ON CFR is an electric mountain bike that will take your off-road adventures to new heights. With its larger 29-inch front wheel and 27.5-inch back wheel, this high-performance electric bike is built for speed and agility on the toughest trails.
But what really sets the Spectral: ON CFR apart is its powerful electric motor and long-lasting battery. With a choice of either a 720- or 900-watt-hour battery, you can ride for miles without worrying about running out of juice.
And if you opt for the 720-Wh battery, you can expect a quoted range of about 51 miles – perfect for those long days on the trails.
In testing, the Spectral: ON CFR proved to be a true powerhouse. Pearson, a professional mountain biker, took the bike out for fast, powerful, and joyful 15- to 25-mile rides on singletrack that left the battery only half-empty. This means that even the most hardcore riders can push the limits of what's possible with an electric bike.
Overall, the Canyon Spectral: ON CFR is a top-of-the-line electric mountain bike that's perfect for anyone who wants to take their off-road adventures to the next level. With its impressive range, powerful motor, and agile design, it's sure to be a game-changer for mountain bikers everywhere.
So if you're looking for the best electric bike that can easily handle the most challenging trails, look no further than the Canyon Spectral: ON CFR.
Pros
Amazing battery range 
Lightweight
Supportive suspension 
Cons
Raw ride feel
Tyre choice
Looking for a folding e-bike that doesn't sacrifice power for portability? Look no further than the Lectric XP 2.0 – the ultimate solution for commuters on the go.
With a powerful 500W motor, 3-inch-wide tires, and a top speed of 28 mph, this bike is built to handle any terrain easily. And at just 65 lb, it's lightweight enough to fold up and take wherever you go.
But what really sets Lectric XP 2.0 apart from the competition is its incredible range. With a claimed range of 45 miles, you can travel farther and faster than ever before – without ever worrying about running out of battery.
Plus, the bike's sleek aluminum frame, legible LCD screen, and suspension fork make for a comfortable and stylish ride. So why settle for a traditional folding bike when you can have the Lectric XP 2.0 – the ultimate combination of power, portability, and performance?
Pros:
Powerful 500W motor 
Impressive range of 45 miles
A comfortable ride with a suspension fork
Legible LCD screen for easy monitoring
Cons:
Heavier than some other folding e-bike options
Limited color options are available
Some riders may prefer a higher top speed or more powerful motor
If you're looking for a folding electric bike that won't break the bank, look no further than the Lectric XP 3.0. This bike has quickly become a favorite among riders and reviewers alike, thanks to its remarkable affordability and fun factor.
The Lectric XP 3.0 doesn't skimp on features despite its low price point. With a 500W motor, suspension fork, and mechanical disc brakes, this bike is built to handle any terrain easily. And with a 48V, 10.4Ah battery, you'll get a decent range for a bike of this size.
But what really sets the Lectric XP 3.0 apart is its ride quality. This meaty little folding bike may not be the fastest or most nimble, but it romps around like no other and feels like it won't let you down. It's the perfect choice for riders who want a bike that's both affordable and versatile.
So if you're looking for a folding e-bike that's fun, reliable, and won't break the bank, the Lectric XP 3.0 is the people's champion of affordable folding e-bikes.
This bad boy would also fit nicely in your trunk if you're headed off to get in some nature biking while hitting the trails one of these top luxury wellness retreats.
Pros:
Affordable option
Provides spirited acceleration for fun riding
Large LCD screen 
Comes with a number of features
3-in. Tires can grip better in city riding and off riding
Cons:
Heavy bike – around 60 lb
The bike key is under the frame and easy to forget
How we picked the best electric bikes
When it comes to picking the best electric bike, there are several factors to consider, such as battery life, motor power, frame design, and overall build quality. Below are some of the key steps involved in picking the best electric bike:
Identify your needs.
The first step in picking the most OK electric bike is to identify your needs. Do you need a bike for commuting, leisurely rides, or off-road adventures? Knowing what you want to use the bike for will help you determine the type of electric bike that will best suit your needs.
Research different models.
Once you have identified your needs, the next step is to research different electric bike models. Look at the specifications of each model, such as motor power, battery life, and weight capacity, to determine which ones meet your requirements.
Read the reviews.
Reading reviews from other riders who have already purchased and used electric bikes can be helpful in making a decision. Look for reviews that mention durability, performance, and ease of use.
Test drive the e-bike.
Before making a purchase, it's important to test-ride the bike. This will give you a chance to get a feel for how it handles and how comfortable it is to ride. Testing the bike will also give you an opportunity to check the brakes, gears, and other components for any issues.
Electric bikes can range in price from a few hundred dollars to several thousand dollars. Consider your budget and how much you are willing to spend before making a decision.
Finally, check the warranty on the electric bike you are considering. A good warranty will cover the motor, battery, and frame for at least a year, and some manufacturers offer longer warranties.
By following these steps, you can find the best electric bike for your needs and budget. Remember to take your time and do your research to ensure you make an informed decision.