Sometimes being out at sea for days can wear thin on a person. Speaking metaphorically of course, since we know the cruise lines are feeding you well.
It's true that the ocean can look exactly the same on all sides of the ship at times really letting you know you're in the middle of nowhere.
You've had fun doing all the thrill-seeking adventures offered above deck, and now it's time for some new adventures down below.
If you need something different to pass the time while you're patiently waiting on your next port of call, then maybe a combo of fun and crazy will do the trick. Here are some thoughts when planning to board your next cruise ship.
Robot Bartenders
Welcome to the future! Luxury meets technology with Royal Caribbean's robot bartenders. 
Available on four ships – Harmony of the Seas, Quantum of the Seas, Anthem of the Seas and Ovation of the Seas. 
(Courtesy Royal Caribbean)
Not sure what deck they go to for their break, but if you see one smoking a cigarette, please don't tell the Captain. We don't want to instigate any drama on your cruise.
Those in need of some high-tech relaxation can head to the Bionic Bar, where these robot duos with names like Mix and Mingle will stir, shake and strain your drink from start to finish. 
If this seems like fun, how about a robot for the home?
4-D movie Theater
Carnival Cruise Line's Thrill Theater — available on the Carnival Breeze, Carnival Horizon and Carnival Vista — goes beyond the standard 3-D experience by adding sensory elements such as fans, mist, and vibrating seats. No reservations are necessary. A variety of movies, including family favorites and scarier adult-only screenings, are shown each day. 
Unwind In Eden
On the new Celebrity Edge Cruise Ship, there's a great spot to lounge in called Eden. The lounge itself has many cozy seating areas around the main room that features a three-story wall of windows. However, those who head upstairs will find the hidden Eden spots.
There is a ramp that wraps around the entire room and it features many hidden seating nooks along the walls, facing the wall of windows. Unless you venture upstairs, beyond the main room, you might never know these amazing other spaces exist.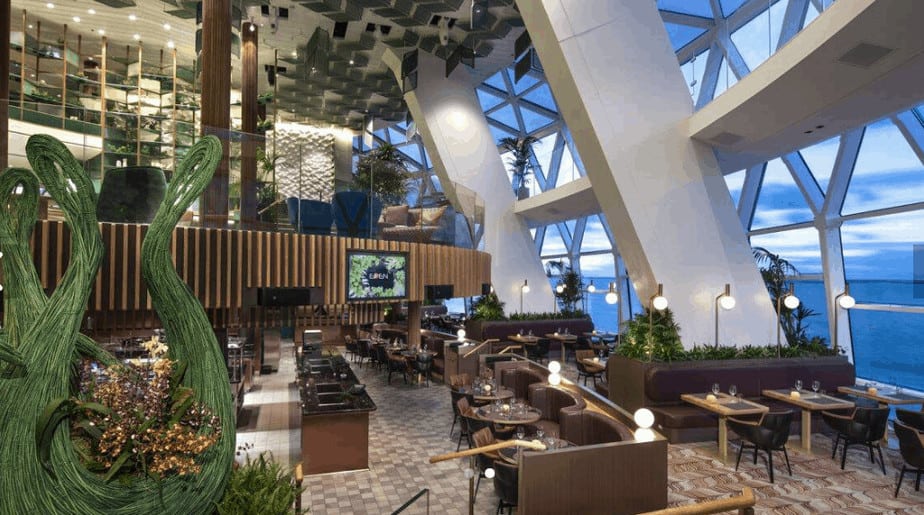 Technologically Mind-Blowing Productions
Production Entertainment surrounds you at every turn aboard Celebrity Edge on Celebrity Cruises, making your vacation an unforgettable adventure at every moment of the journey.
Engaging, visionary performances from exclusive brand partnerships and award-winning productions blend seamlessly with innovative design throughout Celebrity Edge to bring you the best entertainment at sea — and beyond.
(Celebrity Cruises)