It boggles the mind how some of the world's top influencers can have hundreds of thousands of followers (if not millions) on social media just by looking good on the edge of a cliff. But that's how we roll in today's world.
We're not saying that some of these modern-day legends don't have a good hook. Think of all the fun and creative things Mr. Beast (#MrBeast6000) does. The dude's got it down to a science.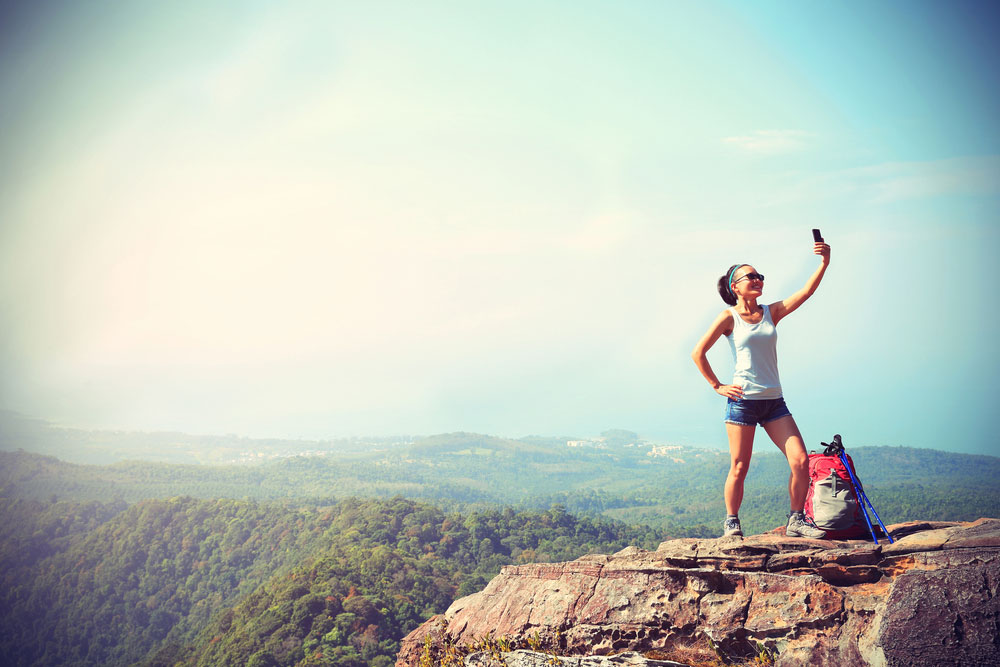 But for our top 5, we're also judging how their influence has had a positive impact on the world, their passion for what they've done has to be contagious, and lastly, an inspiration to all.
These top trailblazers have a love for life and warmed hearts by the millions. They also capture our imagination in spectacular ways, and they were fearless in their achievements.
We're pretty sure you get where we're going with this. As an FYI, makeover transformations and fashion commentary fall just shy of fearless. Sorry, @AMANDACERNY and @LIZAKOSHY. We'll give you a shout-out next time around.
Oprah Winfrey – Queen of Giving Back
"Be thankful for what you have; you'll end up having more. If you concentrate on what you don't have, you will never, ever have enough"
-Oprah Winfrey
Those are some words to live by. Year after year, Oprah Winfrey makes the top of the list when it comes to being the biggest givers in the country. Her story from rags to riches not only inspires, but she sets the bar for the rest of the celebrities when it comes to helping others.
A quick visit to the Oprah Winfrey Charitable Foundation tops her giving at $400 million donated, 72,000 bright kids educated, and 75 million meals served. And those numbers climb by the day.
With total assets of $172 million, Oprah added $36 million out of her own piggy bank to add to the funds. We can't verify Oprah actually has a piggy bank, and tight-lipped Stedman hasn't returned our calls. (is he still in the doghouse making pancakes for the kids?)
Aside from being the richest African American of the 20th century and North America's first black multi-billionaire, she has a knack for giving words of wisdom that can pull anyone out of a rut, with a kick in the butt to get us on the right track. Go, Oprah!
We'll leave Oprah with this final nugget of wisdom, "Think like a queen. A queen if not afraid to fail. Failure is another stepping stone to greatness."
Well said, Oprah. Here are some more quotes from Oprah that'll brighten your day. We're putting Oprah head to head with Jimmy Donaldson, aka Mr. Beast as he helps out in a big way to underserved folks as well.
Oprah Winfrey: 63 million (Instagram and Twitter)
Mr. Beast: 153 million followers
Winner: Ooh, so close. We're gonna have to go with Oprah. She climbed a rickety ladder with a message of hope that most would have given up on.
Emelia Earhart – Heroine of the Skies
American aviator and trailblazer Emelia Earhart was a fearless pilot who dedicated most of her time to the clouds. Taking to the friendly skies while setting all kinds of world records, she was a huge advocate for commercial flying and paved the way for long check-out lines and airport stress. We kid, she modernized air travel so we could all spend more time with our distant families.
We tip our hats to this fearless influencer for being the first woman to fly solo across the Atlantic Ocean. Sorry @oceanelhimer, we know about your business-class flight debacle that set the Twitter-sphere on fire. Emelia's the real deal. She not only flew the plane ( no question about where SHE sat on the plane) but attempted to make it all the way around planet Earth.
Did Amelia Earhart Make It All The Way Around The Globe?
Unfortunately not. Just shy of her last leg on this first-ever global flight, Emelia and navigator Fred Noonan were last seen flying out of the airport in Lae, New Guinea on July 2, 1937.
Beyond, that the rest is hearsay as to what happened to her and Fred. This remains an intriguing mystery that still captures the imagination of treasure hunters and conspiracy theorists.
However, if her and Fred spent the rest of their days as beachcombers who just wanted some time off the grid, then well played Emelia, well played.
Tally:
Oceane El Himer: Nearly a million followers.
Emelia Earheart: Sometimes 1 follower, her navigator Fred Noonan
Winner: Emelia Earhart

Sir Richard Branson – Modern-Day Space Cowboy
Sir Richard is living proof the Brits gave us more than quaint pubs, butlers, and the derogatory touristy term "grockles." They also gave us this awesome thrill seeker who has never stopped inspiring us while reaching for the stars.
We mean that literally, as one of his latest ventures is Virgin Galactic, a space flight company that wants to make space tourism a thing.
Aspiring to make point-to-point air travel at 3,0000 mph, you would need to scrape some serious stratosphere to make that happen.
Putting his money where his mouth is, and never shying away from danger, in July 2021 Richard Branson and three other employees rode on a flight as passengers, marking the first time a spaceflight company founder has traveled on his own ship into outer space.
As for those 3 other employees? Let the record show they took a long lunch. A little fun fact, Richard designs spectacularly rad spacesuits. We want those boots.
Fame and fortune didn't just happen to land in Richard Branson's lap. He started Virgin selling records through the mail. Being one who could see the big picture, he knew no limits from the very beginning.
His own safety continues to take a back seat to any enticing adventure, including oceanic balloon journeys and kitesurfing across the English Channel. Just another day in the office for Sir Richard.
According to @influencersinthewild, taking selfies on the edge of a cliff with a cat on a leash is considered a next-level adventure. Take a cat on a leash into space. Then you'll get our attention.
@influencerinthewild: 4.5 million followers.
Sir Richard Branson: 40 million followers
Winner: Sir Richard Branson, and wins without a cat playing the piano or standing on a cliff.
Simone Biles – Most Decorated American Gymnast in History
Being a world-class athlete is one thing, but it's so inspirational to see such an appreciative and grateful winner as Simone Biles. As part of the gold-medal-winning U.S. gymnastics "Final Five" team, she took home four gold medals and a bronze medal from the Rio 2016 Games, including the women's all-around title.
Also in 2016, she became the first female gymnast since 1974 to win four all-around U.S. titles. This brings her Olympic and World Championship medals tally to 32.
Simone brought to light a mental health issue she has called the "twisties" which disorients her in the air while she's performing. Definitely, a scary thing when you're the best in the world at soaring and spinning through the air.
Our top influencers achieve greatness by defying the odds and doing more – much more. She now works with the mental health and telemedicine app Cerebral and is also an investor in the company while taking the helm as their Chief Impact Officer.
Speaking of great Olympians, we'd be remiss not to give a shout-out to Tamyra Mensah-Stock, who secured the USA's second gold medal in women's wrestling at the Tokyo 2020  games (yes, those games that finally happened in 2021).
If you watched Simone and Tamyra receive their medals, you'll know their infectious joy and patriotic love for the country they represent. Tamyra's Instagram account sums it up nicely; Live.Laugh.Love, Keep PUSHING. Keep RISING. Keep LOVING.
Simone Biles: 7 million followers.
Tamyra Mensah-Stock: 141,000 followers, but we are giving her 7 million more votes for this quote:  "I love representing the U.S., I freaking love living there." 
Winner: Do the math, this is a tie.
Charles C. Ebbets – Lunch Atop A Skyscraper
Lastly, for those of you who won't let go of the notion that standing on the edge of a cliff while looking marvelous is nothing short of inspirational, we bring you, Mr. Charles C. Ebbets.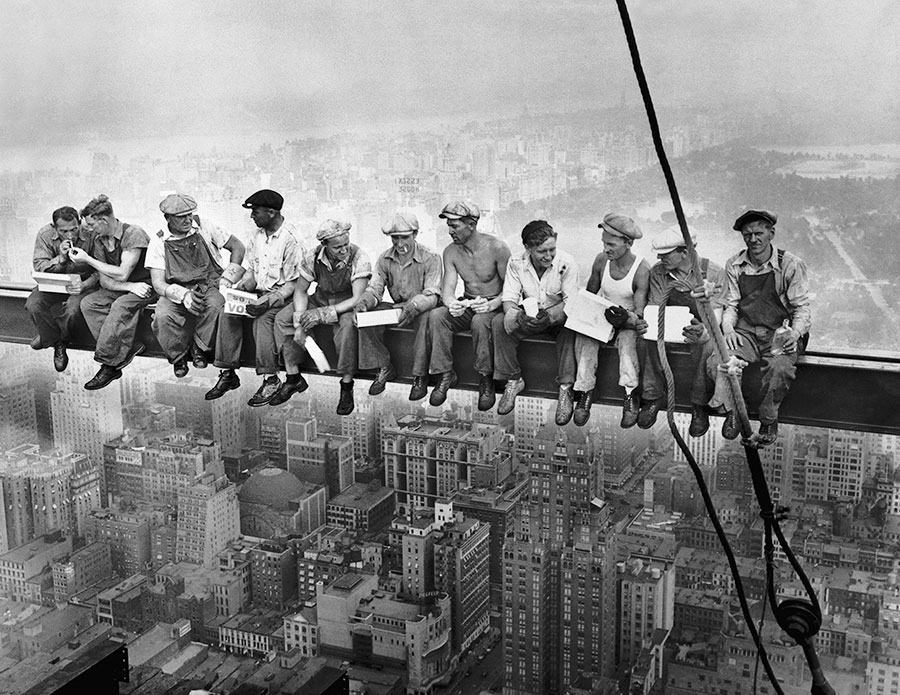 Mr. Ebbets was a dapper photographer and dressed accordingly even when standing on a narrow beam 840 feet above the streets of New York City.
Charles brought us the world-famous image of 11 construction workers lunching on an iron beam, cementing his place in history as "nutso" but winning our hearts for giving the world such an iconic image.
This came to be in the middle of the Great Depression, and this image brought Americans hope for the future, as the post-industrial revolution was taking shape with new frontiers.  
This image was taken atop the RCA building at 30 Rockefeller Plaza, in Manhattan, New York City. It showed all Americans that a better life was on the horizon. In fact, Rockefeller put a quarter-million people to work during the Depression. Rockefeller walked the walk.
Now let's put things in perspective. Unlike cliffhanger influencers Kelly Castille and Kody Workman, (@positravelty), Mr. Ebbets's photography entailed much more than taking out an iPhone and firing off 20, to 30 frames at a time.
In those days, cameras were bulky and required a separate glass plate to be inserted for each image taken. These plates were carried on his back so he had to reach around and perform this feat while balancing on a narrow beam.
Risking his life to bring this message of a positive future to so many Americans truly makes him an iconic influencer. LEGO® seemed to think Mr. Ebbets' efforts were worthy as well, creating a "Lunch Atop A Skyscraper" set made with Minifigs.
Conclusion
Over and over again we see top influencers doing dangerous stunts for the clicks, likes, and subscribers. But the dangerous feats we mentioned had purpose and heart.
A common thread we see with our top 5 influencers and trailblazers is that their end game was to give back to others, be it financial, inspirational, or just sharing the love. Talkin' to you, Tamyra.