We've already shown you some awesome bike trails off the beaten path, but these top luxury travel apps do way more than get you peddling around the country a little easier.
These luxury apps ensure your travels set a new bar by revealing hidden gems like trails, foodie hideaways, and places you never knew existed. In other words, secrets are only shared among the upper echelon of luxury flying and touring.
That friend is what the Jetsetty life is all about—a life inspired by a comeuppance from your fellow travelers. Truth be told, there are many top luxury travel apps. But these will give you a well-rounded look at the various aspects associated with luxury traveling.
So, if there are several fashion brands offering their app version for high-end shopping in various cities, then we'll home in on the one that we think will suit you just fine.
Do I Have To Pay For Luxury Travel Apps?
Some of these travel-exclusive apps are free, and some offer more of a concierge service, so the fees pay for the expert help you'll get. These monthly costs may come at a pretty penny, but first-class concierge service is worth its weight in gold.
After all, with someone else handling the grunt work of your travel plans, you get more time to enjoy exotic places, great food, new places to explore, exclusive events, and more. It's like a virtual butler, which we know a thing or two about.
Cost: $9.99 per city address book.
The address book represents about 500 regularly updated addresses with a map to locate each place Covering 32 cities and 15,000 addresses from around the world.
This handy app features bringing you the soul of each city, which means you'll be able to indulge if there's a secret, to-die-for chocolate shop in that metropolis.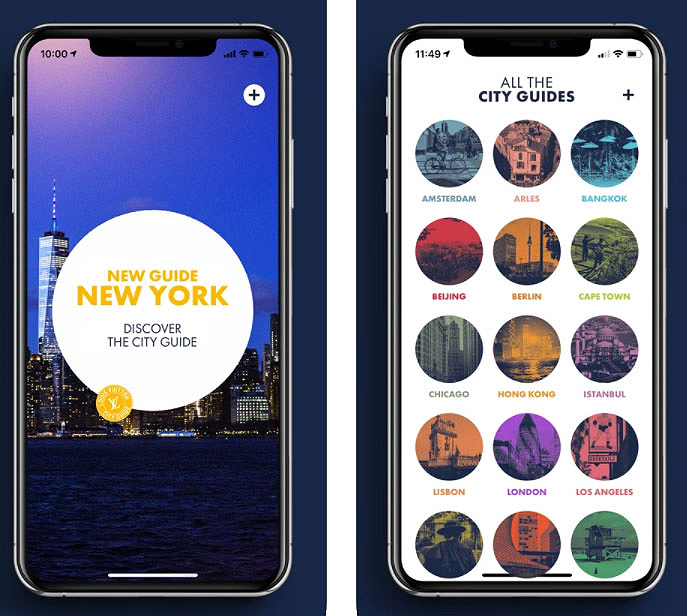 Each city also has its own Guest. This famous personality or local figure lets you in on some insider scoop based on their fave places and luxury experiences.
Offering traditional and offbeat places like luxe homes and bistros, this app will even help you discover hidden museums. If you're in New York, check out the NY Transit Museum, where you'll find a collection of vintage subway cars. Very cool.
The Louis Vuitton City Guide breaks it down for you so you can easily parse your time to fit your interests. Starting broad with the "City And Its Districts, "you can tighten up the touring with "The Essentials, Restaurants, Bars, Cafes, and Tearoom."
"24 Hours In The City" is another category offering early morning breakfast joints and ways to party till dawn. You'll also find walking tours with specific themes on this luxury app.
To dive deep into some city funk, check out the Interior Cachet section that covers quirky antique shops and contemporary design galleries. And, of course, there's shopping.
Cost: Buy As You Fly Or Monthly Memberships
As we mentioned, private jets can actually make sense if you and some of your friends all pitch in. XO is a signature service with competitive pricing. Global coverage is achieved through their own dedicated fleet of over 180 aircraft and an alliance fleet of over 2,100 jets.
If you opt for the monthly membership, you'll pay anywhere from US$595 To $1000 depending on the level of access you want and the administration fees you'll incur for credit card payments.
There's also a minimum, fully refundable deposit, which runs as high as US$100,000 on the upper tier membership. At this point, you might want to look into getting a pilot's license and taking to the skies yourself. There are plenty of aviation expos and flight clubs to inspire you.
With the cost of a private jet setting you back anywhere from around US$3 million to $90 million, utilizing the Jetsmarter technology to book a private flight on XO is far more frugal for the affluent.
Jetsmarter Technology
Beginning as the Uber for shared and private flying, the Jetsmarter technology was primed to be incorporated into a stable fleet, as it now has with XO.
Empty Leg Seats and How They Ease The Cost of Private Flights
Empty leg flights are vacant jets traveling to pick up passengers or return to home base. JetSmarter buys these empty seats and turns them into shared private jet experiences.
This tactic saves operators the exorbitant costs of moving empty aircraft, and we reap the benefits. In effect, the technology allows you to pool with other members to create on-demand flights and split the costs. You can check out their private jet costs here.
Divide that by your number of friends making the trip with you, and there's most likely only a few thousand dollars difference when flying commercial. On some of these legs anyway, just keep reminding yourself you are not a sardine.
Cost: Free
This is an on-demand luxury car service when you want to arrive in style. You can also send a car on behalf of others which is a nice presentation if you're looking to impress the boss flying in.
Let's face it if you're like us, you'll want to get as far away from the airport as possible when you land. Wheely app is one of the best luxury travel apps you'll want to make your great escape.
You can also book in advance, so you know you're getting an on-time pickup. The app incorporates airport pickup with flight tracking so that a handsomely dressed person holding a sign with your name on it is prompt.
Currently, your best bet for using this app is if you find yourself in London or Paris, as most of their coverage is in Russian cities. No surprise there since it was founded in 2010 by Anton Chirkunov.
Still, Russia doesn't seem to be on anyone's bucket list these days, so we have high hopes they'll expand into the US market soon.
A little fun fact: Wheely is tapping into a pool of ex-armed forces that are learning the skills of chauffeuring at a special academy. Looks like nobody's going to get stuck in traffic with one of these bad boys behind the wheel.
Just remember that you're getting a chauffeur trained at a Chauffeur Academy, so these drivers have a "particular set of skills," as Liam Nelson might say.
Wheely app exclusively offers luxury vehicles, and their drivers wear suits, striving to provide the utmost comfortable and enjoyable ride for their passengers.
This includes first-aid training, emotional intelligence, security, and situational awareness. Simply put, you won't find a mustache or eyelashes attached to the front of a Wheely luxury car.
Although this luxury travel app focuses on both food and luxury hotels, this is our go-to app for food because, alongside the many-starred restaurants this app embraces, you can also explore newly-starred restaurants.
The photos of the dishes and interiors of each restaurant are spectacular, which is what we'd expect when looking for fine dining on the upper end of pricing.
With around 20,000 restaurants selected by the MICHELIN Guide in this easy-to-use app, you'll find a foodie's paradise that stretches the entire globe.
The MICHELIN Guide offers restaurant reservations for all tastes and budgets: MICHELIN Plates, Bib Gourmands, and Michelin Stars restaurants. Hey, sometimes you just want a well-crafted, artisan snack.
Remember, this is a Michelin app, so don't expect every restaurant to be here, just the ones that have earned their high marks.
On a side note, we're also keeping an eye on the Zagat app. Zagat has been a well-known brand for ages, but after Google acquired it, it went out to the wastelands (long story short).
It's now been acquired by The Infatuation which should pump new juice into bringing this brand back to its glory days of being the definitive rating system for restaurants. Do you hear that Zagat? We've got our eye on you.
Cost: The app is free, and lounge access is around US$25 – $60.
LoungeBuddy brings us back to those simpler times of yesterday- before airport fights were a thing and it was survival of the fittest when it came to boarding your flight. If you're desperately seeking calm before the storm, Loungebuddy has your back.
You no longer have to be a frequent flyer or somebody who knows somebody to get into those coveted airport lounges.
As the app says, "With LoungeBuddy, all travelers can access any of the lounges in our network — no memberships, elite statuses, or first-class tickets required." We have a better way to say it. Welcome to the Jetsetty life, where everyone lives the dream.
There's no membership fee; you just search for the airport you're headed to and find the lounge accessible in the LoungeBuddy network.
Even if a lounge isn't on LoungeBuddy's network, you can still get the particulars about any airport lounge on this top luxury travel app.
You can easily determine if your credit card or ticket can still get you into one of these elite lounges. The app also lists the amenities in the lounge, including cocktails, Wi-Fi, snacks, and excellent food.
The nice thing is that you can book a single-use pass on-demand, giving you instant access. You can also book your pass up to two months in advance. This is a great way to unwind and sidestep the stress of airports- and the fight club at the gates.
Honorable Mention
We're throwing this luxury travel app into the mix because it rocks when it comes to finding empty-leg seats. You can search through thousands of empty legs that are updated in real-time. No broker or middleman.
Just find the nearest private jet airport, use the "Fly Me Home" tool, and Voila! You're on your way. Unlike other apps that limit you to a max of 19 passengers, AirCharter.com has no limit.
So, you can re-friend some old acquaintances on Facebook and lower your per-person cost by a few notches. Users can also get instant quotes with near-flawless accuracy, giving customers an exact figure expected to pay for the trip.
In Conclusion
Long gone are the days when you had to sift through tons of literature from the library to get insider travel info. With these top luxury travel apps, you can book a private flight, visit a secret museum, eat at a new Michelin-starred restaurant, and get a military-trained chauffeur to shlep you back to your doorstep. Hoorah.