Staying true to our Jetsetty mantra "Life. Inspired,"  why not make an adventure out of getting a great cup of coffee with a luxury flight? This may seem a little extreme, but this is the luxury page. So let's get started.
You've come a long way, Lufthansa!
Lufthansa is the largest German airline and our choice for our flight to Turkey. For some reason, Lufthansa rings a bell…of course! Goodfellas! I'll assume you've seen that movie directed by Martin Scorsese, starring Robert De Niro, Ray Liotta and Joe Pesci.
Those Goodfellas pull off a 6 million dollar heist on Lufthansa Airlines, a crime that actually happened and baffled law enforcement for years. But I digress.
Lufthansa prides itself on world-class service and has one of the top luxury airport lounges in the world at the Lufthansa First Class Terminal. We take you inside and give you the skinny on our luxury airport lounge article.
Arriving in Frankfurt, Germany we were picked up on the runway by a Porsche then sped off to the terminal where our personal assistant was standing by, ready to assist.
If you've ever wanted to experience life with a butler, then fly Lufthansa. It's cheaper than buying a mansion and not as much of a commitment. It's the only way to fly on your luxury flight to achieving your goal of a real cup of Turkish coffee.
These luggage warriors are fully engaged to get you through the gates, take care of your passport and strong-arm their way through the plane cabin to get you to your seat. Not kidding, they're with you all the way to your seat when you board!
But here's the real reason we fly Lufthansa and passengers sometimes even change their flight for – the famous duck!
Lufthansa's First Class service gives you a souvenir Rubber Duck. You get this when visiting a First Class Lounge or the First Class Terminal, and is a big part of the experience. Seriously, these little guys are just as adorable as the slippers with mustaches at the Archer Hotel.
The ducks are seasonal depending on what's up at the time but here's a great gallery from a frequent Lufthansa flyer collector. If this isn't icing on the cake with a luxury flight, we don't know what is.
So after being spoiled rotten by Lufthansa and the butler, we made our way to the Turkish port city of Bodrum, where we stayed with friends on their boat.
At last! We were now so close to getting our Turkish coffee we could taste it in the air.
After some R & R, we headed over to Kahve Dünyası, a popular cafe with amazing cakes and pastries to pair with our coffee.
The impeccable quality of the coffee they brew has become so popular they've expanded their concept to Britain, Romania, Kuwait and Saudi Arabia.
Oh, and our boat was short a couple of macaroons so we nipped that one in the bud.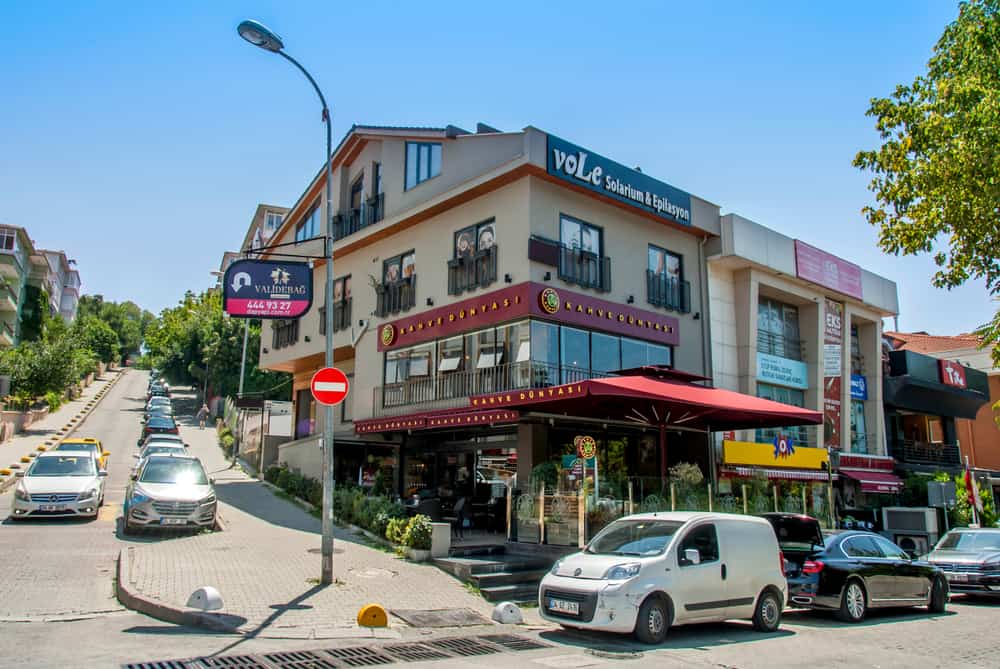 Kahve Dünyası, our 2 story cafe serving up the real deal in Bodrum, Turkey.
If brewing up some of your own Turkish coffee sounds like something that'll hit the spot right now, you don't need to go to Turkey, those delivery vans are just about everywhere now.
Some of these coffees have extra cardamon, a once prized spice in the East Indies for its medicinal benefits. In fact, some of the nutritional benefits include essential minerals, fiber, and cancer-fighting compounds.
Not bad for a great cup of joe!
Coming back was equally eventful as once we boarded the plane and settled into our first-class seats, we were served up lots of caviar. And we mean lots.
All in all, we absolutely loved our trip to Turkey. especially the luxury flying part. The warm, accommodating people were great as well, not to mention we were suckers for the treats we nibbled on while relaxing along the beautiful coastline.
All this made this a trip to remember. And let's not forget our rubber duck that'll always remind us how fun it is to fly Lufthansa!