Since some luxury houseboats somewhat fall under the same definition of a luxury yacht, we will differentiate this on our top 5 as those seaworthy accommodations that look and feel more like home.
These houseboats come in two flavors. They are the cruising type of luxury vessel and the non-cruising type. We mixed in both. After all, isn't it better to experience swashbuckling life on the high seas to the max?
Arkup, Floating Villa
In collaboration with Waterstudios, The Netherlands, the Floating Villa is a US$5,000,000 zero-emission work of art.
Some of the maxed-out luxuries we see in this 4 bedroom, 4.5 baths include:
Energy recovery ventilation
AC healthy/soothing interior climate
6 independent reverse AC zones
LED lighting systems for indoor & outdoor
Floor-to-ceiling impact windows
Smart house automation
Wait, did we say floor-to-ceiling impact windows? Yep, These livable floating homes are designed to withstand high winds, floods, and hurricanes thanks to their elevation system.
When the seas get cruel, hydraulic pillars (spuds) actually extend into the seabed and raise the home above the fierce waves. Seriously cool stuff. Since Arkup #1 is located in Miami, this is a good proving ground against some common Florida elements like hurricanes.
As a bonus, you can also own a fractional part of the vessel (up to 4 people) somewhat like a timeshare.
You pay US$11,000. per quarter and Arkup takes care of the management of the villa including insurance, dockage, and maintenance. Anything exposed to the sea becomes high maintenance, so this is a good thing.
You might have been brought up to speed about timeshares by our other posts, but with this buy-in, you can also sell your shares at any time. Or just spend the $5 mil, and hog this entire luxury houseboat to yourself. We don't judge.
Athénea, Floating Spaceship
We'll start with the obvious, this is one bitchin' luxury houseboat. Designed and built for Earthlings by naval architect Jean-Michel Ducancelle, this floating pod was inspired by the escape pod in the James Bond flick, "The Spy Who Loved Me."

Using a digital tablet you can manage all the onboard automation. It's also friendly to our oceans. Using the innovative sand screw anchoring, Anthénea doesn't damage nor impact any underwater ecosystem and environment.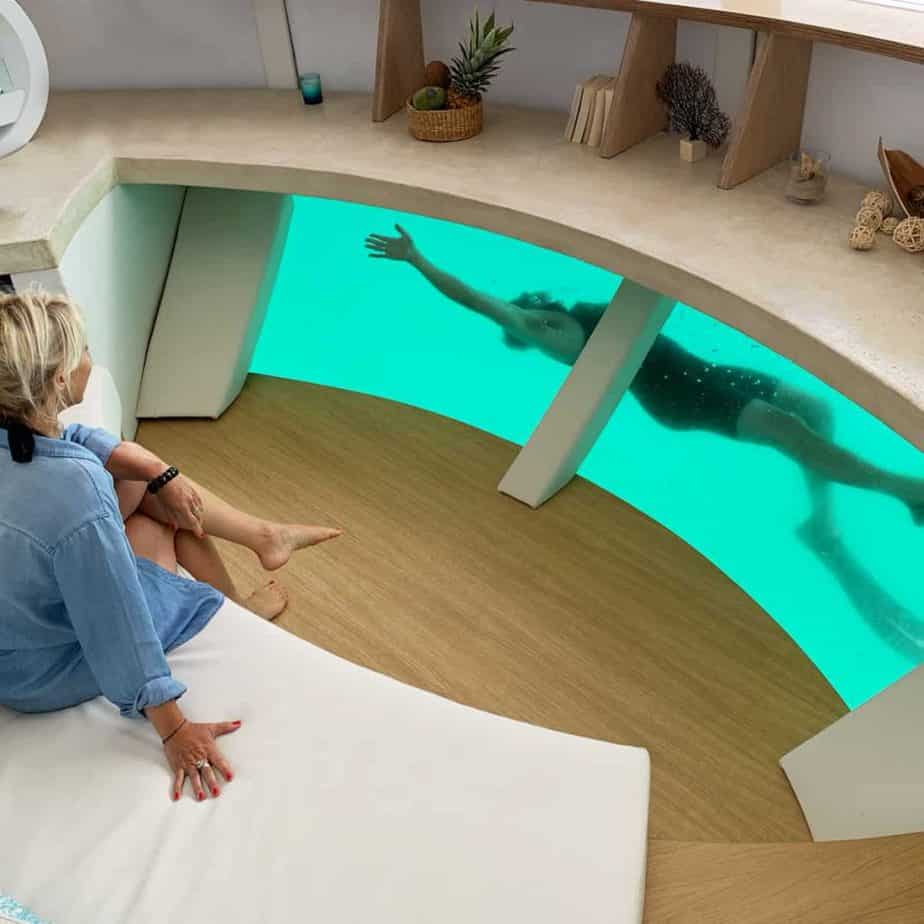 So what's on board? Anthénea comes with an adjustable sunshade roof, solar panels, a panoramic bathtub, and a 220 cm bedding diameter.
This ship runs on 100% solar power and inside you get amazing submarine, underwater views from inside the houseboat. We're thinking this might be our next office.
These seaworthy spaceships are priced at about €250,000 and €420,000 excluding tax depending on the version. You can pay with almost any currency as long as it's accepted on Earth.
Soon there will be a new addition located at The Heart of Europe,  just 4 km away from the shores at Jumeirah 1, in Dubai.
Kleindienst
Austrian real estate developer Kleindienst Group is in charge of the Floating Seahorses, the official name of the project consisting of 42 floating villas.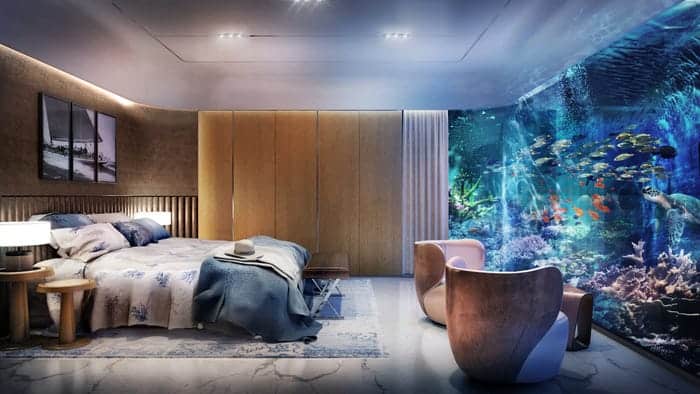 Features include a tri-level home, will an underwater master bedroom, and a bathroom coming in at approximately 270 square feet.
The Floating Seahorse also comes with a fully fitted kitchen and glass-bottomed jacuzzi on its sun deck.
Just outside the walls is a 500-square-foot coral garden.  In this garden, actual seahorses will live and dance through the Arabian Gulf before your very eyes!
The amazing visuals you get with these floating Seahorses make this is the utopia of retreats when it comes to a luxury houseboat.
Being over 2 miles out to sea, homeowners will need to travel via boat or seaplane to get to their homes, so this will most likely be a common amenity unless Uber has some sort of air taxi service. Something we know a lot about!
The Atlas V series, by Bravada Yachts, was inspired by the ocean, and built for the lake. With fire pits, a sun deck, and luxury sound systems the Atlas V is built for indoor-outdoor living. Almost like glamping on the water.
The home includes five bedrooms and two bathrooms and just for fun, you get the second-level rear waterslide. Can't say you'll run out of things to do around the house if you count napping and living the easy life among them.

Finishes include stainless steel range and microwave, quartz countertops, and custom cabinets. You also get 10 flat-screen TVs, a Bose sound system, and a satellite TV – in case the fish aren't biting.
Overblue, Italian Design, Amplified
Overblue was designed in collaboration with the well-established Italian designer and architect Stefano Nolletti. This explains a lot, like the beautiful lines and modern style.
It may appear somewhat yacht-ish, which makes us wonder why can't more homes on land just look like this.
This luxury houseboat is a little more seaworthy than the others mentioned. This modern home is able to cruise in all conditions and has innovative solutions like 2 hulls for increased stability, speed, and comfort.
By combining all the aspects of a power catamaran and a modern houseboat,  you get stability (seaworthiness), better cruising speeds, fuel efficiency, maneuverability (twin engines + thrusters), and comfort at anchorage.
Optional extras include an electric sun visor, a 'smart' system that monitors every aspect of the boat from one screen. Prices range from £240,000 to more than £600,000, depending on the size and options you want.
It seems a nice place to anchor one of these would be along the Kentucky River by the famed Bourbon Trail. Say goodbye to those liquor store runs, now you're sipping and enjoying the real deal.
Whatever waterways you decide to be bopping along on, remember comfort and style go a long way if you ever get lost at sea.