Known for the world-class powder runs and the country's best mountain trails, you'll find some of the country's top luxury hotels in Aspen.
To say Aspen caters to the rich and famous would be an understatement, as it's the norm for homes in this top ski destination to sell north of US$25 million.
Needless to say, it would be nutty for these luxury hotels in Aspen not to properly pair themselves with amazing restaurants and amenities. In fact, this is a fave spot for A-listers to frequent on their winter excursions.
This includes Sir Elton John, Mariah Carey, Kim Kardashian, and Kanye West along with model extraordinaire Bella Hadid. So no one skimps on anything at these resorts. Let's dive in and see what puts these at the top of our list.
This luxury mountainside retreat has been collecting legendary stories since opening its doors in 1889.
This includes the 10th Mountain Division soldiers downing pints after a hard day of slope training and Hunter S. Thompson holding court during his run for sheriff. As we already know, some luxury hotels come with built-in lore.
Luxurious and modern in style, the hotel still keeps hold of its old west roots from that fun bygone era of silver mining and spats over poker games in the saloon.
The lounge surrounds you with antique decor, a cozy fireplace, and old-west imagery reminding you a bottle of whiskey next to your bed just might be appropriate after all.
By the way, don't feel out of place if you choose a whiskey from the Scottish Highlands on your nightstand(link) According to True West Magazine foreign whiskey was also quite popular back in the old-timey days.
Some of Hotel Jerome's amenities are obviously going to be snow-centric, like booking your ski lift tickets for you and giving high-altitude sports recovery massages in the spa.
With over 120 miles of hiking trails, we'd say forget the indoor gym and take their open-air yoga class at 11,000 ft. up Aspen Mountain. Not to say the indoor fitness center isn't top-notch. Regardless of the season, the fresh air does a body good.
Presidential Luxury Suite
We get it, unless you're all about living dangerously like many celebs have at Chateau Manet, you don't spend a lot of time in your room. But when you are hanging in the Presidential Suite, you're rewarded with majestic views of Aspen Mountain and sumptuous bed linens.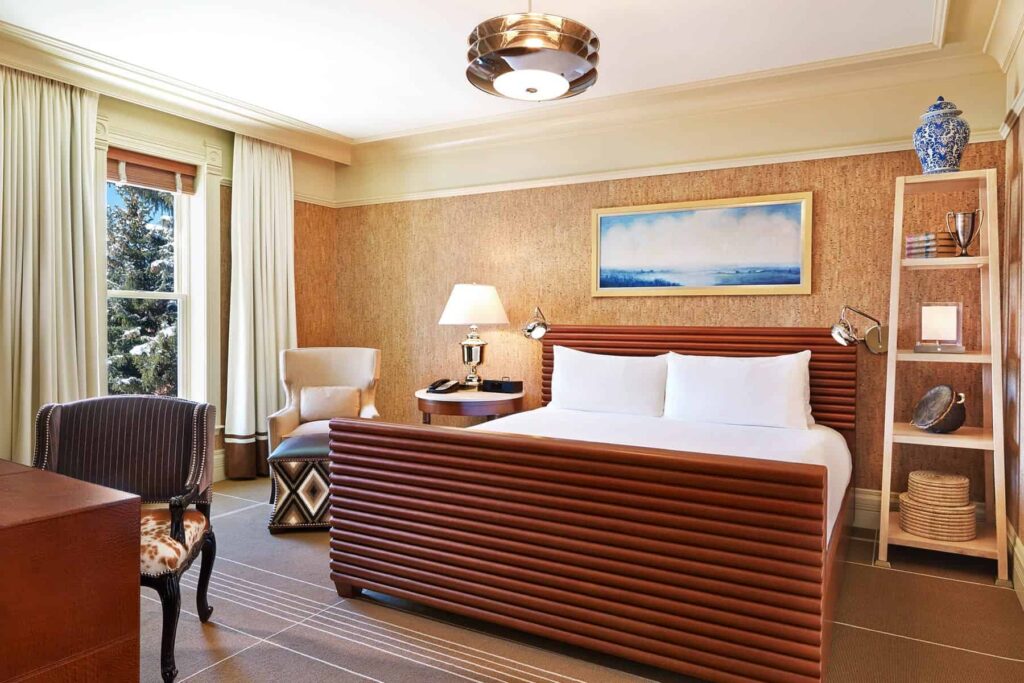 With 1,265 sq. ft of elbow room, you'll find 2 bathrooms, a separate living room, and a wet bar. Just in case you do plan to stay in your room a lot.
Dining – Living Room
More apropos of coziness, we'll skip the high-brow scene and opt for the small plates offered with cocktails in the Living Room lounge.
Open space comfy with a fireplace, the best way to top off a day on the slopes is with craft cocktails and hot chocolates flavored with salted butterscotch and smoked cinnamon.
If you're looking for a little more cowboy in your cocktail, step into the J-Bar, which is definitely more of the old-west vibe.
Cowboys used to ride right into the bar on their horses, which may or may not have been somewhat rude for the day. We're not up to speed on our cowboy etiquette.
When Prohibition struck in 1920 the bar became a soda fountain, cleverly inventing the "Aspen Crud," a bourbon-based drink disguised as a milkshake. Where there's a will, there's gonna be a way!
Being the only luxury ski resort located in Snowmass Village, it's right in the heart of Aspen skiing. Snowmass is the largest of the four Aspen/Snowmass mountains, with over 3,000 acres of terrain. Suffice to say, Viceroy sure knows how to pick a good spot.
In fact, the location in itself is an amenity with its popular ski-in/ski-out privileges. This means you're actually skiing to and from the slopes directly from the hotel.
With breathtaking Colorado mountain views, elegant amenities, stylish interior décor, and full in-room kitchens, you'll feel right at home.
Through the vision of interior designer Anna Lambiotte, Viceroy Snowmass has recently renovated 168 guestrooms while at the same time expanding its bar and culinary scene.
They've also added 2 new soaking tubs on the pool deck to ease those weary muscles after a day of conquering mountains.
Penthouse Suite
The 3 bedroom Penthouse Suite gives you stunning mountain views along with 2 balconies, a fireplace, and a fully-equipped, open-plan kitchen and dining table.
It seems the only thing missing is an in-room washer and dryer. Well actually, you get that too. With over 2,100 sq. ft. of luxury lodging, it's easy to see why this is one of our top luxury hotels in Aspen.
Dining – TORO Kitchen & Lounge
Sourcing organic, sustainable, and grass-fed products locally, TORO offers pan-Latin-inspired dishes from acclaimed chef and restaurateur Richard Sandoval.
They have what they call the "100-mile meal" meaning they make every effort to source the ingredients from within a 100-mile radius of the hotel. That has fresh written all over it.
Mixing things up, they also serve sushi, miso salmon, and ahi tuna taquitos for those leaning toward the fishier side of life.
This five-star luxury hotel is located at the foot of Aspen Mountain, between the gondola and lift 1A. It's so easy to take on those outdoor mountain activities you crave that you'll almost forget where you're staying.
But we'll remind you. St. Regis also has amazing proximity to downtown Aspen's charming restaurants, luxury boutique shops, and nightlife.
The amenities are second to none with 400-thread-count Frette linens, spacious marble bathrooms, and custom furnishings by Ralph Lauren. The St. Regis Butler Service stands 24/7 to assist.
Aside from being a host hotel for the FOOD & Wine Classic held annually in Aspen, this luxury hotel has a flurry of traditions.
This includes nightly fireside cocktails, summer S'mores by the fountain courtyard, and daily champagne sabering – the art of chopping off the top of a bottle of champagne with a sword. Sounds like fun to us, as long as there's enough left in the bottle to drink after the ceremonial beheading.
Any resort in a town built around outdoor activities is probably going to have somewhat of a laid-back approach to dining, and we see this in St. Regis. Most of their culinary delights are in the Mountains Social Bar & Lounge where you'll do more drinking and mingling than mulling over a menu.
Dining – The Velvet Buck
Don't let these luxury hotels in Aspen fool you. With a dress code of smart and casual, you'll still get that coat and tie-worthy culinary meals prepared to perfection at their flagship restaurant. The staff is known to bend over backward to accommodate you, ensuring an unforgettable experience.
True to form with the W brand, you'll find the familiar touch of modern, vibrant funk in the style of this luxury resort.
With slope-side access to Aspen Mountain year-round, trails for hiking are just outside your door along with easy access to the onsite Ski & Snowboard shop that rents and sells everything you need to play in the powder.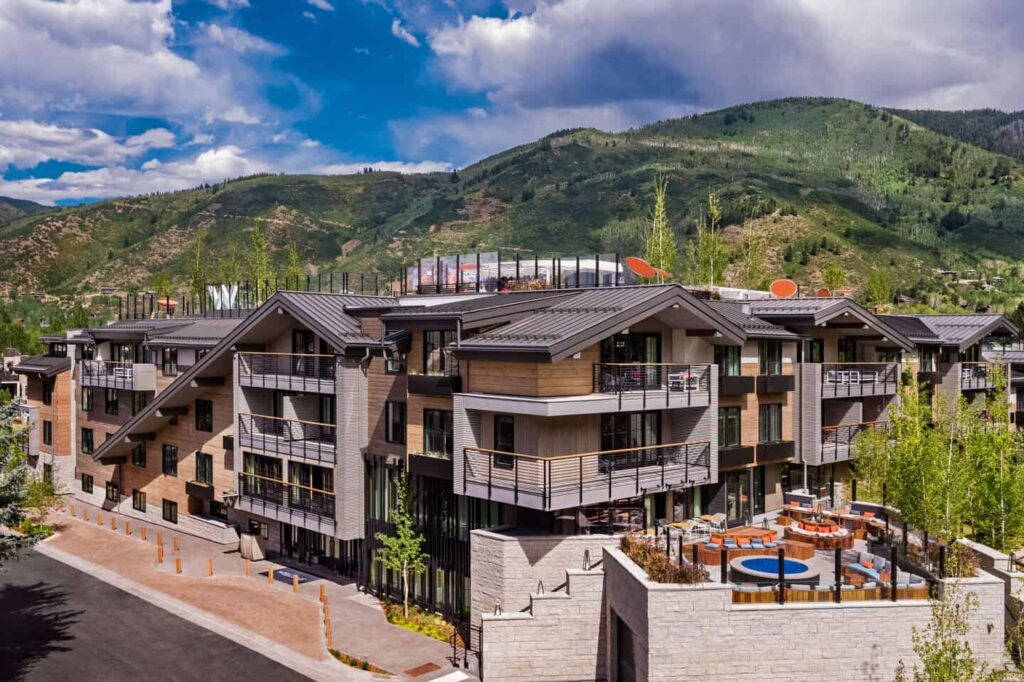 The Sky Residences can be rented nightly and these 11-branded suites are inspired by the decadence of '70s Aspen's "pleasure palaces."
Inside, you'll find Swiss chalet architecture, rustic wood finishes, sloped rooflines, and a fireplace-inspired W MixBar. You also get a fully stocked state-of-the-art kitchen in these 1,260 sq. ft. residences.
The 2 and 3-bedroom residences also give you access to their private rooftop lounge with spectacular views of the mountains from the balconies.
Dining- Living Room
Remember what we said about the lackadaisical vibe these luxury hotels in Aspen have when it comes to fine dining? We suppose the masses have spoken – the people up here would rather drink and socialize, and the W Aspen takes this mindset to heart.
In a nutshell, you have the American 39 Degrees underground cocktail bar and grotto, and the WET Deck where you can drink by the pool, hot tubs, and fire pits.
However, if you don't want to hit all the restaurants the town offers right out your door, the Living Room offers locally-sourced dishes throughout the day.
You'll never find skimping at any W brand hotel and at the Living Room, albeit casual, you still get a variety of high-brow culinary delights created by Chef Jacqueline Siao.
We couldn't have a list of top luxury hotels in Aspen without mentioning The Little Nell.
This five-star, 5 Diamond hotel is the pinnacle of home away from home with Snowcat powder tours and a wine academy supported by a wine cellar with around 20,000 bottles of wine.
If this sounds more like a celebrity home, no surprise since Britney Spears, Kevin Federline, Kate Hudson, and Mariah Carey have all been spotted there.
It's also another ski-in/ski-out hotel which is probably a good thing so you won't get stuck behind a long line of limos waiting to get to the slopes.
Naturally, this hotel has a Ski Concierge. These guys will warm your boots, tune up your skis and keep a hot pot of coffee or tea within arm's reach.
We also found oxygen rental on the list of amenities so they either get serious skiers or it's a celebrity thing like keeping tiny dogs in your purse.
In all seriousness, portable oxygen concentrators are a good thing at high altitudes and some ski resorts even offer oxygen bars. You're at almost 8,000 ft in elevation in Aspen so the air gets a little thin where altitude sickness is a real thing in places like this.
Benedict Suite
Like the other luxury hotels, They offer residences but the luxury suites do quite nicely, minus a kitchen. For example, the Benedict Suite gives you 1,250 sq. ft. of modern architecture, which is no accident since Fritz Benedict studied architecture under the great modern master Frank Lloyd Wright.
Your room also has a private art collection, 2 gas log fireplaces, Fili D'oro down comforters and white goose-down pillows, and a steam shower and soaking tub which goes hand in hand with skiing.
Dining – Element 47
This is top-of-the-line for wine pairing with dinner, and it's known as the finest spot around to wine dine, and unwind.
This restaurant is a big part of the reason Little Nell has its prestigious Five-Star, Five Diamond ranking, due to their team of culinary, and wine experts, and exemplary service.
The meals are considered Colorado Contemporary, cuisine emphasizing local wagyu beef, house-made plates of pasta, and seasonal produce. No dress code here, Aspen Casual is the word.
Catering to Hollywood's elite, financial moguls, and those who travel the world seeking extraordinary service, these hotels go the distance to make sure enjoying their service and the great outdoors is a year-round event. As the saying goes, these hotels are well-versed in putting their best boot forward.