The first things that come to mind about Barcelona are the bluest of blue skies, a stylish Mediterranean vibe, beaches, and scrumptious cuisine.
But this city is also known for its unique and distinct architecture, and our top 5 hotels not only serve up the best of the best when it comes to service but have built their own hotels to capture the essence of this artistic representation.
In fact, Barcelona is the only city in the world awarded a Royal Gold Medal for architecture by the Royal Institute of British Architects. Usually, this is given to a person or a group, but just this one time, a whole city got the award!
Plaça Rosa del Vents, 1, Final Passeig de Joan de Borbó
The W Hotels keep showing up on our radar for various reasons, and this time we have to give them props for scoring this incredible beachfront cornerstone along the Barceloneta boardwalk.
The W never disappoints when it comes to grandiose in style and location, as seen in the W in Austin, Texas.  This W is perched on a jetty overlooking the Mediterranean Sea, making this luxury hotel in Barcelona shine brightly as an architectural wonder in its own right.
Designed by world-renowned architect Ricardo Bofill, W Barcelona is just as much a spectacular statement from the outside as it is from the inside.
The first thing that comes to mind is a room with a view – most are to die for. With floor-to-ceiling windows, you don't miss an inch of awesomeness overlooking the sea, beach, and city.
You'll find your own space on the beach to relax with burgers and fries at SALT Restaurant and Beach Club.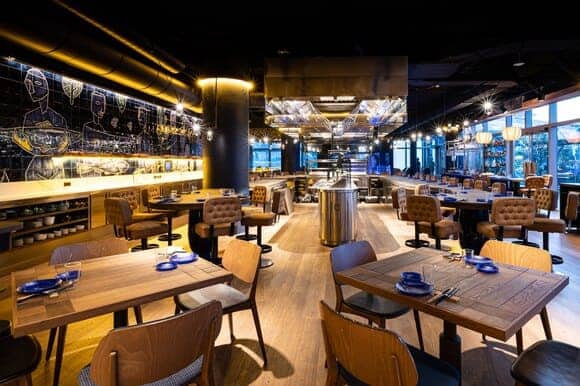 If you hold out till dinner, there is authentic Spanish seafood from a charcoal grill at La Barra, led by renowned Chef Carles Abellan.
W BARCELONA SOUND SUITE: A Private Recording Studio
Here's something you don't see every day in a luxury hotel. W Barcelona tunes up and unveils Europe's first W Sound Suite, a private music studio that allows guests to eat, sleep, record & repeat.
Look what Billie Eilish accomplished in her bedroom (somebody say 5 Grammys). There's some in-suite inspiration we can all tap into! You can reserve this recording studio as a package which  includes;
Guest Room
4-hour studio session with a sound engineer
Breakfast for two
Wifi connection
Passeig de Colom, 9
Located in Barcelona's celebrated Gothic quarter, this 5-star luxury boutique hotel has 28 large rooms with balconies that offer a front-row seat to the luxury Marina at Port Vell, alongside the Mediterranean Sea.
Ever wonder what Pablo Picasso's first art studio was like? Wonder no more – you'll be spending the night inside his studio at The Serras. How cool is that!
Also noteworthy is that each room has been carefully soundproofed and decorated to offer you a genuine hideaway. We don't hear a lot about hotel rooms being sound-proofed, so in our minds, this hotel is now 6 stars.
Overlooking the Mediterranean Sea or the inspiring Merce Street in the Gothic Quarter, this hotel is perfection in the Mediterranean.
The stylish rooftop terrace comes beautifully appointed with a superb infinity pool and comfortable lounge area.
You'll also experience Michelin Star chef Marc Gascons working his magic in restaurant Informal.
Following the huge success of his family-run establishment in Girona, this Michelin-Starred chef has created a menu that has been described as fresh, young, and informal (thus the name), but very much Catalan and the Mediterranean in style.
Restaurant Informal offers tapas, prepared from fresh seasonal ingredients sourced from Barcelona's local markets.
PASSEIG DE GRÀCIA, 38-40
At this 5-star hotel, you'll enjoy stunning views over the gardens or looking into the modernist landmark Casa Batlló This creates a wonderful mix of style and elegance for your stay.
Every detail is flawless, from the friendly doormen to the impeccable lobby. Michelin-starred cuisine, and light-filled rooms and suites.
The Premier Suite is an amazing interior space that follows true modernism in style with sleek simplicity, clean lines, and all-around wide-open comfort.
This room features a long terrace, a living room with dining for 6, a master bedroom with a walk-in closet, a study area, and the fine import from our Brits across the pond that we all love – the butler. By the way, did you know there's a train ride with a personal butler as well?
Of course, this wouldn't be a top Barcelona luxury hotel without their two Michelin stars for Moments restaurant.
Moments offers creative, fresh, and healthy cuisine inspired by Catalan culinary culture managed by chef Carme Ruscalleda and her son Raül Balam.
Having won seven Michelin stars for her restaurants in Spain and Tokyo, Chef Ruscalleda is one of the most famous chefs in the country.
A luxurious spa and gym, and a lovely rooftop plunge pool complete your Jetsetty experience at the Mandarin Oriental.
Marina 19-21
Hotel Arts is an iconic building setting that breaks the standards for beachside luxury. A stunning observation deck allows you to lose yourself in the depths of the Mediterranean.  The hotel has a full-service spa, a marina, and 4 restaurants.
You'll also find that the 483 soundproofed guest rooms offer WiFi and 24-hour room service, deep soaking bathtubs, and sitting areas.
With endless green spaces and landscaped areas, you'll bask in the shadow of Frank Gehry's iconic golden sculpture: El Peix.
From this deck, you can follow the horizon to the coast taking in the unmistakable skyline of Barcelona, including the Sagrada Familia and the Collserola Tower. That is one crazy tower and an unprecedented work of engineering!
The Penthouse rooms are off-the-charts spectacular but you can tame this vacation splurge with the Mediterranean Suite, which is a pretty sweet room in itself with nothing but blue seas and 5-star hospitality.
The service is what Hotel Arts is known for and the hotel includes a two-Michelin-starred restaurant and award-winning cocktail bar.
P41 Bar & Coctelarium is where you can relax between meals, enjoy vermouth, a mid-afternoon glass of champagne, or a sophisticated after-dinner cocktail.
Cocktail mixologists can be legendary in their own right, and Diego Baud is no exception. he was the winner of the Essence Century Cocktail Competition in 2015 among other awards in his line of work.
Restaurant Enoteca Paco Pérez takes the freshness of the sea, fused with produce picked straight from the orchards and mountainsides. Here the flavors of the Mediterranean are recreated under the innovative vision of chef Paco Pérez, who has been awarded two Michelin stars.
Corsega, 482
Set in the heart of Barcelona, Hotel Barcelona 1882 owes its name to the date on which the architect Antoni Gaudí began construction of the La Sagrada Familia, Barcelona's most emblematic cathedral building.
This was declared a World Heritage Site. And when you stay at Hotel Barcelona 1882, you are only a six-minute stroll from La Sagrada Familia.
La Sagrada Familia Cathedral
Hotel Barcelona 1882 is about the simple touches – wine tasting with cheese every night and the beautiful terrace overlooking the city where you can take in the Barcelona vibe.
The breakfast buffet is huge with over 50 items at their restaurant El Bosc, and they're big on accommodating vegan needs as well as those guests with food allergies.
Guests gravitate towards the breakfast, reiterated by the high reviews that often mention this being one of the best hotel breakfast buffets in Europe.
Along with the exceptional service, you'll enjoy swimming on the rooftop swimming pool, gym and fitness routines, bicycle rental, guided tours, free yoga classes, massages, and body treatments.