Here at the home of Friends cast member Jennifer Aniston, we can tell her talents also lie in interior design. Most of us know Jennifer as Rachel Green in the long-running TV sitcom, Friends.
But she's also known for her impeccable taste in real estate and seems to gravitate towards the coveted mid-century modern homes found in Beverly Hills. This Friends cast member obviously has great taste in homes and an eye for design.
Like Ellen Degeneres, Jennifer has a connection and a strong vision for the homes she buys and creatively transforms. Mid-century homes were known for their open floor plans and clean lines while embracing a minimalistic lifestyle.
Looked upon as one of Hollywood's most down-to-earth A-listers, simplicity seems to encompass her life along with her surroundings.
In fact, although having a home office worthy of the old Hollywood cigar-chomping producers, she prefers the computer she keeps in her light-filled kitchen. "It's much cozier," she explains, "and I'm all about cozy."
Bel-Air Mid-Century
High up in the hills of Bel-Air, we find her US$21 million estate that was built in 1965 by famed mid-century architect A. Quincy Jones.
The sprawling 8,500 square foot home has 4 bedrooms and 6 and 1/2 baths.
The mid-century modern also has a pool, wine cellar, and guest house. With the home's elevation being so high up in the hills, she gets the city lights along with some ocean views.
Her home office embraces warmth with a Lindsey Adelman light fixture, and a large 1965 desk by Don S. Shoemaker – A bold centerpiece with an eye-catching design.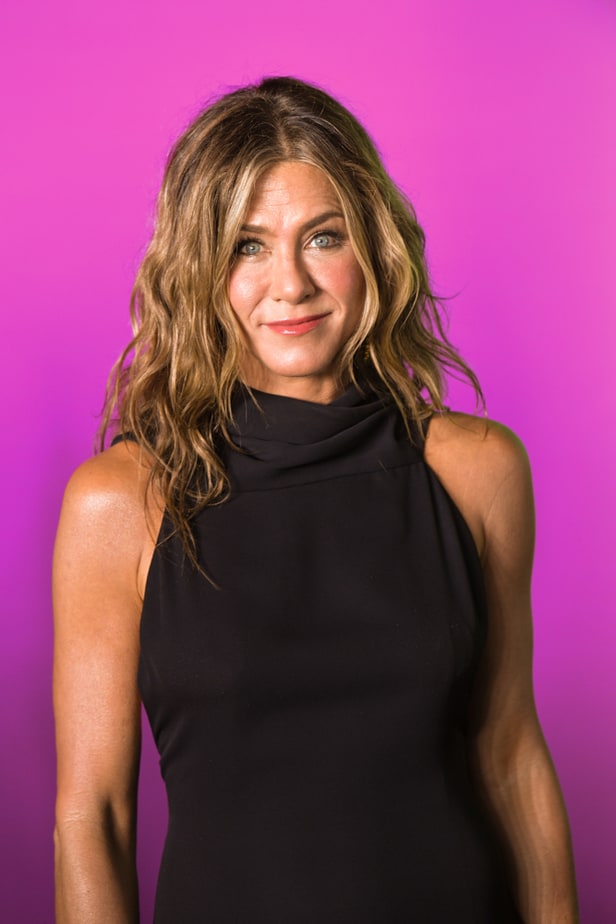 According to Architectural Digest, interior designer Stephen Shadley designed this mansion with a number of Jennifer Aniston's favorite materials in mind, namely wood, stone, and bronze. We see a lot of these elements carried through her home office which sits right off her master bedroom.
As you know from our amazing walking tours around the U.S., Japanese gardens have always been the epitome of peaceful relaxation.

With that in mind, Jennifer enlisted the help of garden designer Marcello Villano and landscape architect Anne Attinger who transformed her outdoor space into an oasis of Asian-inspired pocket gardens and statues.
Designer Stephen Shadley reflects on Jennifer's taste as he took on the project.  "She loves that sort of calm sensibility. Zen was one of the first words she used."

Thankfully, this home of Friends actress Jennifer Aniston fell into the right hands, being restored to its days of glory by a keen eye and a love for the era.