These top non-alcoholic brands are gaining popularity in the spirits world, as more people look for healthier alternatives to traditional alcoholic drinks.
Whether you are looking for a refreshing summer drink or something to warm up with on a chilly night, non-alcoholic spirits offer a variety of tasty options that are close to the real deal.
There's been a recent surge in the popularity of top non-alcoholic brands due to the increasing trend of people looking to cut back on their drinking or go completely sober. This created the rise of the Mocktail.
What's a Mocktail?
Bartenders with an eye for detail are experts at conjuring up tantalizing mocktails – an exquisite, alcohol-free drink that takes the visual appeal of a traditional cocktail to a whole new level.
From the bubbly blend of soda, juices, herbs, and syrups, these masterfully crafted beverages tickle the taste buds with their one-of-a-kind flavor and are alcohol-free. The cost is also minimal going this route, compared to our top California cult wines which will set you back thousands.

Non-alcoholic mocktails are a delicious, fun, and sophisticated way to liven up any social gathering or night in. Not only are mocktails healthier than traditional cocktails, but these tasty concoctions have the ability to replicate the flavor of classic staples like bourbon, gin, and vodka.
Here's our list of faves, followed by refreshing cocktail recipes made with these non-alcoholic brands. If you're more of a wine drinker, then you can also savor the aromas and notes of these fine non-alcoholic wines.
Seedlip is the original non-alcoholic spirit, offering a unique way to enjoy an evening without the need for alcohol. Made with botanicals, Seedlip Garden 108 is our top substitute for vodka.
This is a fresh, herbal blend of hand-picked peas, homegrown hay, and traditional garden herbs, including rosemary, thyme, and spearmint. Yes, hay seems a little weird, but it is homegrown so at least we know it's real hay.

Tasting Seedlip Garden 108 neat is a unique, tantalizing experience. It has a very herbal, grassy, and dry taste. The pea flavor is present but subtle in the background. It is a very sophisticated flavor that would be enjoyable by any palate.
This top non-alcoholic expression is made with natural botanical distillates and extracts, blended together through a complex process of maceration, copper pot distillation, blending, and filtration.
Copper pot distillation is the secret to these top Scotland whiskeys, so we know they are spot on with the methodology. They also don't use any added sugars or sweeteners and are allergen free for the standard allergens.
Highball – Summer Sea Breeze with Seedlip Garden 108
Looking for a zesty and refreshing highball cocktail? The Sea Breeze is your go-to! Savoring its taste is like a breath of fresh air – light, breezy, and best enjoyed while watching a sunset. It truly lives up to its name.
Mix 1 1/2 ounces Seedlip Garden 108, 3 ounces cranberry juice, 1 1/2 ounces grapefruit juice, and freshly squeezed grapefruit juice. Stir, add a lime wedge, and enjoy!
With the growing demand for quality spirits, Spiritless Kentucky 74 has been making waves throughout the craft alcohol industry. This whiskey substitute offers a delicious new way to enjoy classic whiskey flavors, minus the alcohol. Remember why we have the different whiskey spellings – whisky from Scotland, whiskey from the U.S.
From its complex flavor profile to its masterful use of oak, Spiritless Kentucky 74 is changing the game of craft drinks, making this one of our top non-alcoholic brands when it comes to a whiskey substitute.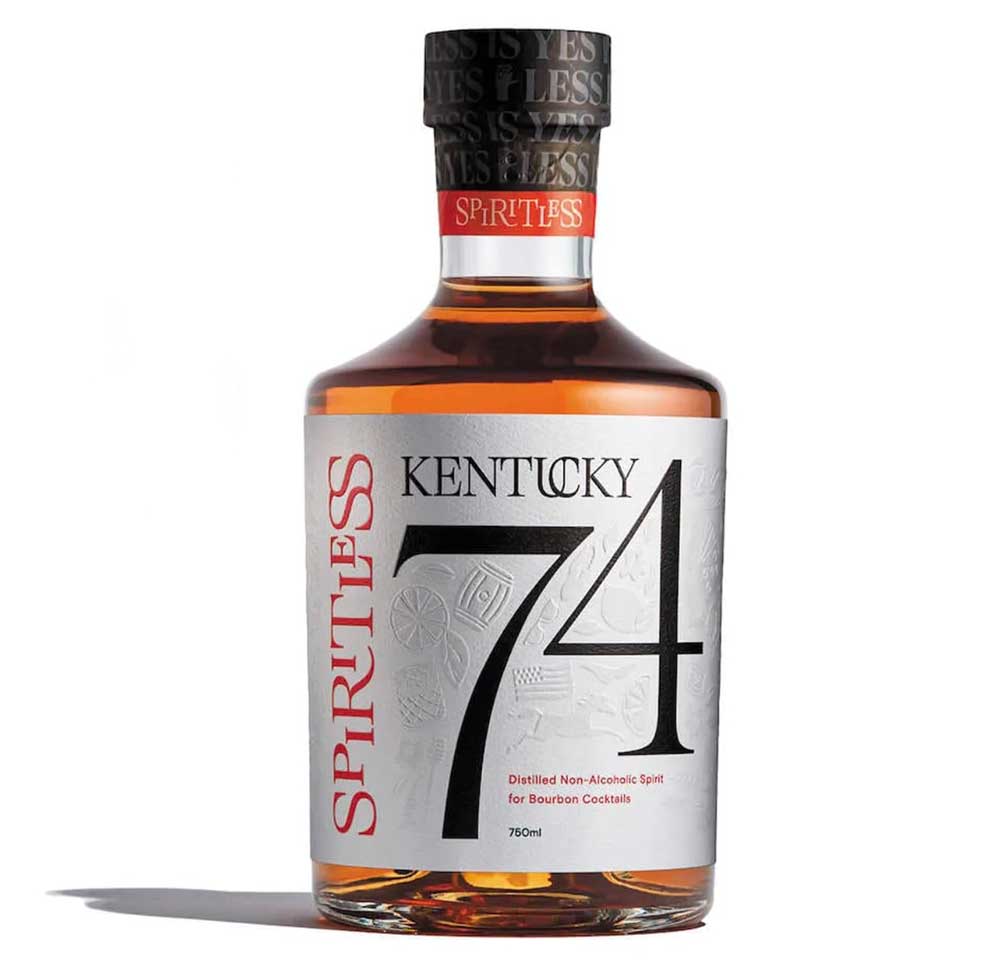 This is a relatively new product. It is made from distilled grain-neutral spirits (DGS) to create a unique whiskey experience that offers a smooth taste and the same complexity and richness of flavors found in traditional whiskey.
Unlike traditional whiskey, Spiritless Kentucky 74 is completely free from any type of alcohol or spirits. This makes it an excellent option for those who don't want to consume alcohol but still enjoy sipping a fine whiskey.
The process of making Spiritless Kentucky 74 begins with the selection of grains and herbs. The ingredients are then carefully blended together and heated until they reach the desired flavor profile.

After this, the mixture is distilled to remove all traces of alcohol, leaving behind only the flavorful oils and essences. Finally, the distillate is aged in oak barrels to allow the flavors to fully develop.
The result is a spirit-free whiskey that has all the complexity and depth of flavor found in traditional whiskey without any alcohol content. With its smooth, mellow flavor and pleasant aroma, Spiritless Kentucky 74 is sure to be a hit with both whiskey connoisseurs and non-drinkers alike.
Old-Fashioned Cocktail With Spiritless Kentucky 74
This cocktail is a whiskey lover's dream come true, the non-alcoholic Old-fashioned. It's the epitome of classic whiskey cocktails, minus all the things you don't like (hangover anyone?). When you use Spiritless Kentucky 74, you can savor its smooth finish with a touch of caramel, vanilla, and oak.
Start by filling a rocks glass with ice and adding in 2 oz of Spiritless Kentucky 74. Add 1/2 teaspoon of simple syrup and 2 dashes of Angostura bitters and stir to combine. Rub an orange peel around the rim of the glass and then discard it, and garnish with maraschino cherries.
If you still want the real thing and happen to be in Los Angeles, then check out these stellar whiskey bars that know their grains.
Katy Perry has co-founded De Soi, a line of non-alcoholic aperitifs, as part of her foray into the wellness industry. We can now add Katy to our list of celebrities who endorse the drinks they love.
The drinks have been carefully crafted to provide an alternative to alcoholic beverages, while still offering the same flavor and complexity. With no added sugar or artificial flavors, the natural ingredients offer a refreshing and healthier option for those looking to enjoy a lighter drink.

The drinks come in a variety of flavors, including grapefruit and elderflower, cucumber and lemongrass, and ginger and citrus. Each flavor is carefully crafted to provide the perfect balance of sweetness and tartness and is low in calories and alcohol content. Furthermore, the drinks are free from any added preservatives, so you can be sure that what you're drinking is all-natural.
Customers and fans have been highly enthusiastic about these drinks. They love the taste, complexity, and low calorie and alcohol content. In addition, many have described them as "refreshingly light and flavorful", making them a great substitute for wine and beer.
Aperitifs need no mixing, as they are refreshing straight out of the bottle. But if you're feeling ambitious, try it with a splash of any of these other top non-alcoholic brands we mention.
With the rise in popularity of home mixology, ArKay Alcohol-Free Rum is a great way to add an exotic flavor to your in-house concoctions without the expense of a trip to the Caribbean.
As the first and one of the few alcohol-free rums, ArKay offers a healthier and non-alcoholic alternative to traditional rums. Founded in 2011, this company has developed a diverse range of delicious drinks for everyone to enjoy.

This top non-alcoholic brand is made with zero sugar, zero calories, zero carbs, no GMO, no gluten, and a cast of friendly veggies. Sip and enjoy the exquisite taste of a dark, sublime rum; a delightful blend of lush, toasted spices, ripe banana, and caramel, finished off with the added flavor of cloves and star anise.
With ArKay Alcohol-Free Rum, you can enjoy delicious and healthy cocktails whether you're hosting a party or just looking for a way to unwind after work, This hits all the right notes when it comes to indulging without the guilt.
Piña Colada With ArKay Alcohol-Free Rum
Originating in Puerto Rico, "Pina Colada" is the literal translation of "strained pineapple" in Spanish. Made with a delicious blend of pineapple juice, rum, and coconut, it can be served either blended or over crushed ice.

In 1954, the refreshing mix was first concocted by the talented San Juan bartender, Ramón "Monchito" Marrero, quickly becoming a Puerto Rican favorite. In 1978, the popular drink was officially declared the national drink of Puerto Rico. We're going to take some liberty here and declare this the national drink of "Anytime," especially when you make it with a non-alcoholic rum. Now onto the recipe-
Put 1 1/2 oz of ice, 1/2 cup diced pineapple (frozen), 2 ounces pineapple juice, 2 ounces of coconut cream, and 2 ounces ArKay rum into a blender. Blend until smooth and frosty. Pour the drink into 2 glasses and garnish the rim with pineapple slices.
Ritual Zero Proof Tequila is an alcohol-free, sophisticated, and deeply flavorful alternative to traditional tequila. It captures the grassy flavor, smoky aroma, and bright fire of tequila, without the alcohol or calories.
For those who are interested in trying something new and unique in the world of spirits, Ritual Zero Proof Tequila is an innovative non-alcoholic version of a popular favorite libation. So, if you're looking for a way to savor the flavors, aromas, and fire of tequila, without any of the guilt this is the one.

Made with a blend of filtered water, natural flavors, cane sugar, and citric acid, you'll taste the bold earthy blue agave, the zesty Mexican lime, and the exotic tropical guava in this delectable non-alcoholic spirit alternative, that ends with a tantalizing smoky mesquite finish.
Ritual Zero Proof Tequila is designed to replace traditional tequila one-to-one in any of your favorite cocktails, so you can still enjoy the same drinks you know and love without compromising on taste. This makes it perfect for when you're driving, training, dieting, parenting, staying out late, getting up early, or abstaining altogether.
Now for the burning question. Does Ritual Zero Proof Tequila burn? At some level, we all expect a little punishment from a tequila shot. In fact, a little cringing and odd facial expressions are synonymous with this classic.
The answer is an emphatic YES! Ritual Zero Proof leverages the power of capsaicin, the same element that makes chili peppers spicy, to create the signature burn of alcoholic drinks – without the calories or dreaded hangover. Get the same taste, without regret!
Rub the rim of a highball glass or margarita glass with a grapefruit wedge, and dip it in a small plate of course salt. Add 2 oz of Ritual Zero proof tequila, 2 oz grapefruit juice, 1 oz sparkling water, freshly squeezed lime juice, and .25 oz agave nectar to the glass.
Stir to combine, and add ice to fill the glass. Sweeten to taste, and garnish with a grapefruit or lime wedge. Not quite the Mint Julip, but then again you're probably not at the Kentucky Derby right now.

Are These Top Non-Alcoholic Brands Really Alcohol-Free?
In Europe and the USA, 'alcohol-free' refers to anything below the 0.5% ABV (alcohol by volume) threshold, so it is important to double-check the ABV.
The UK government guidance states that drinks containing 0.05% ABV or less are labeled as alcohol-free or non-alcoholic, while those with up to 1.2% are labeled low alcohol.
Being at or below the threshold is about the same found in some foods like ripe bananas which are .04%. Here's a study that may surprise you about alcohol occurring naturally in the foods we love.
Please Note: The potent concoction of herbal extracts found in many of these drinks comes with cautionary health warnings for pregnant women, those taking certain medications, and those with other medical issues. Consult your physician if you have any questions.
Conclusion
Spirits have come a long way since the moonshine and prohibition days. The popularity of drinking non-alcoholic libations is growing but finding the perfect recipe for a non-alcoholic drink can be tricky.
Fortunately, these top non-alcoholic brands allow you to create your favorite cocktail without compromising taste, texture, or in some cases like tequila, there's no compromise on the familiar burn as it goes down the hatch. Bottoms up!