We find it quite a coincidence that the sightings of the famed Loch Ness Monster all seem to be centered around Scottish whisky distilleries.
We know you can drink yourself blind, but at what point do you start seeing monsters in the lake?
There is another logical explanation. These distilleries that are located in the beautiful Highlands of Scotland are also some of the best single malt whisky producers in the world. And there is nothing as rewarding as sipping a top-notch scotch while telling (making up) tales.
Then again, maybe "Nessie" as the locals affectionately call her, is real. We may never know, but what we do know is there are 5 great whisky distilleries not too far off from the quaint town of Inverness, regarded as the capital of the Highlands. 
Let's toss one back as we dive into a true single malt scotch. But before we begin, is it WHISKY OR WHISKEY?
In 1875 Ireland added an 'e' in order to distinguish its product from the Scottish version sold in the American market.

Today, with Single Malt Scotch Whisky recognized as the world's leading whisky, every other country has opted for the original spelling. So no "e" for now. Sorry lads.
What's A Single Malt Scotch?
To be referred to as single malt, a whisky must be produced by one distillery alone. Many whiskies are blends of a number of different makers.
Here's a little fun fact; to be a true Scotch Whisky, every distillery must mature its product in the country for at least three years and one day, using oak casks.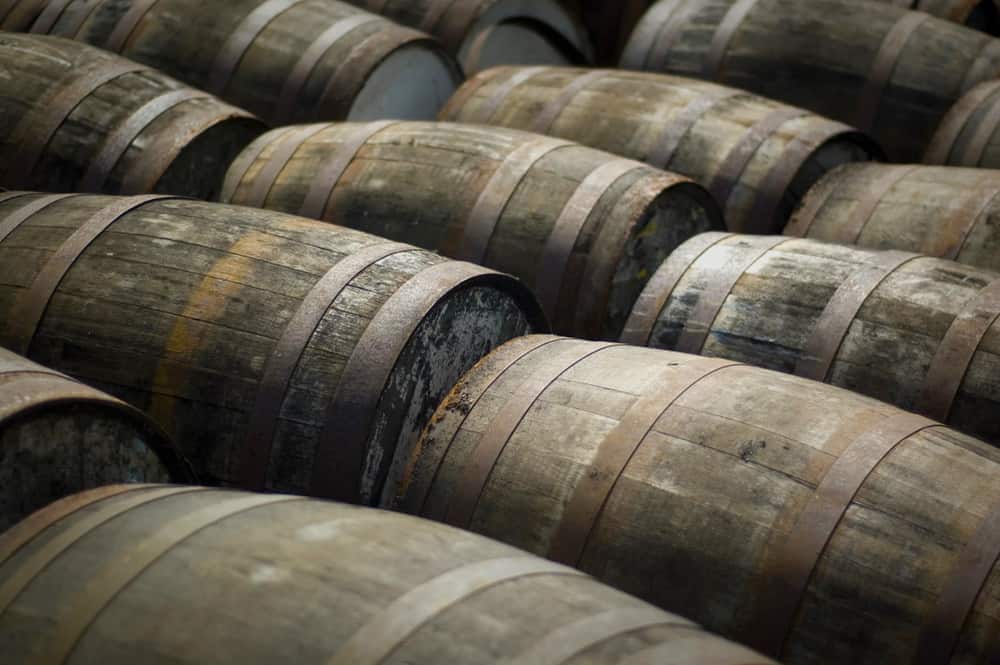 Glenmorangie
– Half a mile North-West of Tain
Glenmorangie means 'valley of tranquillity' in Scots Gaelic. In 1843, William Matheson founded the Glenmorangie Distillery in the Scottish Highlands.
Their tradition for making award-winning single malt scotch is attributed to the quiet hillside glen where their pure spring water emerges.
Glenmorangie Whiskey Distillery Experiences
Distillery tours: By the tranquil shores of the Dornoch Firth, amidst the golden barley fields of Ross-shire, lies the Glenmorangie Distillery.
Here you will find a warm Highland welcome from the legendary Men of Tain.
These are the skilled craftsmen who ensure that Glenmorangie is made in the same unhurried way it has always been through its distinguished history.
Tasting Masterclass with Dr. William Lumsden: In his role as Head of Distilling & Whisky Creation, Dr. Lumsden is regarded as a pioneer in the malt whisky industry.

Much of his time is touring the world in search of the best oak casks. We have 2 things to say about that. Great title for a business card, great job to have.
A stay at this little Highland hideaway is all about whisky, golf, and nature. Sounds like something for everyone, not to mention they were listed as the top influential 5 Best Hotel Experiences 2016 by Forbes.com.
The Highlands of Scotland are absolutely stunning.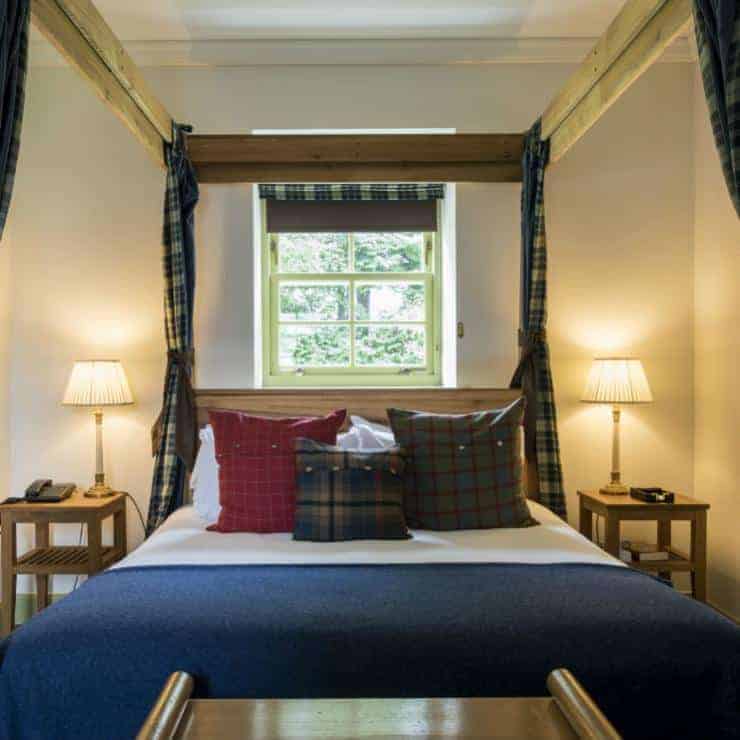 Aside from 2 master bedrooms in the main house, There are 3 stylish yet informal cottages that are decorated with classic oak furniture, along with subtle tweeds and tartans. 
The Food in The Scottish Highlands
Their award-winning Head Chef, John Wilson, prides his team on using as many locally sourced ingredients as possible.
From the wonders of a full Scottish breakfast to four and five-course tasting menus featuring the likes of freshly caught lobster, venison, and passion fruit tart drizzled in a sauce made with Glenmorangie 18 Years Old.
Guests eat together around the dining table so you'll be making new friends, maybe best friends sharing intimate secrets as the whisky flows into the early hours.
Making the best single malt whisky comes down to one thing with these Scottish whiskey distilleries. It's all about the sanctity of the cask.
The Dalmore hand-selected casks are from the world's finest bodegas and wineries. They are expertly curated to create a sumptuous and layered whisky of legendary finesse.
The Dalmore house has a close and trusted relationship that was forged with sherry house González Byass over 100 years ago.

The rare casks, which have previously held 30-year-old Matusalem oloroso sherry, are exclusive to The Dalmore. These casks enrich the signature chocolate and orange character of the whisky with rich and nutty flavors.
It's easy to see the devotion to achieving perfection which has been at the heart of the distillery and its people for the last 150 years.
Dalmore Whiskey Experiences
Distillery tours: The Dalmore House welcome a select number of guests to their Highland home.


On this intimate tour, you will discover exceptional Single Malt whisky that has been meticulously made since 1839.
The Culloden House is an exquisite Georgian mansion set upon 40 acres of open parkland, with a Forbes family provenance and a Conde Nast Gold list property.

In 1625 Duncan Forbes purchased Culloden from the Macintosh chieftain and the Forbes family began their nearly 300-year history with it.
Another fun fact, At the time of the Jacobite uprising in 1745-46, Bonnie Prince Charlie used Culloden House as his lodging and battle headquarters.
That turned out to be not much fun for the prince where he met his demise.
Nowadays, it's a 4-star hotel with award-winning cuisine, located in the town of Inverness. See? Things have calmed down a bit since the 1700s.
The Food at Cullden House
Chef Scott O' Keefe draws on superb local and near-local produce: Loch Fyne salmon, sweet Orkney crab, and Scotch beef fillet from the Highlands. Even the water here tastes good although we're here for the whisky, right?
As a guest, you also get the privilege of enjoying a pre-arranged whisky tasting in their Library Bar.
As one would expect, the cellars of Culloden House brim with Single Malt Scottish whiskies. Many of their malts are rare, exclusive, and not available to purchase in even the more famous whisky shops. So staying at this hotel definitely has its perks.
The Culloden House buys many of these rare whiskies from private collectors and specialty auctions which provide 100% provenance as well as the best possible price.
And just when you thought it couldn't get any better, you are invited to visit their famous whisky trolley.  Here you'll find 160 of the best bottles around, some expensive but mostly affordable so as not to draw your breath like a big peaty Islay malt.
Just for the record, we love the Lowlands distilleries found in Islay, too. So that wasn't a derogatory swipe.
Tomatin
– 16 miles south of Inverness
Although it is thought that whisky has been distilled on the Tomatin Distillery site since the 16th century, when cattle drivers would buy from a local still, the distillery was not established until 1897.
After the liquidation of its owners in 1986, it was taken over by Japanese conglomerate Takara Shuzo.
Being able to tap into the naturally soft and pure waters of the Allt-na-Frithe, Tomatin considers themselves the softer side of the Highlands.
In fact, unlike the other whisky makers in the Highlands who prefer the purist methods of enjoying scotch, Tomatin actually has recipes on their website using their whisky to mix up unusual drinks. And we do love the magic conjured by those skilled mixologists. 
Tomatin Whiskey Experiences
Tours: Aside from a well-stocked visitor center and gift shop, they have several types of tours. For example-
Single Cask Experience
Here you'll understand the importance of cask selection.
You'll be given an in-depth distillery and warehouse tour concluding with a tutored nosing and tasting of 5 different distillery exclusive single cask expressions.
Due to the popularity of Tomatin, booking in advance is highly recommended to guarantee your place on a tour.
Calling themselves a restaurant with rooms, we already like where this is going. And reviews have all been nearly perfect.
Slightly off the beaten path and about 25 miles from this popular Scottish whisky distillery, this boutique hotel knows how to keep it casual.

No room numbers on the doors here!

There are no room numbers, instead, each of the seven bedrooms are individually named after family, friends, and their very first guests. Every room is different both in style and size and all have been recently refurbished. 
The Food at The Cluny Bank Hotel
Ahh, the moment we've been waiting for. Welcome to Franklin's Restaurant. At the heart of the house is a small, candlelit restaurant with six spaciously-set tables.
Food is cooked to your liking and you can take your time, relax, chat between yourselves or with other guests, and savor every moment in an unhurried fashion. It sounds like the right place to sip a whisky and share those blurry photos you took of Nessie!
The Singleton
– The Glen Ord distillery is 15 miles west of Inverness in the village of Muir of Ord.
The oldest of The Singleton distilleries and the only Highlander in the family, Glen Ord is the product of the White Burn's water and the Black Isle's barley.
The Black Isle is a peninsula that gets its name from the rich, fertile soil which nourishes the barley used by Glen Ord Distillery, among others. Add to that a pure water source and you have two convincing reasons to establish a distillery.
Glendullan Distillery
Another distillery that's part of the Singleton family is the Glendullan Distillery.
Built in 1897, Glendullan was the last of seven distilleries founded in Dufftown. This was the brainchild of blenders from Aberdeen by the name of William Williams and Sons. It probably starts with a W.
We won't ask what he named his sons but we can guess. With solid business shrewdness and private railway siding, the Williams gave Glendullan a healthy start in life.
So solid in fact that it took the barley shortages of the Second World War to halt production – though the momentous world event caused only a seven-year blip in the history of this exceptional malt.
Glendullan once maintained a private railway to transport its casks to market. Amongst its destinations was the court of King Edward VII, where the liquor was highly prized.
Glendullan Whiskey Experiences
At the Glen Ord Distillery, you'll find a variety of tours, each with a complimentary taste or sampling of their finest whisky. We'd suggest you splurge on the Glen Ord Experience Tasting Tour.
For a mere £50, you get a breathtaking tour of their distillery and exhibition. During your visit to the warehouse, you will be able to draw spirit from two casks they have opened especially for this tour – a 1995 Glen Ord European Oak cask and a 1999 Glen Ord American Oak cask.
Good fortune is still with you as this accompanies their standard range of Singleton of Glen Ord, the 12, 15, and 18-year-old. That'll help you sleep come nighttime.
Meet the Macpherson's, proprietors of this lovely mansion turned hotel. Stuart and Susannah Macpherson own and operate (alongside their fantastic team and the occasional help from the kids) this beautiful 1820`s MacKenzie mansion.
Purchased sight unseen in 2003, it's not a stretch to imagine lots of purchases happen this way in these beautiful Highlands!
It's surprisingly well located (just 25 minutes north of Inverness) on the doorstep of the North Coast 500 route leading to the Highland wilderness.
With most of the room types, you have a choice of either a Garden-View over the parking area and entrance, or the preferred Mountain-View overlooking the main lawns to the west at the rear of the building.
The master bedroom suite has the wow factor with spacious seating areas, an accent wall, and two large windows with commanding views of the mature gardens all the way down the glen to the mountains of Strathconon.
The Food at Coul House Hotel
Eat, drink, and be merry with food from local chef Garry Kenley. Per the owners, "boy can cook, play the guitar, write songs and wax lyrical about everything from philosophy to trade unions and hits a mean driver down the local fairways." Coincidentally, that's exactly what we look for in a chef.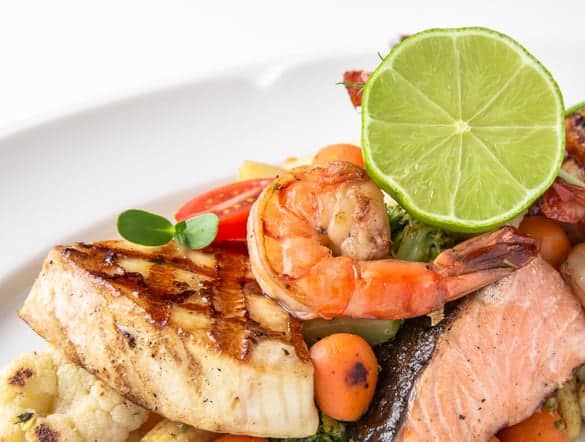 Garry is a traditional chef and makes everything from scratch. Even ice cream. He is known to make the best scones, shortbread, and bridies in the Highlands.
Not to mention his specialties are steaks, venison, hare, halibut, Crab cakes, scallops, and home-cured salmon.
Dalwhinnie
– Located in the Cairngorm National Park, about an hour from Inverness
Dalwhinnie 15yo is a good introduction to the delights of single malt whisky – elegant, smooth, and medium-bodied, with a light, fruity palate.
Dalwhinnie Distillery stands in the Cairngorm National Park at the heart of the Scottish Highlands in the village of Dalwhinnie. From this remote but accessible location comes our liquid known as the gentle spirit. 
When you're one of the highest distilleries in Scotland, you can be sure that the water you're going to be working with will be pretty special.
The Allt an T'Sluic Spring, which provides the water used in Dalwhinnie's production, is wonderfully clear and fresh, thanks in part to the fact that a large proportion of it comes from snowmelt.
Additionally, the distillery is one of the few sites in Scotland still using wooden worm tubs. Most sites today use metal ones if they use them at all.
Dalwhinnie Distillery Experiences
Like other guided tours through their Scottish whisky distillery, they'll cap off the end with a unique spin. A guided tour of this distillery is followed by whisky and hand-made chocolates. 
You'll sample 6 Classic Single Malt Whiskies paired with specially selected luxury highland chocolates. Also, a whisky glass and a tasting matt gift as a memento.
Where To Stay – Knockendarroch Hotel & Restaurant 
This welcoming and luxurious Knockendarroch Hotel & Restaurant is a 4 Star Pitlochry hotel that offers a contemporary country house style in a quiet elevated position in central Pitlochry.
Most of the 14 bedrooms benefit from stunning panoramic views of Pitlochry and the surrounding hills of Highland Perthshire.
Roaring log fires help to make the luxury guest lounge a relaxing space to enjoy drinks and canapés before taking dinner in their two Rosette restaurant. 
Pitlochry hotels have been popular with tourists for over 150 years. The stunning mountain and mixed woodland scenery with its many lochs (that means "lake" if we haven't mentioned that yet), rivers, and waterfalls.
Pitlochry Golf Club, home of the Highland Open, is just 5 minutes up the road, also offering great views over the town and down the Vale of Atholl.
The Premier Hotel Rooms
All on the first floor, these rooms are the original principal bedrooms at Knockendarroch. Larger than Classic rooms, they have higher ceilings and superb Pitlochry and Highland Perthshire views.
There are large armchairs and binoculars to enjoy the views as well, which is a good look if you have a whisky in one of your hands.

The Food – The Restaurant at Knockendarroch
Head Chef, Nick Imrie, has been cooking at Knockendarroch since 2016. His modern Scottish menus change every day and use seasonal and locally sourced ingredients where appropriate.
Each evening he offers a choice of four starters, four mains, and four desserts. There is always a vegetarian option available and special dietary requirements can be catered for with a little notice. The AA has awarded the Restaurant at Knockendarroch two red rosettes since 2014.
Dinner and The Pitlochry Festival Theatre
The Knockendarroch Hotel & Restaurant has a long association with the Pitlochry Festival Theatre. In fact, its original incarnation was housed in a tent in the Knockendarroch garden.
The Pitlochry Festival Theatre is now a few minutes drive away on the other side of the river and is regarded as one of the best theatres in Scotland.
They offer pre-theatre dining and complimentary theatre transport (during the main summer season). From shows like "Mad About Musicals" to Simon and Garfunkel, you can time your trip to enjoy a variety of old favorites.