We're big thinkers here at Jetsetty and hopefully, you are too. So in the spirit of going large, check out our top 5 crop art and terrace farming landscapes. You'll love seeing more of Stan Herd's work as shown above.
These incredibly beautiful canvases are created on acres of land and can only be appreciated from the sky. In fact, these fab works of art would really be fun to check out from a Blackfly flying car. Working on that one…
Tulip Fields of The Netherlands
Dutch growers produce billions of tulips annually, and that's no small feat. So there's definitely enough of these colorful flowers to make something cool when seen from above. We end up with stunning and vibrant crop art.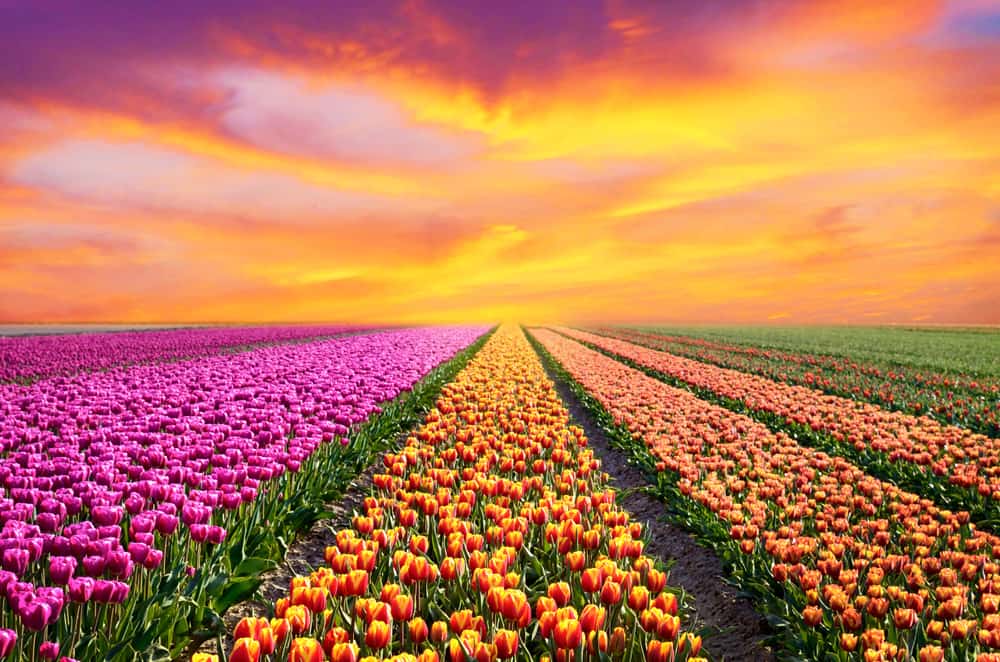 The fields end up looking like a Piet Mondrian painting which is appropriate, as he was considered one of the leaders in modern abstract art – and a Dutchman born in the Netherlands!
Piet Mondrian's "Composition with Large Red Plane, Yellow, Black, Gray, and Blue," 1921. We see the influence.
Japanese Rice Fields
These spectacular canvases of crop art can be found, among other villages, in the small Japanese village of Inakadate, Japan.
This all started in 1993 to boost tourism, and it worked. Called Tanbo art, it is a Japanese creation in which people plant various types and colors of rice and 'grow' a giant picture in rice paddy fields.
Hundreds of thousands of people flock each year to see the new crop art produced from seven different types of colored rice.
The villagers don't take this production lightly. Each April a conference is held to decide on the upcoming theme of the crop.
Thousands of volunteers help out with the planting, most likely ending up with a nice bounty come harvest time for these dedicated art patrons.
Each mural covers over 15,000 square meters and the entire process can take up to three months to create. Check out this video and how this fantastic artwork all comes together!
Stan Herd
American artist Stan Herd is known for pioneering the larger-than-life art form known as "crop art." Along with the attention he's received for his crop art, the artist is recognized for his mural works located throughout the United States.
Stan's earthwork projects have been created in locations in California, England, New York, Cuba, and Australia. His high-profile works include a 10-acre rendition of Leonardo Da Vinci's Glider sketch.
This was created directly under the flight path of Sir Richard Branson's GlobalFlyer aircraft that orbited the Earth.
Art imitates art: Stan Herd's larger-than-life interpretation of Vincent Van Gogh's "Sunflowers."
Terrace Farming – China
Art created on the rice terraces in Yunnan, China is unique in the sense they go up and down hillsides. The Hani and Yi people work in these terraced fields, and they are one of the most inspiring scenes in southern Yunnan.
These Yunnan terraced fields were carved by hand by the Hani people, and these rice terraces turned the barren hillsides into lush farmland.
Beauty aside, the fields support enough rice as well as fish cultivation for hundreds of thousands of people.
Water is preserved in the hilltop forests and channeled down to the terraces for irrigation. The terraces are flooded from November to March. Voila! art by nature – and a lot of elbow grease.
Terrace Farming – Vietnam
Sa Pa, Vietnam is a town in northwest Vietnam not far from the Chinese border. The rice terrace fields, are among the most popular tourist attractions in Vietnam and can be found in the Muong Hoa valley between Sa Pa town and the Fansipan Mountain, on a backdrop of thick bamboo woodlands.
The local mountain people are known as the Hmong, Giay, Dao, Tay, and Giay. They grow rice and corn on these paddy terraces, along with vegetables. Tending these hillside fields would be quite the workout for sure.
We'd rather enjoy the beauty of these fields from above and skip some rope at home if we're feeling the need to work off that ice cream.
Rice fields on the terraced hillsides of Mu Cang Chai, YenBai, Vietnam.