The charm of staying at one of our top luxury hotels in Nashville is that you're smack dab in the heart of Music City with a ton of entertainment venues just outside your door.
Nashville is a mecca for both large and boutique hotels, and with so many luxury suites available, it was no easy task narrowing it down to 5.
Regardless, others have ample charm of their own and it's easy to pop in for a drink if you'd like to explore other places not mentioned here.
For example, the Union Station Hotel definitely makes number 5.5 on our list, just for the amazing architecture.
This fully restored, 100-year-old iconic landmark railway station features the original 65-foot barrel-vaulted stained glass ceiling and is a great place to hang out and catch some live entertainment.
Some might say this luxury hotel launched Nashville as the music capital of the nation. The Francis Craig Orchestra performed in the hotel dining room regularly from 1925 until 1947 and released a song called "Near You" in the Grill Room.
It became America's top-selling record in 1947 prompting the major record labels to open offices in Nashville, "just in case" another rising star emerged.
Hank Williams, Patsy Cline, and Johnny Cash soon followed, and then pretty much everyone else who's now famous. The Hermitage Hotel hosted these greats amongst many others. Smart move, record labels!
There's a saying in Nashville going back 100 years, "Meet me at the Hermitage." This invite spoke of timeless elegance and glamour, and you know you were in for a memorable encounter. The Hermitage Hotel continues to perform that same experience to this day.
Presidential Suite
No surprise this top luxury hotel in Nashville would have a room called the Presidential Suite in lieu of all the U.S. Presidents that have stayed or visited the hotel.
This 1,500 square foot room has a large marble bathroom, and formal dining area for 6-8 guests with an exquisite view of downtown Nashville and the historic State Capitol building.
Throw on some down pillows atop the custom-made, hand-tufted luxury mattress and you've found luxury worth bragging about.
Dining – Capital Grill
Known for serving the best beef and steaks in the city, Executive Chef Derek Brooks brings local flavor to each dish. All the veggies are locally grown and sourced on the historic Glen Leven Farm, a mere ten minutes away.
That's about as fresh as you can get without growing your own vegetables on the spot with an indoor garden setup.
Capitol Grille opened its doors in 1910 and is the oldest and longest-running Southern restaurant in the state. A true testament to serving up dishes that keep bringing us back time and time again.
Just steps from the heart of Music Row, the Four-Star Hutton Hotel offers luxury and location when it comes to going full circle on the Nashville scene. This luxury hotel offers southern-style hospitality with a homey feel.
In fact, guests can partake in the Hutton Hotels Fender Play® which allows you to check out a Fender guitar, amp, and iPad with Fender Play.
Countless well-known songs have been written while sitting on the edge of the bed so be inspired and get cracking on that next big hit with this awesome package!
Little fun fact: Keith Richards of the Rolling Stones wrote (I Can't Get No) Satisfaction on his bed after waking up. He thinks he woke up in the middle of the night and jotted it down on tape but since this was after passing out from a night of partying, the story's a little fuzzy.
Penthouse Suites
One of the reasons the Hutton Hotel is one of our top luxury hotels in Nashville is because of its 3 penthouse suites. Penthouse East along with Penthouse West both offer a private south-facing balcony that gives guests an indoor/outdoor living experience with skyline views of downtown Nashville.
They all come with marble fireplaces, and Penthouse East comes complete with a kitchenette that has a full-size stainless steel refrigerator, wet bar sink, dining area for six, and full granite bathroom. This should be all the inspiration you need to hole up and get boogying on that Fender guitar.
Dining – Mane & Rye Dinerant
Conducive to the casual coffee shop diners we all loved to frequent, you'll find old-school pinball, shuffleboard, and live music just the way you remember it used to be.
The menu is also classic diner food with desserts and seasonal pies. The twist on this place is that the bar features an impressive rye whiskey program, creative craft cocktails, and tipsy milkshakes. Hmm, a boozy milkshake rings a bell, sounds a lot like the Aspen Crud!
This luxury hotel in Nashville is the epitome of enjoying the Music City entertainment scene. with so much nearby Music City with a short, easy walk to Ryman Auditorium (0.5 miles from Omni) and Music City Center (0.2 miles from Omni).
The sleek architecture of exposed steel and glass makes the Omni Nashville Hotel a downtown centerpiece that positions itself proudly as part of this mesmerizing skyline.
The famous Country Music Hall of Fame and Museum is accessible through the Omni Nashville Hotel and is packaged with your stay if you want.
Inside you'll find world-class galleries, a 776-seat CMA Theater, and the Taylor Swift Education Center. Goes without saying this place is also packed with exhibits, stories, and artifacts of industry legends.
King Executive Suite
A tad smaller than the Luxury Suite, it's easy to sacrifice a little space for the coziness you experience with the dark woods and warm colors.
Floor-to-ceiling windows capitalize on the views of the city lights and the rooms feel like that stepped-up place you just treated yourself to after signing that record deal. Go you!
Dining – Bob's Steak & Chop House
Ranked as one of the top steakhouses in the country, they are also known for their gigantic shrimp, fabulous salads, and decadent desserts.
This award-winning restaurant goes all out with corn-fed, Midwestern prime beef, and the servers are well-versed in the art of Southern hospitality.
The Bobby Hotel takes on the persona of an accommodating and welcoming person, instead of a place so things feel a bit more boutique-ish and personal which is what this hotel is all about.
Located on historic Printers Alley in Downtown Nashville, Bobby Hotel is just steps away from the bustle of the downtown music scene.
The Bobby has a way-cool Rooftop Lounge with a bus can drink right out of perched along the edge. You can also ask Bobby's driver to take you for a ride around town in their 1963 Lincoln Continental to check out the scene.
Kudos to their crafty wintertime rooftop igloos as well. These little heated domes seat up to 5 folks for an evening of enjoyable libations – so they're like private little lounges dotting the rooftop.
If the thought of hanging out and drinking in a dome feels like a vacation, then be sure to check out these top glamping places.
2-Bedroom Suites
Years of travel is the decor you'll find in these rooms, making you feel like you just came back from a dusty expedition and unloaded your treasure.
Ultra stylish and contemporary, you get an exclusive 235-square-foot balcony and enough dining space to host 8 guests for a private dinner.
A touch of funk is spread evenly throughout the 1,811 square foot suite so the accommodations always feel like you're vacationing at the home of your favorite Uncle Bobby.
Dining – Tavern At Bobby
This quaint hideaway brings you a modern take on classic American dishes. 
The best way to enjoy your time with friends is with exceptional food, and with salmon, braised short ribs, steaks, and crab fried rice everyone's gonna feel like this is fine dining with a local diner feel.
The South has always been synonymous with traveling on the open road and it was always a welcoming sight when a diner popped into view.
It seems lots of these top luxury hotels in Nashville put in the effort to recreate those carefree moments where you could just pull over and enjoy a great meal, one that really hits the spot.
This is another luxury hotel spreading its wings in historic Printer's Alley. Dream Hotel is made up of two landmarked buildings re-imagined by award-winning interior design firm Meyer Davis Studio.
The exterior vintage architecture gives us a welcoming feel that makes you want to come in and explore the place further. You're rewarded with an interior like a Hollywood set, especially the spectacular Gehry-Esque glass atrium over the Stateside Kitchen Restaurant.
So much of Nashville's cultural experience is within walking distance of this luxury boutique hotel and with amenities like blackout curtains and a fully stocked mini-bar, hopefully, you'll try not to sleep in too late.
Terrace Suite
When we talk about hotels we like to focus on their flagship accommodations which bring us to the Terrace Suite. With views of historic 4th Avenue, this 1200-square-foot suite has 14-foot-high ceilings, a private garden terrace, and a separate master bedroom.
It becomes obvious this suite is geared more toward entertaining when you realize the room comes with an optional BBQ Butler.
Your BBQ Butler, in conjunction with Bear Creek Farms, caters to a unique culinary experience for you right outside the room on your private terrace.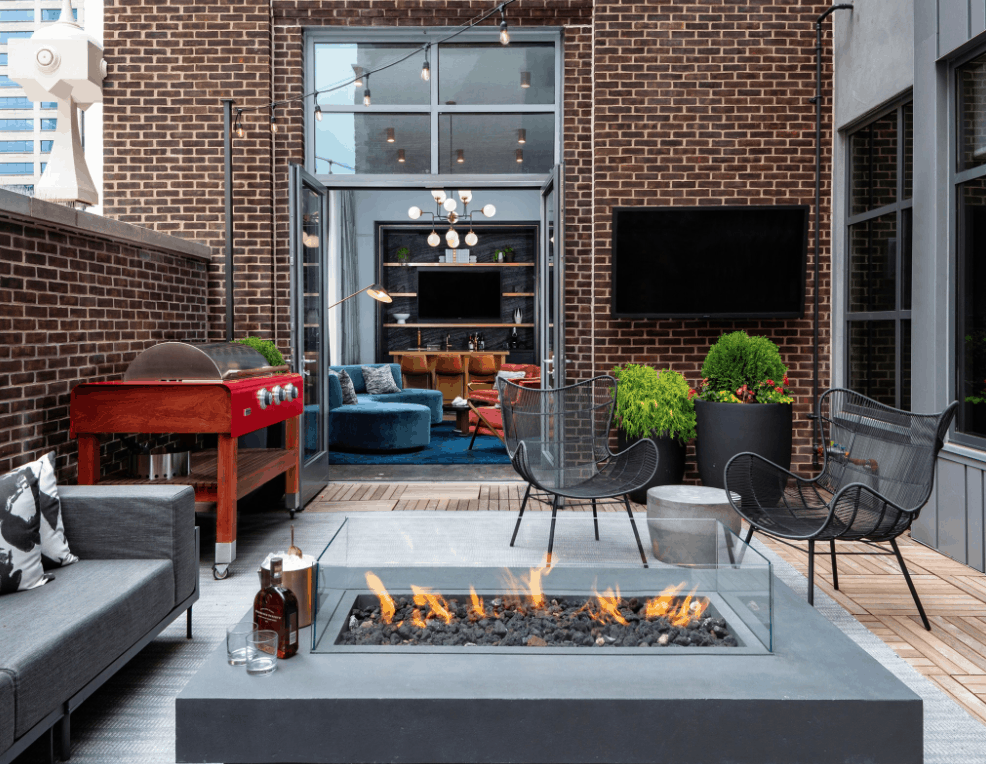 Set with your own grill master, your multi-course meal is cooked right in front of you atop a Caliper Grill as you take in the Nashville skyline around the cozy custom-built fire pit. Dinner can also be paired with Dream Nashville's in-room draft beer, "Printer's Abbey."
Dining – Stateside Kitchen
Okay, so you didn't opt for the BBQ Butler, no worries. Stateside Kitchen is a brasserie-style restaurant that focuses on fresh flavors and locally sourced ingredients to comprise a menu with lots of good options. With sushi, burgers, steak, and fish, we'd say all options are on the table.
"Beautiful" sums up this hotel, so remember you might have trouble keeping an eye on your meal when you've got that awe-inspiring glass ceiling right above you.
Our top luxury hotels in Nashville are just the tip of the iceberg when it comes to cool places to hang out in the area, but downtown definitely has its game face on.
If you're someone who craves world-class food and entertainment all rolled into a single adventure, then Nashville can't be missed.