Ahh, Parisian elegance. Our top 5 luxury hotels in Paris consider the Eiffel Tower a part of their enchanté, which is to say an enchanting part of your stay. With a little help from Jetsetty, we'll position you to capitalize on a great room at a spectacular hotel, with a very special view.
Marveling at the Eiffel Tower is a big part of any Paris trip, so what could be better than continuing this experience from your hotel room, balcony, or rooftop lounge?
19 Avenue Kléber, 75116
Distance to the Eiffel Tower – 1.8 km
The Peninsula sits in the heart of Paris, located along beautiful tree-lined streets. Here, you'll find yourself within walking distance of some of the world's most famous monuments, museums, and luxury shopping districts.
The hotel offers rooftop spaces and private terrace gardens with 360° views and glamorous extras, which to us means a view of the Eiffel Tower.
You'll love being mere steps away from the Arc de Triomphe and Avenue des Champs Elysées at 19 Avenue Kléber in the heart of an elegant 16th neighborhood (arrondissement as they call it). This luxury hotel in Paris is just as beautiful inside as it is from its meticulous terrace gardens.
Rooftop Garden Suite
The Rooftop Garden Suite is the ultimate in high-end luxury rooms. This elegant duplex includes access to the garden terrace on the rooftop of the hotel. Here you have a picture-perfect Eiffel Tower view.
This suite also includes a MINI Cooper S Clubman to cruise around in. Since the streets are narrow in many places, you'll be glad you passed on the stretch limo.
There's also a valet box for discreet pick-up and delivery of laundry, shoe shining, and anything else you think you can squeeze into the box and send off to the maitre d'hotel. Yep, that's the butler.
Dining With A View – L'OISEAU BLANC
A recipient of 2 Michelin stars, Chef David Bizet is the culinary maestro who creates magnificent French gastronomic masterpieces, served against the backdrop of the Eiffel Tower. Located on the rooftop, you'll want to dress Chic and Elegant when heading up to this restaurant.
With an aeronautical theme, tribute is paid to the adventuresome spirit of two French pioneers of aviation: Charles Nungesser and François Coli.
They were the first pilots to attempt a Trans-Atlantic non-stop crossing.
The replica of the original aircraft – with a wingspan of 11 meters – is suspended in the air, pointing towards the Eiffel Tower. Up here, even the lobster is dressed chic and elegant at this beautiful rooftop restaurant!
112 rue du Faubourg Saint Honore 8th Arr., 75008
Distance to the Eiffel Tower – 2.7 km
Le Bristol has earned the coveted distinction of being a "Palace Hotel." In the French hotel industry, the term "palace" is particularly reserved for certain establishments, in a strict sense, specifically being used to describe a luxury hotel.
It is exclusively awarded to five-star hotels offering the highest level of service to their customers.
Located along the narrow Rue du Faubourg Saint-Honoré, Le Bristol positions itself by one of the most luxurious and fashionable streets in the world thanks to the presence of virtually every major global fashion house. So it goes without saying this is a shoppers paradise.
The hotel is built around an exquisite 13,000 sq. ft. French manicured garden, and is within walking distance of the Presidential House, the Champs-Elysees, the Louvre, and the Grand Palais.
There are 190 spacious rooms and suites to choose from, but we like the room with a view of the Eiffel Tower, the Paris Suite. We love sky views that really show off the landscape, just like our crop art visuals.
Paris Suite
Located on the hotel's sixth floor, on the corner of Avenue Matignon and the famous Rue du Faubourg Saint-Honoré,  you get a nice view of the Eiffel Tower in the Paris Suite.
With breathtaking views of the City of Light and the Eiffel Tower from its wraparound wrought-iron balcony, you've arrived at your little slice of heaven. So kick back and enjoy.
The suite's bathroom has twin basins and a steam room. An additional bedroom can connect to the Paris Suite to create a spacious area of 2,110 square feet.
Fine Dining – EPICURE
Epicure is helmed by chef Eric Frechon, who holds three Michelin stars, so you know you're in for a French dining experience like no other.
In 2019, the great chef and the legendary palace celebrated an exceptional double anniversary: Eric Frechon's 20th year at 112, rue du Faubourg Saint-Honoré, and a decade holding three stars in the prestigious Michelin Guide. That deserves a chocolate treat.
Chocolate Jewels
Just when you thought things couldn't get any better on the tasty side of life, this luxury hotel in Paris also has a chocolate factory and a working mill onsite. Freshly baked French bread and their handmade chocolates are in itself, a good reason to book a room here.
Says chocolatier extraordinaire Johann Giacchetti, "Each chocolate might be remade ten times before it is perfected for its place on the marble."  That alone has palace luxury written all over it.
42 Avenue Gabriel, 75008
Distance to the Eiffel Tower – 2.3 km
At this chic Parisian palace hotel, you'll find 25 suites and 15 rooms, with each room and suite catered to by a dedicated butler- you know, maitre d'hotel (we're learning some French here, people).
With a helping hand from the Concierge, your personal butler can also perform some impressive feats such as finding tickets for a sold-out show.
These personal butlers must be trying to outdo their brethren in London, as they can also orchestrate a private concert in your suite to the melodious sound of a piano, and even organize a tête à tête midnight supper in the deserted Grand Palais. Now that's a butler with connections!
Slightly set back from one of the world's most beautiful avenues, La Reserve luxury hotel in Paris overlooks the Grand Palais, the Eiffel Tower, the Pantheon, and the Concorde obelisk.
Michel Reybier's highly distinctive urban mansion has all the elegance of a 19th-century private apartment, including a library reserved for guests and their friends, a smoking lounge, a 16-meter indoor pool (a rarity in Paris), wine cellars in the suites, and an inner courtyard with lush greenery echoing the landscaped entrance.
As Marie-France, the Golden Keys head concierge aptly puts it: "This is a place not for sleeping, but for dreaming…" That's gotta sound even more awesome with a French accent.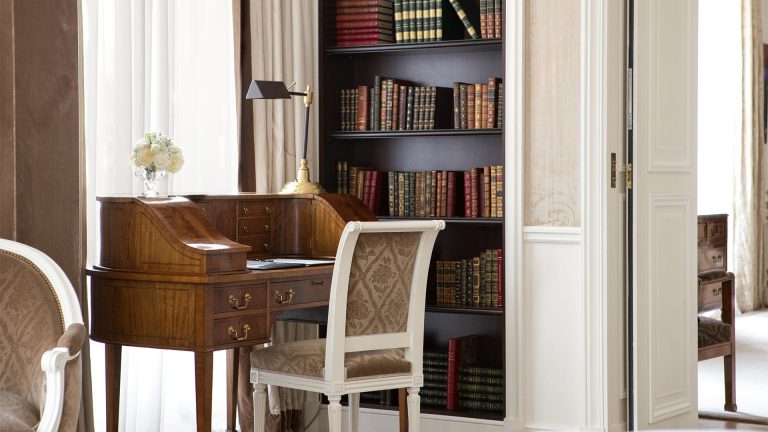 Fine Dining – LE GABRIEL
Speaking of dreaming, Michelin's two-starred Le Gabriel offers an unforgettable gourmet experience in French gastronomy. Overseen by Executive Chef Jérôme Banctel, you can also get his cookbook to keep your gourmet dreaming alive with his signature recipes.
251 Rue Saint-Honore, 75001
Distance to the Eiffel Tower – 4.3 km
Mandarin Oriental, Paris is another hotel with a prime location on Rue Saint-Honore, surrounded by history and fashionable shopping. A little further away from the Eiffel Tower than the others, most of your trek is along the beautiful Seine River and lovely parks.
This luxury hotel in Paris has 99 luxurious rooms and 40 suites. The room is a mix of modern and art deco in style, with some of them having private balconies.
Duplex Suite
Keeping the Eiffel Tower in your sights, the Duplex Suite offers stunning rooftop views from a split-level one-bed suite with an upstairs master bedroom. Most of the other rooms that offer terraces or balconies also give you a sweet view of the Eiffel Tower off in the glimmering distance.
Fine Dining – SUR MESURE PAR THIERRY MARX
Sur Mesure par Thierry Marx offers a complete experience for those with a taste for gourmet, as this signature restaurant has been awarded two Michelin Stars.
On entering, guests discover an intimate all-white cocoon, which acts as a blank canvas for the menu. By draping the walls and ceiling with white fabric, they want to create the impression of weightless clouds.
With all the accolades this restaurant has received, you'll want to keep your attention on the prize.
10 Place de la Concorde 8th Arrondissement, 75008
Distance to the Eiffel Tower – 2.8 km
Fronted by the majestic architecture of Ange-Jacques Gabriel, Hôtel de Crillon overlooks the spectacular Place de la Concorde, one of the most beautiful city squares in the world.
Built at Louis XV's request, the hotel became the residence of the illustrious Count de Crillon and his family for many years and was transformed into a hotel in 1909 under the guidance of the architect Walter-André Destailleur.
Since then, its guest list has featured celebrities, politicians, artists, princes, and queens, all attracted to the hotel's unique and perennial reputation for excellence.
This palace hotel has 78 rooms, 36 suites, and 10 signature suites that embody an expressly Parisian residential style.
SUITE BERNSTEIN
Located on the sixth floor, Suite Bernstein is named for the great composer Leonard Bernstein, a frequent guest at the hotel.
This magnificent retreat features a sitting room, a dining room for six, and a 1,205 sq. ft. (112 m²) private terrace overlooking Place de la Concorde with views of the Eiffel Tower and other Parisian landmarks.
Exquisite Dining – L'ECRIN
Another Michelin star delight, L'Ecrin is the hidden gem of Hôtel de Crillon, featuring a delicate and refined contemporary décor, serving inventive cuisine by Executive Chef, Boris Campanella.
Chef Campanella is dedicated to local cuisine and seasonal produce, where he draws inspiration from its roots with regional touches from Sicily and Savoy.
These top hotels in Paris with a view of the Eiffel Tower gives you a luxe experience while enjoying the view. However, if you want to escape the hustle and bustle of the city, then remember France has some of the most famous castles in the world. Along with a great escape to the beautiful countryside, you'll experience some wonderful history!