Luxury hotels in Sante Fe come with a lot more than just great ratings. You get a true taste of the old southwest without roughing it as the old-timers did.
From gnarly hand-made wood furniture to the warmth of a wood-burning kiva fireplace, part of you says "So this is was it was like" while the other part wonders how that margarita is coming along. Must be those large puffy leather chairs that bring out the railroad tycoon in us.
You'll also find some of that yesteryear nostalgia we find in these Santa Fe hotels by experiencing the retro motels along the California coast.
Luxury hotels always offer some sort of fine dining experience, and we'll be focusing on that one in particular, although you can count on these hotels and resorts having their own great bars and diners as well.
113 Washington Ave, Santa Fe, NM 87501
Ahh, "the pueblo life." Nothing says rest and relaxation better, and this boutique luxury hotel delivers. The Inn features 58 guest rooms with handcrafted furnishings and traditional wooden ceilings with a blend of Southwestern culture.
Along with being one of the top luxury hotels around town, you also have easy access to the city's famous art galleries and museums, as well as nearby destinations such as Taos and Bandelier National Park.
This luxury hotel has also earned many accolades. This includes the 2017 Condé Nast Traveler: Readers' Choice Awards, 2018 Condé Nast Traveler Readers' Choice Awards: #4 Top Hotels in The Southwest and West, and 2019 Forbes Travel Guide: Four-Star Rating.
With a crackling Kiva fireplace waiting for you in their suites, you'll always feel at home after a long day of exploring.
Aside from being able to arrange for private dining in the library, the Rose Inn of the Anasazi also includes in-room massage and aromatherapy treatments, 24 Hour Fitness Facilities with Peloton Bikes, and an arrangement of sightseeing tours and private guides. You'll definitely want to journey along in the infamous "spy tour."
EATS – ANASAZI RESTAURANT
Executive Chef, Peter O'Brien's menus embrace the Inn's Southwestern and Native heritage.
His menu is inspired by Santa Fe's rich culture and culinary history, fusing old-world techniques with modern innovative recipes.
Tequila Tasting
Save that California cult wine for a rainy day. Rosewood Inn of the Anasazi offers Santa Fe's only dedicated Tequila Table, providing guests the opportunity to enjoy a guided tasting of a variety of distinguished premium tequilas.
A tequila expert will share the history and process of agave. The tasting also includes a unique menu sampler that will complement the experience.
198 State Road S592, Santa Fe, NM 87506
One of the great amenities of this luxury hotel in Santa Fe is the indoor and outdoor fireplaces you'll enjoy while staying in their patio casitas.
After a day hiking in the desert with your personal guide, you can drift away the day in your deep soaking tub.
Later, kick your feet up by the fireplace under the moonlight and starry skies on your private patio.
This place is your full-package wellness splurge, set against the rugged beauty that surrounds this intimate, 65-room resort.
Set on 57 rolling acres in the Sangre de Cristo foothills, the resort is just 10 minutes from downtown shops and galleries. The Four Seasons Resort Rancho Encantado is an undeniably romantic escape.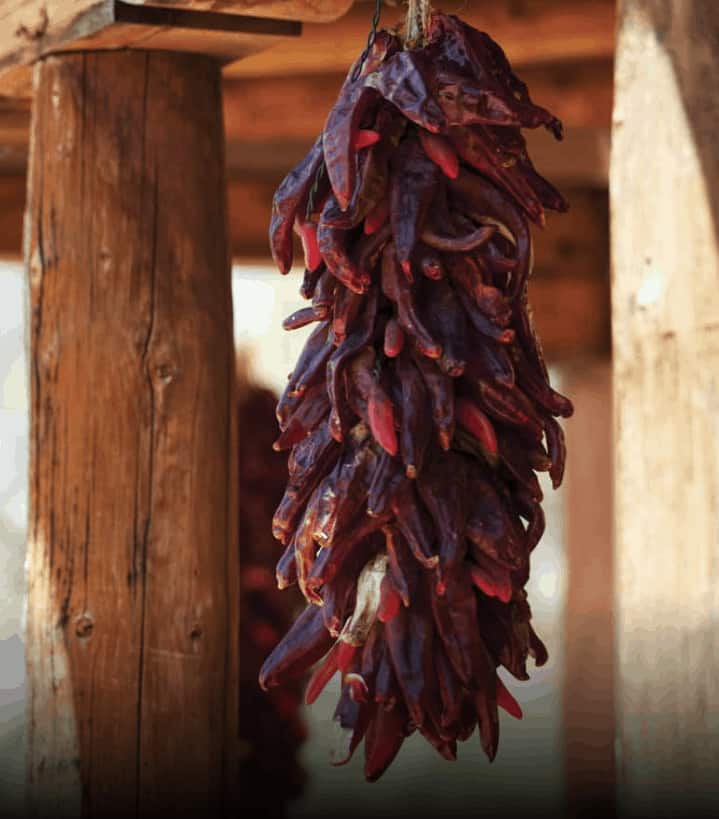 We mentioned your personal guide which is another great amenity we love. You'll take a guided hike along the nearby ridges and arroyos as your guide shares tales of our dude-ranch past.
There's some lore for ya!  Later, relax by the pool, or indulge in a healing treatment at the Spa.
EATS – TERRA RESTAURANT
Executive Chef Kai Autenrieth brings a distinctly global perspective and command of international flavors to their signature, fine-dining restaurant, Terra.
A well-traveled chef, Kai has explored, evolved, and refined his style of cuisine through roles in Tanzania, Saint Lucia, Australia, St Maarten, Bermuda, and the U.K.
THE BEST SEAT IN THE HOUSE
You'll want to try to score the best seat in the house while dining – The Chef's Table. Here you'll be right in the middle of the action with a first-hand look at what goes on in Terra's Kitchen.
Chat with Chef Kai as he provides an overview of the night's menu items, while their sommelier brings perfectly paired wines to the table.
For the ultimate beauty splurge experience, treat yourself to the High Altitude Oxygen Facial. Cooling, calming oxygen is applied along with a custom treatment serum, designed to target your specific skincare concerns.
Skin gets stressed in the desert, and we also know what the high altitude does to your skin and how to fix this.
Ojo Santa Fe (changed from Sunrise Springs)
242 Los Pinos Rd, Santa Fe, NM 87507
This luxury hotel in Santa Fe is located on 70 lush acres fed by natural springs. Ojo Santa Fe is a sacred, nurturing destination spa where you define the experience you want.
In other words, their wellness program is a great amenity that comes with your experience, including health counselors and even a Reiki Master!
THE WATER
This rare, natural wetland has numerous artesian springs that drain into two converging creeks that meet the Santa Fe River at the south end of the valley.
The water from these artesian springs is refreshingly cold and pure.
It is free from contaminants because it has been protected through many layers of rock on its way to the surface.
The spring water fills their soaking pools and tubs for the guests and feeds the resort's two wells and their tranquil ponds. They also provide a continuing source of water and nutrients for the vibrant gardens.
You'll also want to indulge in the Repose Pools. Relax your body, calm your mind, and soothe your spirit as you soak in these gently heated natural artesian spring-fed pools.
The Repose Pools are set at the edge of a tranquil pond and under towering cottonwoods, making them perfectly situated for blissful soaking under the vast blue sky. With 20 acres of intentionally-designed gardens, paths, and walking trails,  you'll be able to enjoy nature in bliss.
The Puppy Patch
The Puppy Patch at Sunrise Springs partners with Espanola Humane to bring you a dose of happiness in the form of lovable puppies!
In addition to the joy, you'll get from cuddling and being playful with the puppies, you'll enjoy 'feel good' health benefits as well.
Animal interactions have been shown to help lower stress and anxiety levels.
You can also adopt your new best friend. The mission of this partnership with Espanola Humane is to help our furry friends find a new home.
EATS – BLUE HERON RESTAURANT
Executive Chef Rocky Durham embraces the idea that food is a potent elixir for the body and mind.
We like where he's going with this, kind of brings us full circle on our spirit journey, which wouldn't be complete without a great meal!

Chef Rocky works closely with local farmers to source seasonally available herbs, fruits, and vegetables to create a selection of vibrant and flavorful dishes.
330 East Palace Avenue, Santa Fe, NM 87501
From the property's roots as an 1880s brick mansion to its 1930s expansion and recent renovation and refurbishment, this historic Santa Fe resort has transformed into one of the Southwest's most unique destinations.
In the 1930s, R.H. and Eulalia Nason constructed a series of Pueblo Revival-style adobe casitas around the existing Staab Mansion and carriage house.
The Nason's called their new business La Posada, Spanish for "inn" or "resting place." More of a village than a typical hotel, La Posada de Santa Fe is comprised of 157 restored casita-style rooms and suites. Some of these dating back more than 230 years!
Typical of these luxury hotels in Santa Fe, we find more awesome kiva-style fireplaces in some of the suites. Here, it's the King Suite.
Rich in characteristic Southwestern design, the King Suite with Fireplace is characterized by garden views, as well as a wood or gas-burning fireplace.
Separate living and sleeping quarters provide ample space to relax, work, and entertain. Other amenities include A full-service spa and salon, modern fitness center.
EATS – JULIA RESTAURANT & BAR
The restaurant is helmed by Executive Chef Tom Kerpon. His epicurean skills have been noted at some of the most prestigious resorts, hotels, and restaurants in Santa Fe and across the country.
This includes Bishops Lodge Resort, Inn of the Anasazi, La Chama, and Hotel Crescent Court in Dallas, Texas.
You'll find perfectly crafted entrées, tapas, starters, and sides that put a twist on tradition. And if you want a nice before-meal drink, then hit the Staab House.
Travel+Leisure Magazine calls The Staab House the coziest bar in Santa Fe. Must be those puffy "railroad tycoon" leather chairs we've been talking about!
211 Old Santa Fe Trail,  Santa Fe, NM 87501
Located in the heart of Santa Fe, this boutique, this luxury hotel in Santa Fe is only a short stroll to the city's famed galleries, museums, and Canyon Road's "Artist Row."
With its iconic Adobe architecture, the pueblo dwellings reflect the authenticity of the western lore of the old southwest. We're definitely keeping it real here.
Here you'll find 136 well-appointed guest rooms, including Santa Fe's only Penthouse suite. And sweet room it is. Per the website, This premier luxury suite offers five terraces and two bathrooms.
On the second story, you'll find the master king bedroom, a full gourmet kitchen with upscale amenities.
There's also a formal dining area with seating for eight. And yes, we're still inside the same room! Continuing, there's a wood-burning kiva fireplace, in-room spa services, and in-room dining service.

All this while enjoying the cozy, library, sunroom with artist studio, and a dramatic spiral staircase with 360-degree views of Santa Fe.
Talk about a room with a view. The Spa at Loretto The award-winning Spa at Loretto in Santa Fe features a calming palette of earth tones, natural woods, and stone elements accentuated by antique furnishings and hand-carved cabinetry. This is old-school relaxation and pampering, the way a spa was meant to be enjoyed.
What really adds to this special amenity, is that the Spa at Loretto is the only Santa Fe resort and spa that has the distinction of creating its very own custom-crafted essential oil aromatherapy blends called "Spirit of Loretto."
Used for centuries to improve overall health and relieve tension, essential oil blends can turn any massage into an exotic indulgence and are also available for purchase at the spa.
EATS – LUMINARIA RESTAURANT & PATIO
After attaining a degree from the acclaimed Chicago culinary school, Kendall College, Chef Jason Stewart returned home to be Outlets Chef overseeing several operations at Hyatt Regency McCormick Place then finally calling the kitchen at the Inn and Spa at Loretto home.
In 2019, Luminaria Restaurant & Patio won the coveted OpenTable Diners' Choice Award Winner. Chef Stewart continues creating elegant cuisine at the iconic Inn and Spa at Loretto while showcasing his thoughtful cuisine.