Fancy a stout? Here are our top London pubs for the atmosphere. Order up, fellow punter but don't expect it to be served chilled.
Brits like to keep beer at cellar temperature so you can get the full body of the taste and this will lack the frothy head so no one feels they're getting cheated out of a full glass. I like the way these Brits think.
Somewhat cramped and feeling like you've discovered a hidden attic, these pubs still project their warmth and love with fireplaces and friendly bar staff (NOT bartenders! Don't even go there).
We'll do a little pub (short for "public house") crawl through the streets of London and give you 5 you can raise a pint to.
Cheers, mate!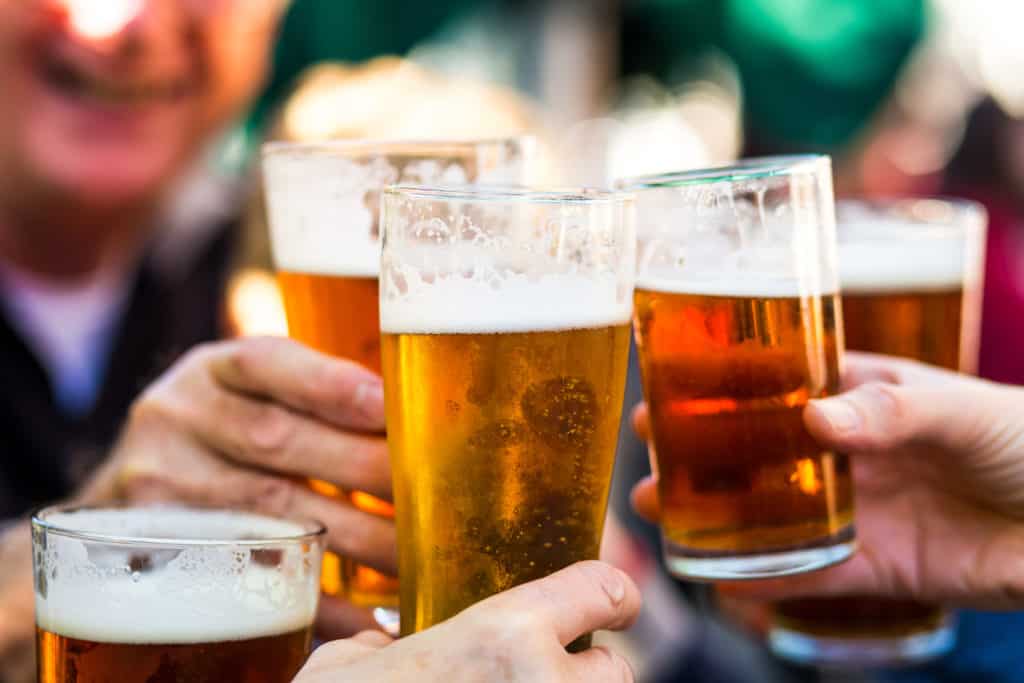 This historic, cozy pub is perched right along the River Thames which gives you great views on the terrace.
Since the seventeenth century, the Dove has propped up some of the most famous writers and poets against the bar. We suppose that gives them bragging rights to the sturdiness of their bar.
The poet James Thomson composed the familiar strains of 'Rule Britannia' here. Charles II romanced and dined his mistress Nell Gwynne here. And in the famous novel 'The Water Gypsies', author A P Herbert features it under a cheeky pseudonym; 'The Pigeons'. 
Their food has well-received reviews along with the freshest Fullers beer since they are so close to the brewery.
This might be a good indication as to how close they are to the water.
Situated in London's political heart, in Westminster, The Red Lion delivers a delightfully diverse experience across three grand floors.
The pub stands on the site of a medieval tavern – known in 1434 as the Hopping Hall. The tavern passed through various hands and traded under many names in its early years before it was bought by the Crown in 1531.
Not to be outdone by the Dove with its who's who of writers, a young Charles Dickens was a regular visitor here.
Food prepared to perfection at the Red Lion.
In this somewhat stark and unassuming pub, and true to form, less is more inside. This place gets rave reviews and is loved by all who stop in.
Now a Free House (meaning it's not owned by the brewery that supplies it) you get a little more variety in your libation practices.
After a former incarnation as a managed Greene King pub, (another conglomerate running over 2,700 pubs) the beverage selection is more varied and interesting these days. 
Cocktails and wines have also been given a lease of life in this formal pint heavy haven. As for booze snobs, it's important that recognize the need for some of that magic by mixologists. The take away here is that people want drinks besides beer. 
The quaint courtyard was notorious in the nineteenth century for hosting bare-knuckle prizefights. Earlier, back in 1679, poet John Dryden took a beating by thugs hired by poet John Wilmot down this back alley.
There. We've now we've set the atmosphere for this off-the-beaten-path pub. This place also claims to be a favorite watering hole of Charles Dickens but I'm getting the sense no pub was too far for this guy.
The very first mention of a pub on this site is in 1772 when it was known as The Coopers Arms.
The kitchen serves up local favorites from a diverse menu created from fresh, local produce and features authentic, traditional English pub cooking.
With a popular Sunday roast the Lamb & Flag one of the best places in Covent Garden to eat. 
So raise a pint, grab some grub and imagine a bare-knuckled patron, hired by a local poet, waiting outside just itching to settle things up.
We can't imagine talking about pubs in London without mentioning one that starts with "ye olde…" So, let's peek into Ye Olde Mitre.
Located down a barely marked alley between Hatton Garden's jewelers and Ely Place – this little traditional pub, the foundation of which dates to 1546, is a favorite of 'secret London' lists.
There's always a good range of ales on offer at the tiny central bar, but people come for the atmosphere: lots of cozy dark wood. The obscurity reminds us of the Bleachers bar in Boston, tucked away under the stadium bleachers.
Built in 1546 for the servants of the Bishops of Ely, The Ye Olde Mitre is famous for having a cherry tree, (now supporting the front) that Queen Elizabeth once danced around with Sir Christopher Hatton. Brilliant!
Best to remember if you're not one of the locals mind your manners, as you've already been stigmatized as a bloody tourist- frowned upon in lots of these pubs.
In fact, don't be surprised if you overhear someone saying, "I don't go over there anymore it's full of grockles these days.'
Yep. We are the grockles.