Our top hidden bars with secret entries piggyback on the old-timey days when folks snuck into a speakeasy to indulge in illegal libation.
If you're looking to elevate the adventure in your nightlife then grab the secret password and head through hidden entries inside phone booths, refrigerator doors, and barely marked alleyways (think one dimly lit bulb above an unmarked door).
Why Are Secret Bars Called a Speakeasy?
America's journey to and from prohibition has been a long and winding road, which finally led the good citizens to buck the system and create underground, hidden bars known as a Speakeasy – as the patrons were told to "speak easy" so their cover wasn't blown.
In 1873 in Hillsboro, Ohio, Eliza "Mother" Thompson, delivered anti-liquor sermons inside saloons and had groups of hymn-singing women declaring the evils of alcohol. Fast forwarding to today, this has been replaced with karaoke. This aspect of how karaoke came about may or may not be historically correct but it's fun to think so!
On January 17th, 1920 the National Prohibition Act became law and mandated time in the slammer for a sip of whiskey, but we're a resilient people and fought the machine with our hidden, secret speakeasies.
These modern-day hidden bars with secret entries can now be found throughout the country, and are well worth exploring as many have the same vibe as yesteryear with bow-tie bartenders, and the same house rules that'll add a certain "Je ne sais quoi" to your night out with friends.
This was actually a speakeasy that operated illegally from 1921-1933, and this wonderful secret bar still carries that same ambiance of the 1920s.
Back in the day, this place was known as "The Ipswitch – A Beverage Parlor" and then "JJ Russell's Cigar Shop." Hmm, tricky. The secret bar was able to keep its cover under wraps while riding out prohibition.
Within the main bar, there's a hidden "library door" (nudge nudge) where you can ring a buzzer and give the secret password. The website gives you the skinny on the house rules which include no cell phones, talk quietly, and don't even think about ordering a cosmo.
The mixologists expertly craft your libation, so be patient as they create. On a side note, a good mixologist can reach celebrity status.
When you leave do so in a quiet orderly manner, and pretend there's a flatfoot across the street tapping his billy club while eyeing you suspiciously.
San Francisco also has some of the top bakeries in the U.S. so we'd recommend stocking up on some tasty treats to complete your San Francisco experience.
PDT stands for "Please Don't Tell" which is apropos of a hidden bar with a secretive entry. Please Don't Tell is the iconic East Village cocktail bar located behind the phone booth of Crif Dogs.
To get in, you have to call from a payphone inside Crif Dogs, the subterranean hot dog stand fronting the establishment.
Just follow the instructions on the red rotary phone and someone will open the secret door hidden behind a wall in the booth. Tight squeeze but worth it.
Like most speakeasies, you'll need reservations to get into this rustic, dimly lit cocktail lounge. PDT is known for its James Beard Award-winning bar program and hot dog collaborations with NYC chefs. There are occasional cancellations, so you might have a shot if you just show up and make the call.
If you like your atmosphere drenched in mood-red, this is the place for you. This secret bar has a hidden entrance north of the hotel in the alleyway between Central Avenue and First Street. Just look for Malinda, simply marked by a red bulb. Once inside, red lighting fills the space that offers 5 signature cocktails each week.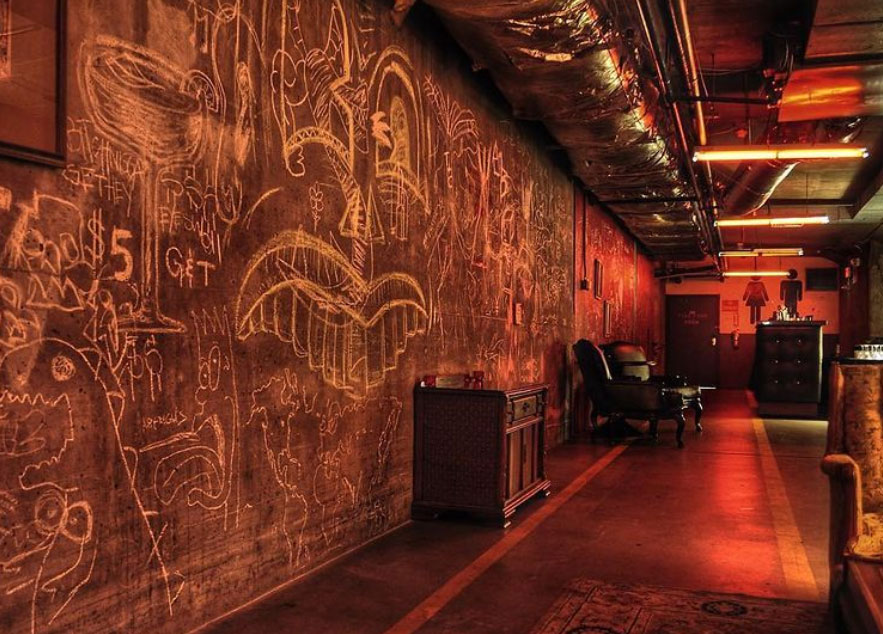 This speakeasy also has some interesting lore, said to be named after Melinda Curtis, a woman who wound up living in the red-light district area of Downtown Phoenix in the late 1890s.
Always kind to strangers when sober, she was known to be a mean drunk ending up in fights. Note to self – mean drunks shouldn't be running a speakeasy. Remember, quietness was the word of the day back then. One thing's for sure, the Old West wasn't short of colorful characters.
Although falling short of being a secretive bar (a giant lit sign outside kinda spoils the speakeasy dynamic) who wouldn't enjoy walking into a garage, opening a refrigerator door, and stepping through to get into a bar?
Also note, the long lines outside this cocktail lounge on Friday and Saturday nights also gives this location away – and make us think LA is a glutton for secret doors. Nonetheless, this retro throwback offers a taste of nostalgia along with your fave cocktail.
Once inside, spinning tunes provide the ambiance for a full-size bar, a fun outdoor patio, and a trailer-park-themed outdoor deck. The backyard has retro furniture and even hammocks, emphasizing how we like to do LA – casual and kitchy.
There's a BBQ fired up at the trailer where you can get one of the signature grilled cheese sandwiches, or brisket done right.
If flashy with cheesy coolness strike all the right notes in a speakeasy adventure, this one mixes it up from the typical low-tempo experience. Go ahead and talk on your cell or be a little loud. This is LA.
Speaking of retro throwbacks, if Good Times At Davey Wayne's is your cup of tea, you'll love our retro motels along the California coast. If you just gotta use a regular front door entry without the hoopla, then check out these top whiskey bars in LA.
Upon entering the façade of a corner bookstore in Denver's LoHi neighborhood, you'll find a secret passage behind a bookshelf that'll bring you into an upscale world of speak-easiness. You just have to know which book to pull. Very James Bond-ish, like our spy tour.
They have an extensive list of over 60 classic cocktails and the mixologists are nothing short of genius when it comes to "winging it." Just hint at what you're in the mood for and they'll deliver pure bliss in a glass.
They also have a well-rounded food menu from mac and cheese to a dry-aged burger, so this should be one-stop shopping when you're out for a good time – incognito of course.
In Conclusion
If you want to inject some mystique and adventure into a night on the town, exploring a speakeasy is the way to go. You'll find a range of vibes, with most leaning a tad upscale and low tempo. When it comes to being served the perfect cocktail, the mixologists in these top hidden bars are trained experts.
Times may have changed since prohibition, but you can still enjoy a little secrecy and decadence from the era. So pick up the phone and dial number one, climb through a refrigerator door, and tilt the right book to enter a world that's now perfectly legal.