It's easy to get distracted from the great food on your plate when you're totally in awe, dining in these fabulous restaurants with amazing interiors. But we understand.
From massive glass dome ceilings to cozy warmth created by wood, to the glorious days of old Hollywood, one thing's for sure – you'll dine in style.
Designer: SEMBA / Mamoru Maeda
Ho Chi Minh City, Vietnam
If you saw  Pizza4P's on a license plate, it would read as "Pizza For Peace." And that's exactly what they meant by this name. They're also big on smiles which we'll get to in a minute.
Designed by SEMBA Vietnam, Pizza 4P's Emporium is an open-space restaurant where people can find peace and happiness by utilizing the greenery of trees and using natural materials like terrazzo and wood.
With a mission statement of "Delivering Wow, Sharing Happiness," it's easy to see where both expressions fold into the mix. Wow includes farm-to-table ingredients grown locally and they even make their own cheese for the pizzas!
The cheese studio is located in the small town of Don Duong, and just a one-hour drive away from Da Lat. This is a city surrounded by the beautiful mountains of Vietnam's leading plateau region, keeping those cheese-producing cows very happy.
The outcome of "Delivering Wow, Sharing Happiness" is a smile. Not sure if there is any science behind that, but we're on board. In fact, we're already trying to find a way to get them to deliver to Miami. This might have to be delivered on a private jet.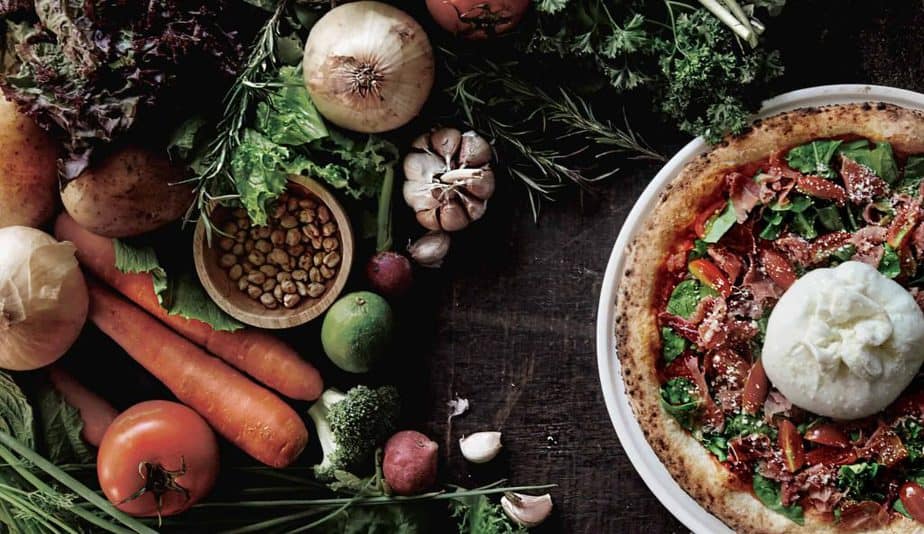 Designer: PENSON Architecture Firm
London, United Kingdom
Bluebells is one of those trendy hotspots you'll need to make a reservation 7-8 weeks in advance if you want to experience a stylish, weekend dinner in another restaurant with amazing interiors.
The reviews are mostly top-notch and the cocktails are served classic. If you've tried to dine where celebrities eat in LA, this waiting game for reservations will be all too familiar.
The interior is dreamy, plush, and rich with deep green colors, offset by lighter, opaque draperies.
Combined, this gives us a relaxed yet formal approach to dining. Oddly, that's exactly how they describe the restaurant.
As the case with any restaurant worth its salt, the design concept for Bluebells Restaurant took its direction from the food.
Bluebells is all about textures – dreamy 'souffle-soft' whipped butter and bold flavors to trigger the taste buds.
Once the design team from Pension had sampled the delectable menu, the interior resulted in soft and warming tones blended with sinkable velvet booths, a glittering bar, and surfaces that want to be touched. See? All good things start with a really good meal.
Considering the history of this 19th-century mansion, this space had to be a dream project for Urbanmakers Architects. Starting off as a factory and then later becoming a wine cellar, 16 rue Marceau had several lives.
Today, the oak barrels have disappeared and given birth to Canopée. Hidden behind a large green carriage door, Canopée is a brasserie with generous spaces that have been re-imagined into the stylish epicurean experience it is today.
With a huge canopy hanging on the old courtyard, it is an elegant, refined, authentic place to experience some French history under a magnificent glass ceiling.
The layout draws on the notes found in the beautiful French breweries of the past.
The linear fluted benches with delicate velvets contrast with the structural elements of the untreated, concrete floor, stone walls, and polished brass making this a special space to dine at.
Gwen
Choosing Home Studios in Greenpoint, Brooklyn, was an obvious choice once you step into this elegantly designed interior capturing Hollywood on the Sunset Strip from days gone by.
Gwen's design pays homage to the building's historic past. Walking through the butcher shop into the dining room, your attention is immediately drawn to the fire roaring from the Asador (rotisserie), where your dinner for that evening is roasting.
Rich leather banquettes, dramatic lighting, and touches of copper and pink marble create an elegant yet inviting environment.
The lounge has big leather chairs and sofas that are straight out of a movie set. Seeing that Gwen is owned and operated by celebrity chef Curtis Stone, the stunning interior design is apropos.
Designer: Valery Lizunov
Moscow, Russia
There's a lot to be said about having your restaurant space on the top floor of a high-rise building, and when the roof is a giant glass dome, you've got yourself one of the most stylish views a foodie could hope for. And this one tops our list of restaurants with amazing interiors.
We say foodie because the White Rabbit is second to none when it comes to top cuisine awards from chef Vladimir Mukhin. Offering views of Moscow, the "Alice in Wonderland"-themed White Rabbit serves Russian delicacies including caviar and truffles.
A domed glass ceiling provides patrons with spectacular views and excellent ambiance.
Located under a glass dome on the 16th floor of Smolensky Passage, White Rabbit is the first joint project of restaurateur Boris Zarkov and chef Vladimir Mukhin. Want borsch soup? This is the real deal.